Goodyear Wrangler All-Terrain Adventure Tire Review & Rating
The Goodyear Wrangler All Terrain Adventure With Kevlar is the company's latest addition to their AT tire lineup. Built for drivers wanting both on-road dependability and off-road performance and durability, the Wrangler Adventure is designed for all types of trucks, vans and SUV's. It's available in standard metric sizes or LT sizes that feature Load Range E capability.
Goodyear utilizes a new tread compound that is made to be stronger and longer lasting. This new compound features a layer of DuPont Kevlar that increases resistance to cuts, chunks and tears, which has shown to work quite well on this model. It should be noted that Pro-Grade tires use an even tougher tread compound for those needing more heavy-duty load pulling performance. Kevlar also provides added strength and durability for those who regularly drive on gravel roads or other terrain.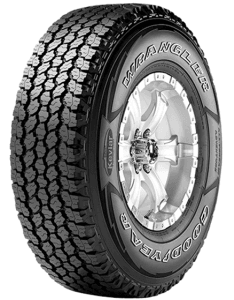 Goodyear's exclusive Durawall Technology further enhances sidewall integrity by preventing punctures, cuts or chunking. A somewhat more aggressive symmetric tread pattern features open shoulder blocks and siped tread lugs for better grip on rain and snow covered road surfaces, which is a real plus on this model. They also give the tire increased traction on rock, dirt and in light mud.
Inside the tire you will find two belts made of high-tensile steel along with a Kevlar layer for added strength and durability. Pro-Grade tires have two layers of Kevlar instead of one. Sizes ranging from 15 to 20 inches are now available, and Goodyear stands behind treadlife with up to a 60,000 mile warranty.
Pros
Dry and wet on-road traction

Off-road traction in light terrain

Comfortable ride for an AT tire

Tread life
Cons
Overall Thoughts
Goodyear has put a lot into the Wrangler Adventure and it shows for the most part. The tread on the Pro-Grade tires is tough as nails with two layers of Kevlar protection. Traction and handling on dry or wet road surfaces is very good. We especially like how the tire holds on rain soaked pavement. The ride is also not bad at all on those longer highway trips, and road noise is quite low for an all-terrain tire, which has been noted by many other driver reviews as well.
Off-road drivability is solid on most all light-terrains. Dirt, gravel, sand and grass are not an issue for this tire, making it ideal for those who need a dependable tire for getting away to campsites, the lake or other out of the way locations. Driving in heavier mud is an area that could see a bit of improvement as well as serious rock climbing, but this is an AT tire and not a specialty tire.
Overall, this is a tough and solid-performing tire on most all surfaces. It makes for an excellent daily driving tire for around town or to and from work, while also going off the beaten path. We give it a rank in the upper half of the all-terrain class and highly recommend it.
Click Here For Current Goodyear Coupons
Click Here To Find Current Prices
Buy Used for 40 – 50% Less than Retail
What Vehicles Will The Goodyear All-Terrain Adventure Fit?
(This is not a complete list of ALL vehicles this tire will fit)
Chevrolet Silverado, Colorado, Suburban, C1500

Dodge Ram, Dakota, Durango, Ramcharger

Ford F-150, Explorer, Ranger, Bronco, E-150, Escape

GMC Sierra, Yukon, Canyon, Jimmy, Sonoma, Envoy

Honda Ridgeline, Pilot

Infiniti QX4, QX56

Isuzu Trooper, Amigo, Rodeo, Ascender

Jeep Grand Cherokee, Liberty

Kia Sorento, Borrego

Land Rover Discovery

Mazda Tribute

Mitsubishi Montero

Nissan Pathfinder, Frontier, Titan, Armada, NV1500

Toyota Land Cruiser, Highlander, Sequoia, 4Runner, FJ Cruiser, Tundra
Tire Sizes
15″
31X10.50R15LT 109R C OWL
16″
235/70R16 106T SL BSL
235/70R16 106T SL OWL
245/70R16 107T SL OWL
255/70R16 111T SL OWL
265/70R16 112T SL OWL
245/75R16 111T SL OWL
265/75R16 116T SL OWL
LT225/75R16 115R E BSL
LT245/75R16 120S E BSL
LT245/75R16 120S E OWL
LT265/75R16 123R E BSL
LT265/75R16 123R E OWL
LT285/75R16 126R E BSL
LT285/75R16 126R E OWL
LT215/85R16 115R E BSL
LT235/85R16 120R E BSL
17″
245/65R17 107T SL BSL
245/65R17 107T SL OWL
255/65R17 110T SL OWL
265/65R17 112T SL OWL
235/70R17 109T XL OWL
245/70R17 110T SL BSL
245/70R17 110T SL OWL
255/70R17 112T SL OWL
265/70R17 115T SL BSL
265/70R17 115T SL OWL
235/75R17 109T SL BSL
LT245/70R17 119R E BSL
LT245/70R17 119R E OWL
LT265/70R17 121S E BSL
LT265/70R17 121S E OWL
LT285/70R17 121R E BSL
LT285/70R17 121R E OWL
LT245/75R17 121S E BSL
LT245/75R17 121S E OWL
LT235/80R17 120R E BSL
18″
265/60R18 110T SL OWL
255/65R18 111T SL BSL
265/65R18 114T SL OWL
275/65R18 116T SL BSL
275/65R18 116T SL OWL
255/70R18 113T SL BSL
265/70R18 116T SL OWL
LT275/65R18 123S E OWL
LT285/65R18 125R E BSL
LT265/70R18 124S E BSL
LT275/70R18 125S E BSL
LT275/70R18 125S E OWL
19″
255/60R19 109T SL BSL
20″
275/55R20 113T SL BSL
275/60R20 115T SL BSL
275/60R20 115T SL OWL
LT285/55R20 122R E BSL
LT305/55R20 121R E BSL
LT265/60R20 121R E BSL
LT285/60R20 125R E BSL
LT275/65R20 126R E BSL
LT275/65R20 126R E OWL
LT275/65R20 126S E BSL
LT275/65R20 126S E OWL
Price Range
Goodyear Adventure prices range from approximately $136 and up. You may also find occasional rebates, discount prices, coupons and special offers on this tire.
Click Here To Find The Current Prices On All Goodyear Wrangler All-Terrain Adventure Sizes
Warranty
Goodyear provides a 6-year or 60,000 mile tread warranty on the Wrangler Adventure for metric sizes, and a 6-year or 50,000 mile warranty on LT sizes. Tire uniformity is guaranteed for the first year or first 2/32 inch of wear.
Materials and workmanship are warranted for 6-years and include free replacement during the first year or first 2/32 inch of wear. A prorated amount is given for the remaining time period or down to the final 2/32 inch of tread depth.
There is also a 30-day test drive given that allows you to exchange the tires for another Goodyear brand tire if you are not completely satisfied.
---