Goodyear Eagle Sport All Season Tire Review & Rating
Built to replace the popular Eagle GT, the new Goodyear Eagle Sport All Season has quickly become one of Goodyear's best-selling high performance all-season tires on the market today. Designed for drivers of all types of sport coupes, sedans and sport trucks, the Eagle Sport AS offers more responsive handling to go with dependable traction in year round weather conditions.
A high-tech all-season tread compound and asymmetric tread pattern provide increased dry and wet road performance. Dry traction and cornering grip are enhanced through larger outer shoulder blocks and notched center ribs. It further increases steering response and feel, which is quite noticeable on this tire.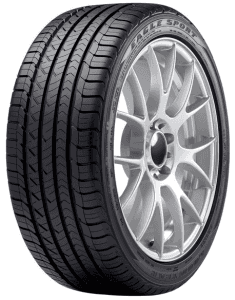 Driving on wet surfaces is aided by four circumferential grooves around the tread that channel away water and reduce the risk of hydroplaning. This is a strength for this tire and one that is often mentioned in other driver reviews. Goodyear has also added full-depth sipes on this model that work to provide biting edges in rain, snow and ice.
Inside the tire you will find two steel belts that are reinforced with polyamide for added strength and increased durability at higher speeds. Goodyear has also used their unique Race Wrap Construction Technology that is used in their racing tires on the NASCAR circuit which increase handling stability and steering response.
There is also a built-in rim protector that helps prevent damage to expensive wheels. Sizes are available from 15 to 20 inches, and speed ratings of V and W. A somewhat surprising 50,000 mile tread guarantee is also included on this model.
Pros
Dry and wet traction

Steering is very responsive

Impressive cornering grip

Excellent warranty
Cons
Winter traction

Lower the road noise a bit
Overall Thoughts
Goodyear has a very good model in the new Eagle Sport All Season. We feel that it's a much higher performing tire than the legendary Eagle GT, yet priced below their line of Eagle F1 models. Traction on both dry or wet pavement is excellent, but it's the cornering grip and steering response that stick out the most. We really like the grip and feel this tire provides and it is just a step behind that of the F1 Asymmetric All Season.
Ride comfort is better than many tires in this class. However, you can expect to hear a little more road noise than you'll find on other top tires like the Continental DWS06 or Michelin Pilot Sport AS 3 Plus. Tread life is better than average and comes backed with an excellent 50,000 mile warranty.
Overall, if you're looking for a top performing all-season tire, the Eagle Sport is not a bad choice, especially if you do not put a premium on noise and winter traction. In addition, Goodyear has priced it lower than you might expect.
What Vehicles Will The Goodyear Eagle Sport AS Fit?
(This is not a complete list of ALL vehicles this tire will fit)
Audi A3, A6, Allroad

Chevrolet Monte Carlo, HHR, Impala, Malibu

Chrysler PT Cruiser, Sebring

Dodge Charger, Intrepid

Ford Flex, Mustang, Thunderbird, Crown Victoria, Focus

Honda Accord, Civic, Fit

GMC Canyon

Hyundai Santa Fe, Sonata

Infiniti G35x, Q45

Mazda Protege 5, Mazda6, MX-5, Mazda3

Mitsubishi Lancer

Nissan Altima, Maxima

Pontiac Grand Am, Grand Prix, Vibe

Saab 9-3, 9-5, 900

Subaru Legacy, Impreza

Suzuki Reno, Aerio, Forenza

Toyota Matrix, Camry, Solara

Volkswagen Jetta, GTi, Passat, Golf GLS

Volvo S40, S70
Tire Sizes
15″
195/55R15 85V VSB
195/60R15 88V VSB
195/65R15 91V VSB
16″
205/50R16 87V VSB
225/50R16 92V VSB
195/55R16 87V VSB
205/55R16 91V VSB
215/55R16 93V VSB
225/55R16 95V VSB
205/60R16 92V VSB
215/60R16 95V VSB
225/60R16 98V VSB
17″
245/40R17 91W VSB
255/40R17 94W VSB
205/45R17 88V XL VSB
215/45R17 91W XL VSB
225/45R17 94W XL VSB
235/45R17 94W VSB
245/45R17 95W VSB
205/50R17 93V XL VSB
215/50R17 91V VSB
225/50R17 94W VSB
235/50R17 96W VSB
215/55R17 94V VSB
225/55R17 97V VSB
235/55R17 99W VSB
18″
255/35R18 94W XL VSB
225/40R18 92W XL VSB
235/40R18 95W XL VSB
245/40R18 93W VSB
255/40R18 99W XL VSB
215/45R18 93W XL VSB
225/45R18 95W XL VSB
235/45R18 94V VSB
245/45R18 96W VSB
235/50R18 97W VSB
245/50R18 100V VSB
225/60R18 100V VSB
235/60R18 107V XL VSB
19″
255/35R19 96W XL VSB
245/40R19 94W VSB
20″
245/35R20 95W XL VSB
255/35R20 97W XL VSB
275/40R20 106W XL VSB
245/45R20 103W XL VSB
255/45R20 101W VSB
275/55R20 117V XL VSB
Price Range
Goodyear Eagle Sport All Season prices range from approximately $91 and up. You may also find occasional rebates, discount prices, coupons and special offers on this tire.
Warranty
Goodyear provides a 6-year or 50,000 mile tread warranty on the Eagle Sport. Mileage is reduced by half on rear if differently sized than front. Tire uniformity is guaranteed for the first year or first 2/32 inch of wear.
Materials and workmanship are warranted for 6-years and include free replacement during the first year or first 2/32 inch of wear. A prorated amount is given for the remaining time period or down to the final 2/32 inch of tread depth.
---