Goodyear Eagle RS-A Tire Review & Rating
The Eagle RS-A is one of Goodyear's most popular high performance all-season tires. The fact that it is used as original equipment on many of today's sport coupes, sedans and law enforcement vehicles, in addition to being a top selling replacement tire, speaks volumes on the performance that it should deliver.
A high performance all-season tread compound combines with an asymmetric tread pattern to increase dry and wet traction. The tire's shoulder tread blocks and wider lateral grooves enhance cornering grip and provide good steering feel and response. This is an area we have heard other drivers talk about in positive terms in reviews of this model.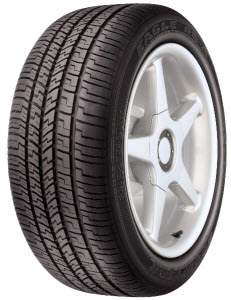 Four circumferential grooves and the added lateral grooves help channel away water from under the tread and reduce the risk of hydroplaning in wet weather. This model is M+S rated and designed for added handling on light snow covered road surfaces. (We talk more on this in our overall thoughts on this tire.)
Inside the tire you will find two steel belts that are nylon reinforced for added strength and durability at higher speeds. A polyester cord body adds to ride comfort. Sizes are available from 15-20 inches, and in speed ratings from H to Y.
Pros
Dry traction and cornering grip are very good

Steering is crisp and responsive

Tire rides comfortably
Cons
Winter handling performance is lacking

Would like to see a little more wet pavement traction

Treadwear
Overall Thoughts
When driving on the RS-A, you'll find it delivers more than adequate traction on dry road surfaces. Cornering is pretty good for an all-season tire and the steering is responsive at all speeds. The ride is comfortable for the most part and road noise is about average among tires in this class.
On the other hand there are a number of issues that could be improved on, with winter traction being one of the biggest. Simply stated, it is lacking in a big way. We can only say that if you're going to drive on snow and ice covered road surfaces on this tire… be careful and use caution. Too many drivers have said the same things about this tire and the problems it has in winter conditions.
Wet pavement handling is another area we would like to see improvements in, although it is not the worst we've reviewed by any means. It's just that it lacks a little of the confidence that you would find in tires like the Michelin Pilot Sport A/S 3 or even Goodyear's Eagle Sport All Season to name a few. Finally, treadlife has shown to be well below average for too many drivers.
Overall, we give the RS-A a rank in the middle to lower half of its class.
Click Here For Current Goodyear Coupons
Click Here To Find Current Price
What Vehicles Will The Eagle RS-A Fit?
(This is not a complete list of ALL vehicles this tire will fit)
Acura CSX, TL, RSX

BMW 525i

Buick LaCrosse, Regal

Cadillac CTS, SRX, DTS

Chevrolet Impala, Trailblazer, Tahoe, SSR

Dodge Charger, Challenger, Avenger, Caliber, Durango

Ford Fusion, Flex, Taurus, Edge, Focus, Crown Victoria

GMC Acadia

Honda Civic, Accord

Hyundai Genesis, Azera

Lexus RX350, RX400h

Lincoln MKS, MKT

Mazda3, Mazda CX-7, RX-8, CX-9, 626

Mitsubishi Eclipse, Gallant, Lancer

Nissan Maxima, Juke, 350Z

Pontiac Solstice, G8, Torrent, Vibe

Saturn Outlook, Sky

Scion xB

Subaru Impreza

Toyota Matrix, Venza, Corolla S
Tire Sizes
15″
195/60R15 88H VSB
16″
205/55R16 91H VSB
P205/55R16 89H VSB
P225/55R16 94H VSB
P225/60R16 97V VSB
P235/70R16 104H VSB
17″
P215/45R17 87W VSB
P205/50R17 88V VSB
P225/50R17 93V VSB
225/50R17 94W BLT
P235/50R17 95V VSB
P215/55R17 93V VSB
P225/55R17 95V VSB
P235/55R17 98W VSB
P255/60R17 105H VSB
P265/60R17 108V VSB
P275/60R17 110H VSB
P235/65R17 103H VSB
18″
P225/45R18 91V VSB
P235/45R18 94V VSB
P245/45R18 96V VSB
P235/50R18 97W VSB
P235/50R18 99W XL VSB
P235/55R18 99V VSB
245/55R18 103V VSB
P225/60R18 99W VSB
P235/60R18 102H VSB
P235/60R18 102V VSB
19″
P245/40R19 94V VSB
P245/40R19 94W VSB
225/45R19 92W VSB
255/45R19 100V VSB
P235/55R19 101H VSB
P255/60R19 108H VSB
20″
P295/40R20 106H VSB
245/45R20 99V VSB
245/45ZR20 99Y VSB
255/45R20 101V BSL
P245/50R20 102H VSB
P245/50R20 102V VSB
P255/50R20 104V VSB
P265/50R20 106V VSB
Price Range
Prices on the Eagle RS-A range from approximately $70 and up. You may also find occasional rebates, discount prices, coupons and special offers on this tire.
Click Here To Find The Current Price On All Goodyear Eagle RS-A Sizes
Warranty
Goodyear provides a limited tread warranty on the RSA. Tire uniformity is guaranteed for one-year or the first 2/32 inch of wear. Materials and workmanship are warranted for 6-years and include free replacement during the first year or first 2/32 inch of wear. A prorated amount is given down to the final 2/32 inch of tread depth.
---