Goodyear Eagle LS Tire Review & Rating
Used as original equipment on several different coupes, sedans, minivans and crossovers, the Goodyear Eagle LS is one of the company's biggest selling tires. Designed for all-season use, the LS is engineered to provide good traction and a smoother ride.
An all-season tread compound is combined with a symmetrical tread pattern and Goodyear triple tread block geometry to provide enhanced handling on dry or wet road surfaces. The rounded shoulders and larger outer tread blocks are created to increase cornering and add quicker steering response, which this model does a nice job with.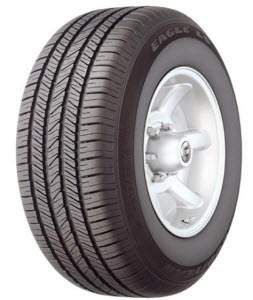 Wide circumferential grooves and additional siping around the tread are built to improve wet road performance and reduce the risk of hydroplaning, while maximizing traction in light snow. Curved pitch boundaries in the tread design enhance ride quality by eliminating road noise and keeping things quiet inside the vehicle.
The Eagle LS sports two steel belts with nylon reinforcement for added strength and durability when driving at higher speeds. They also add more even treadwear and a longer lifespan, which Goodyear backs up with a 70,000 mile tread guarantee. You will find many sizes available in several different speed ratings.
Pros
Dry traction handling and cornering are excellent

Steering response is crisp and provides good feedback

Comfortable riding tire
Cons
Would like to see better wet handling performance

Winter traction and handling is poor
Treadwear issues
Overall Thoughts
The Eagle LS is one of those kind of tires that you would think would perform much better than it actually does, especially due to its use as OE on so many different types of vehicles. Unfortunately, its performance is not up to par. Sure, it does a few things very well, such as traction on dry pavement and it has good cornering abilities for the most part. Ride comfort is ok as well.
Where the tire falls short is certainly in winter road conditions. We've heard this from reviews by other drivers all stating how poor the traction is on snow and ice. Beyond that, wet road grip is not up to levels of other top tires in this class, and treadlife has shown to be shorter than expected.
Overall, we give it a rank in the bottom half of the touring all-season category.
Click Here For Current Goodyear Coupons
Click Here To Find Current Prices
What Vehicles Will The Goodyear LS Fit?
(This is not a complete list of ALL vehicles this tire will fit)
Acura MDX

Buick Regal, Lacrosse

Chevrolet Impala, Silverado, Malibu

Chrysler PT Cruiser, 300M, Sebring

Dodge Dakota, Neon, Stratus, Durango

Ford Explorer, Crown Victoria, Mustang, Focus

Honda Element, Civic

Jeep Patriot, Grand Cherokee

Kia Forte, Spectra, Optima

Nissan Murano, Sentra

Pontiac G6, Grand Prix, Grand Am

Saturn Aura

Scion xB, xA

Subaru Tribeca, B9 Tribeca, Legacy

Toyota Yaris, Corolla

Volkswagen Touareg, Passat, Golf
Tire Sizes
15″
P195/65R15 89T VSB
16″
205/55R16 91H BLT
215/55R16 97H XL VSB
215/65R16 98H BLT
P225/65R16 99H VSB
P205/70R16 96T VSB
17″
P215/45R17 87H VSB
225/45R17 91H BLT
235/45R17 97H XL VSB
245/45R17 95H BLT
P215/50R17 90V VSB
225/50R17 94H BLT
P225/55R17 95T BLT
25/55R17 97H BLT
18″
245/40R18 93H BLT
235/45R18 94V VSB
245/45R18 100H XL BLT
255/45R18 99H BLT
P225/50R18 94T B01
P235/50R18 97H VSB
P225/55R18 97H VSB
235/55R18 104H XL BLT
255/55R18 105H VSB
255/55R18 109H XL BLT
255/55R18 109V XL BLT
19″
255/40R19 100H XL BLT
285/40R19 103V BLT
255/45R19 100V BLT
255/45R19 104H XL BLT
265/50R19 110H XL BLT
265/50R19 110V XL BLT
235/55R19 101H BLT
20″
275/45R20 110H XL BLT
275/45R20 110V XL BLT
P275/55R20 111S B02
Price Range
Prices on the Goodyear LS range from approximately $82 and up. You may also find occasional rebates, discounts, coupons and special offers on this tire.
Click Here To Find The Current Prices On All Goodyear Eagle LS Sizes
Warranty
A 70,000 mile tread warranty comes with this tire. In addition, there is a 6-month or first 2/32 inch of wear guarantee on the tire's uniformity.
Materials and workmanship are warranted for 6-years and include free first year or first 2/32 inch of wear tire replacement. A prorated amount is given for the remaining time period or down to the final 2/32 inch of tread depth.
---