Goodyear Eagle GT Tire Review & Rating
At first glance it may seem like the Goodyear Eagle GT has been around forever. Although it has been available for more than a few years, there is a good reason for it… the tire flat out performs.
Designed for owners of all types of sport coupes and sedans, the Eagle GT of today is not the one from years ago. Goodyear has added the latest in tire technology to give this tire some very good all-season performance. The asymmetric tread pattern features an aggressive look and sports a dual zone tread compound.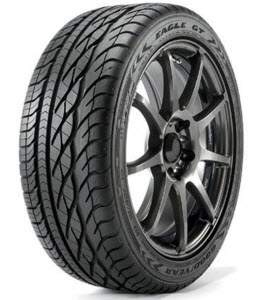 First up is the All-Season Zone. It provides increased traction on wet or snow covered roads by utilizing two continuous center ribs and circumferential grooves. They work together with Goodyear's sipe technology to better evacuate water from under the tire and reduce the risk of hydroplaning. The result is more confidence behind the wheel regardless of weather conditions.
The High-Performance Zone enhances grip and handling on dry road surfaces by using larger shoulder and intermediate tread blocks. The result is a more sticky grip on dry pavement, which leads to more fun in the corners and better overall driving enjoyment.
Inside the tread you will find two steel belts that are nylon wrapped for added strength and stability at higher speeds, as well as a better overall riding comfort. Goodyear has also included a rim protector in the sidewall to help prevent possible damage to your wheels from curbing.
Click Here For Current Goodyear Coupons
Click Here To Find Current Price
Pros
Grip on dry road surfaces is excellent

Wet pavement traction is solid and dependable

One of the better high performance all-season tires in its class

Road noise is surprisingly minimal

50,000 mile tread warranty on V rated models
Cons
Tread wear can be an issue for some

Snow and ice traction is good but not great, although this is definitely not a snow tire
Overall Thoughts
Note: Goodyear has since created the Eagle Sport All-Season to replace this older GT model in 2013. You may still find some of these tires sold, but eventually they will be out of stock. You can read our review on the Eagle Sport here.
As all-season sports tires go, the Goodyear Eagle GT is definitely one of the company's better performance tires in its lineup. Grip on dry pavement is downright fun and on par with many summer performance models costing much more. Wet road handling is equally impressive and inspires confidence when the weather turns bad.
Although we have heard from some owners about shorter than expected tread wear, others have praised it for giving them more miles than expected. If an American made all-season performance tire is what you are looking for, it's hard to go wrong with this model.
What Vehicles Will The Eagle GT Fit?
(This is not a complete list of ALL vehicles this tire will fit)
Audi A3, A6, Allroad

Chevrolet Monte Carlo, HHR, Impala, Malibu

Chrysler PT Cruiser, Sebring

Dodge Charger, Intrepid

Ford Flex, Mustang, Thunderbird, Crown Victoria, Focus

Honda Accord, Civic, Fit

GMC Canyon

Hyundai Santa Fe, Sonata

Infiniti G35x, Q45

Mazda Protege 5, Mazda6, MX-5, Mazda3

Mitsubishi Lancer

Nissan Altima, Maxima

Pontiac Grand Am, Grand Prix, Vibe

Saab 9-3, 9-5, 900

Subaru Legacy, Impreza

Suzuki Reno, Aerio, Forenza

Toyota Matrix, Camry, Solara

Volkswagen Jetta, GTi, Passat, Golf GLS

Volvo S40, S70
Tire Sizes
15″
195/55R-15 85V BSW
195/60R-15 88V BSW
195/65R-15 91V BSW
205/60R-15 91V BSW
205/65R-15 94V BSW
16″
205/50R-16 87V BSW
205/55R-16 91V BSW
205/60R-16 92V BSW
215/55R-16 93V BSW
215/60R-16 95V BSW
225/50R-16 92V BSW
225/55R-16 95V BSW
225/60R-16 98V BSW
17″
205/45R17 XL 88V BSL
205/50R17 XL 93V BSW
215/45R17 XL 91W BSW
215/50R-17 91V BSW
215/55R-17 94V BSW
225/45R-17 91V BSW
225/45R17 XL 94W BSW
225/50R-17 94W BSW
225/55R-17 97V BSW
235/45R17 XL 97V BSW
235/45R-17 94W BSW
235/50R-17 96W BSW
235/55R-17 99W BSW
245/40R-17 91W BSW
245/45R-17 95W BSW
255/40R-17 94W BSW
18″
215/45R18 XL 93W BSW
215/55R18 95V BSL
225/40R18 XL 92W BSW
225/45R18 XL 95W BSW
225/60R18 100V BSL
235/40R18 XL 95W BSW
235/45R18 XL 98V BSL
235/50R-18 97W BSW
235/60R18XL 107V BSL
245/40R-18 93W BSW
245/45R-18 96W BSW
255/40R18 XL 99W BSW
19″
235/35R19 XL 91W BSW
245/35R19 XL 93W BSW
245/40R19 XL 98W BSW
245/45R19XL 102W BSL
20″
225/35R20 XL 90W BSW
245/35R20 XL 95W BSW
255/35R20 XL 97W BSW
22″
265/35R22XL 102W BSW
Price Range
Prices on the Eagle GT range from approximately $85 and up. You may also find occasional rebates, discounts, coupons and special offers on this tire.
Click Here To Find The Current Price On All Goodyear Eagle GT Sizes
Warranty
Goodyear warrants all V-speed rated Eagle GT tires for 6-years or 50,000 miles. Tire uniformity is guaranteed for the first 6-months or first 2/32 inch of wear.
Materials and workmanship are backed for 6-years and include free replacement during the first year or first 2/32 inch of wear. Goodyear then prorates out the amount for the remaining time period down to the last 2/32 inch of tread depth on the tire.
---