Goodyear Eagle F1 GS EMT Run Flat Tire Review & Rating
Sporting the latest in tire technology, the Goodyear Eagle F1 GS EMT (Extended Mobility Technology) is built to deliver ultra-high performance traction and handling for drivers of sport coupes, pickups and muscle cars. The GS has been used as original equipment on vehicles such as the Ford Lightning, Chevy Corvette and several others.
An AAtrax tread compound is used on this tire which is designed to provide AA-rated wet traction to go along with exceptional dry surface cornering grip. The directional tread pattern features large tread blocks along the shoulders for added grip as well. The tire's continuous center rib increases steering response and feel throughout the speed range.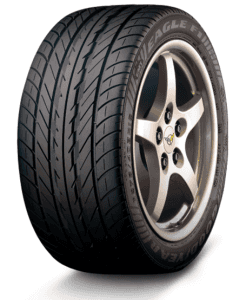 Goodyear has added what they call dual Aqua channels that are race-inspired around the tread to channel away water from under the tire and reduce the risk of hydroplaning on wet roads. They also work to enhance wet grip and provide a safer driving experience.
Inside the tire you will find two steel belts that are nylon reinforced for added strength and durability at higher speeds. Radial cap plies in this tire further increase stability and gives the tire a smoother and more comfortable ride. Sizes range from 17-18 inches and come with a W-speed rating. Goodyear also utilizes their unique run-flat technology on this model that allows the tire to be driven up to 50 miles if it develops a flat when driving on it.
Pros
Dry and wet traction are excellent

Quick steering response

Exceptional cornering grip and stability

Ride is comfortable
Cons
A little noisy as they wear down
Overall Thoughts
For the most part Goodyear got it right with these Eagle F1 GS run-flat tires. The dry traction and road-hugging cornering grip they provide is outstanding. Breaking them loose is a challenge regardless of torque. Wet handling grip is also pretty impressive, although you always want to use a little more added caution despite performance levels. The run-flat capabilities with this model are also nice to have in a tough situation out on the highway, even though we are not big fans of RF tires.
Treadlife is ok for the most part, but we've a few drivers complain of shorter than expected life out of the tire. That said, we will take the shorter tread life for the higher performance this model delivers. Our bigger issue with this tire is the road noise you can expect. It's much louder than similar tires from Continental, Michelin and other top brands. It only gets worse as the tire wears down as well.
Overall, despite the added noise level, we rank the GS EMT in the middle to upper half of this class. This is a tire that delivers the kind of performance, grip, and drivability that any spirited driver will enjoy.
Click Here For Current Goodyear Coupons
What Vehicles Will The Goodyear F1 GS Fit?
(This is not a complete list of ALL vehicles this tire will fit)
Acura TSX, RSX

Audi A4

BMW 540i, M, 330i

Chevrolet Corvette, Camaro SS, Malibu

Chrysler Crossfire

Ford F-150 Lightning, Mustang GT

Lexus IS300

Mazda MX-5, RX-8

Mercedes-Benz CLK55

Mitsubishi Eclipse Spyder GS

Nissan Maxima SE

Pontiac Trans Am, GTO

Porsche 928

Subaru Impreza WRX

Volkswagen Jetti GLi, Golf R32, GTi
Tire Sizes
17″
P275/40ZR17 98W VSB
18″
P295/45ZR18 108W VSB
Price Range
Goodyear Eagle F1 GS Run Flat prices range from approximately $340 and up. You may also find occasional rebates, discount prices, coupons and special offers on this tire.
Click Here To Find The Current Prices On All Goodyear Eagle F1 GS EMT Sizes
Warranty
Goodyear provides a limited tread warranty on the F1 GS. Tire uniformity is guaranteed for the first year or first 2/32 inch of wear. Materials and workmanship are warranted for 6-years and include free replacement during the first year or first 2/32 inch of wear. A prorated amount is then given for the remaining time period or down to the final 2/32 inch of tread depth.
---