Goodyear Eagle F1 Asymmetric All Season Tire Review & Rating
As an ultra-high performance (UHP) tire, the Goodyear Eagle F1 Asymmetric All Season is designed to provide superior traction, handling and driving throughout the year. Made specifically for sports cars, coupes, as well as sedans, this Goodyear tire incorporates a range of technology for serious high performance driving.
As the name implies, the tire utilizes an asymmetric tread pattern to go with a specialized tread compound that offers grip and traction in all conditions including dry, wet and snow covered roads. The tire's outer tread blocks are also engineered to provide extra grip in dry road conditions and the inner All-Season Zone and Goodyear traction teeth get rid of snow, slush and ice during the winter months.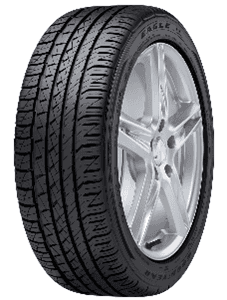 Cornering grip and more precise handling are increased with Goodyear's Tredlock Technology. It utilizes micro grooves that lock together during tight cornering to add more stiffness and stability to the tire. It does its job well as we've heard many driver reviews speaking of how well this model handles.
Inside the tire you will find dual steel belts that are reinforced with polyamide cord cap plies for added durability and strength to the tread. The tires can be found in 16 to 20 inch sizes and come with a either a W or Y-speed rating. Goodyear also includes a 45K mile tread wear warranty.
Pros
All season traction and performance

Very good cornering grip

Quick steering response

Durable and long lasting
Cons
Could be slightly more comfortable

Ice traction
Overall Thoughts
It is fairly rare to come across a true UHP tire that handles well in all conditions, however even once you get past the marketing the Goodyear Eagle F1 Asymmetric All Season provides the type of performance you like to see. Traction and handling in dry and wet road conditions is excellent. We can safely say that they live up to their all season name, which is pretty rare in itself. Cornering grip and stability is above average, and you can expect to find quicker steering response than many tires in this class.
There are really only a couple of minor issues with this model that are worth mentioning for the most part. The first is traction and braking on ice. While this tire does very well in lighter amounts of snow, once you start getting ice or hard-packed snow, things deteriorate quickly, which is something mentioned in other driver reviews on this model. But hey, if you live in areas of the country that see winter on a regular basis, you already know you likely need a dedicated winter tire. The other area to mention is that the tires can be a little noisy once they start wearing down, although this is a common issue with most every UHP tire.
Treadlife is showing to be pretty good for this type of tire. Naturally, much of it will come down to how hard you push the tires on a daily basis.
Overall, this is one of Goodyear's better high performance models in their lineup, and one that ranks in the upper portion of its class among all brands. Highly recommended.
Click Here For Current Goodyear Coupons
Click Here To Find Current Prices
What Vehicles Will The F1 Asymmetric All Season Fit?
(This is not a complete list of ALL vehicles this tire will fit)
Audi A4, S4, Q7, TT Quattro

BMW 330Ci, M3, 745i

Buick LaCrosse

Chevrolet Camaro, Cobalt

Chrysler Crossfire

Dodge Charger, Challenger

Ford Focus SVT, Mustang GT, Fusion SEL

Honda S2000, Accord

Lexus GS350, IS350, LS430

Mazda RX-8, Mazda3, Mazda6

Nissan Sentra, Maxima

Pontiac GTO, Vibe, Trans Am

Subaru Impreza WRX

Volkswagen GTi
Tire Sizes
16″
205/55ZR16 91W BLK
17″
205/45ZR17 88W BLK
205/50ZR17 93W BLK
215/45ZR17 91W BLK
225/45ZR17 91W BLK
225/50ZR17 94W BLK
225/55ZR17 97W BLK
235/45ZR17 94W BLK
235/50ZR17 96W BLK
235/55ZR17 99W BLK
245/40ZR17 91W BLK
245/45ZR17 95Y BLK
255/40ZR17 94W BLK
275/40ZR17 98W BLK
18″
225/40ZR18 92Y BLK
225/45ZR18 95Y BLK
235/40ZR18 95Y BLK
235/50R18 97W BLK
245/40ZR18 93Y BLK
245/45ZR18 96Y BLK
255/35ZR18 94Y BLK
255/40ZR18 95Y BLK
255/45ZR18 99W BLK
265/35ZR18 97Y BLK
275/35ZR18 95Y BLK
275/40ZR18 99Y BLK
285/35ZR18 97Y BLK
19″
225/45ZR19 92Y BLK
235/35ZR19 91Y BLK
245/40R19 94W BLK
245/40ZR19 94Y BLK
255/35ZR19 96Y BLK
255/40ZR19 96Y BLK
255/50ZR19 107W BLK
265/35ZR19 94Y BLK
275/35ZR19 96Y BLK
275/40ZR19 101Y BLK
285/30ZR19 98Y BLK
285/35ZR19 99Y BLK
20″
275/35ZR20 102Y BLK
275/40ZR20 106Y BLK
Price Range
Goodyear Eagle F1 Asymmetric All Season prices range from approximately $119 and up. You may also find occasional rebates, discount prices, coupons and special offers on this tire.
Click Here To Find The Current Prices On All Goodyear Eagle F1 Asymmetric All Season Sizes
Warranty
Goodyear provides a 45,000 mile tread warranty on the F1 Asymmetric All Season. Tire uniformity is guaranteed for one-year or the first 2/32 inch of wear. Materials and workmanship are warranted for 6-years and include free replacement during the first year or first 2/32 inch of wear. A prorated amount is given for the remaining time period or down to the final 2/32 inch of tread depth.
You will also receive a 2-year roadside service plan and Goodyear's 30-day test drive guarantee that allows you to exchange the tire for another model.
---