Goodyear Assurance UltraTour Tire Review & Rating
The Goodyear Assurance UltraTour, which is available exclusively at Discount Tire, is specially designed for ride comfort and all-season traction. It's built for use on all types of mid-range and upscale coupes as well as sedans and minivans.
To achieve a higher level of ride comfort, Goodyear uses a super shock absorbent layer of rubber that is built between an inner and outer layer of the tread compound and steel belts. According to Goodyear's testing, this design provides upwards of 20% more cushion than other tires in the Assurance class.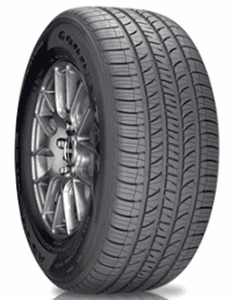 The tire also includes an insulating layer of rubber that protects against vibrations and impacts with expansion joints, potholes, and bumps. In addition, Goodyear's dual-layer ComfortEdge sidewall is designed to provide an excellent balance of handling and ride comfort. This is an area that many drivers have praised in their reviews on this tire.

An asymmetric tread pattern, tighter shoulder blocks and continuous center rib deliver solid dry traction and more responsive handling and cornering stability. Four circumferential grooves, numerous lateral grooves and hundreds of sipes around the tread aid in wet traction and reduce the chances of hydroplaning when conditions turn bad. These added sipes further help on snow covered surfaces.
The UltraTour's carcass is built with twin steel belts reinforced by spirally wrapped nylon that rest on top of a polyester cord body. This provides for added strength and enhanced long term durability. You'll find a wide range of 14-17 inch sizes available, and Goodyear backs this model with a 70K mile warranty.
Pros
Smooth and comfortable ride quality

Dry traction

Low road noise
Cons
Overall Thoughts
We like this new Goodyear Ultra Tour for a variety of reasons and feel it is an excellent addition to the passenger tire lineup. It provides a great balance between ride comfort and road handling. The unique tread compound and Goodyear's tire technology helps substantially in providing very good comfort, while also maintaining the type of handling/stability that you look for in a premium touring all-season tire.
An area we could see improving would be performance in winter weather conditions. While it does get around pretty well in lighter amounts of snow, deep snow, and in particular, icy road surfaces, may be a different story.
Overall there is nothing that would prevent us from purchasing this tire. For the lower cost and quality ride, the UltraTour ranks high in its class.
Click Here For Current Goodyear Coupons
Click Here To Find Current Prices
What Vehicles Will The Goodyear UltraTour Fit?
(This is not a complete list of ALL vehicles this tire will fit)
Audi A3, A6, Allroad

Chevrolet Cobalt, Monte Carlo, HHR, Impala, Malibu

Chrysler PT Cruiser, Sebring, 300, Town and Country

Dodge Charger, Intrepid, Avenger, Caliber

Ford Flex, Mustang, Thunderbird, Crown Victoria, Focus, Escape,

usion

Honda Accord, Civic, Fit, Odyssey, CR-V

Hyundai Sonata

Infiniti G35x, Q45

Kia Optima, Forte

Mazda Protege 5, Mazda6, Mazda3

Mitsubishi Lancer

Nissan Altima, Maxima, Versa, Sentra

Pontiac Grand Am, Grand Prix, Vibe

Saab 9-3, 9-5, 900

Subaru Legacy, Impreza

Suzuki Reno, Aerio, Forenza

Toyota Matrix, Camry, Solara, Corolla, Prius

Volkswagen Jetta, GTi, Passat, Golf GLS

Volvo S40, S70
Tire Sizes
14″
185/70R14 88T VSB
15″
185/65R15 88T VSB
195/60R15 88H VSB
205/60R15 91H VSB
215/70R15 98T VSB
16″
205/50R16 87H VSB
205/55R16 91H VSB
205/60R16 92V VSB
215/55R16 93H VSB
215/60R16 95H VSB
215/65R16 98T VSB
225/60R16 98T VSB
235/60R16 100T VSB
235/65R16 103T VSB
17″
205/50R17 89V VSB
215/50R17 91V VSB
215/60R17 96T VSB
215/65R17 99T VSB
225/55R17 97H VSB
225/60R17 99T VSB
225/65R17 102T VSB
235/65R17 104H VSB
Price Range
Goodyear Assurance Ultra Tour prices range from approximately $84 and up. You may also find occasional rebates, discount prices, coupons and special offers on this tire.
Click Here To Find Lowest Prices On All Goodyear Assurance UltraTour Sizes
Warranty
Goodyear provides a 6-year or 70,000 mile tread warranty on the UltraTour. Tire uniformity is guaranteed for the first year or first 2/32 inch of wear.
Materials and workmanship are warranted for 6-years and include free replacement during the first year or first 2/32 inch of wear. A prorated amount is given for the remaining time period or down to the final 2/32 inch of tread depth.
---