Goodyear Assurance Fuel Max Tire Review & Rating
The Goodyear Assurance Fuel Max is the company's standard all-season tire that has been specifically designed to improve fuel economy for drivers of all types of coupes, sedans, crossovers and minivans, while also being more affordable in price.
The tire features a fuel efficient tread compound that utilizes unique polymers that Goodyear states will save you up to 2,600 miles worth of gas during the tire's lifespan.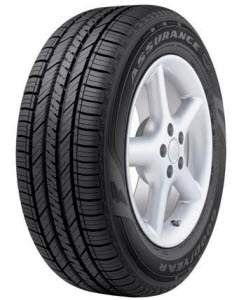 Dry traction on the Fuel Max is enhanced through solid shoulder blocks, while the circumferential shoulder grooves and continuous center rib add more stability to the tire on dry or wet road surfaces, as well as extend treadwear.
Wet traction and handling is enhanced through Dual Aquachannel Grooves that expel more water from under the tread, and zig-zag micro grooves and center tread notches that provide more grip and biting edges for sure-footed traction on wet or snow covered pavement. This also results in greater hydroplane resistance and more confidence behind the wheel.
Inside the tread you will find two steel belts that are spirally wrapped with nylon strips on a polyester cord ply that adds more strength and durability to the tire at higher speeds. It also provides better overall ride comfort as well. Goodyear stands behind the Fuel Max with a 65,000 mile warranty.
Pros
Dry traction and steering response is very good

Wet surface handling is good

Comfortable riding tire

Lower price
Cons
Some have mentioned that tires can be noisy

Winter weather traction may disappoint
Overall Thoughts
We have mixed feelings on the Fuel Max. On the plus side the tire has good wet/dry handling and traction, and the ride is comfortable. It is also value priced to save you some money. Expect to find a gain in fuel mileage with this model. Many driver ratings and reviews have reported seeing gains of up to 3 mpg on this tire. On the other hand, some have not noticed much of any improvement for whatever reason.
The problems we have found with the Fuel Max is that a number of drivers have reported a little extra road noise, while others have mentioned a lower than expected tread life. Goodyear does back the tire for 65,000 miles.
Overall, the Fuel Max is a decent middle of the class tire that provides dependable traction and performance, as well as possible fuel gains.
What Vehicles Will The Assurance Fuel Max Fit?
Fits these vehicles as well as many others:
Chevrolet Impala, Malibu, Cruze

Chrysler Town & Country, PT Cruiser

Dodge Grand Caravan, Caliber

Ford Focus, Taurus, Fusion, Mustang

Honda Accord, Civic, Odyssey, CRV

Jeep Grand Cherokee

Nissan Altima, Versa

Pontiac Torrent

Toyota Corolla, Prius, Sienna, Camry, Yaris

Volkswagen Jetta
Tire Sizes
14″
P185/65R-14 85H BSW
15″
P185/60R-15 84T VSB
185/65R-15 88H BSW
P195/60R-15 87H VSB
P195/65R-15 89H VSB
P205/60R-15 90H VSB
P205/65R-15 92T VSB
205/65R-15 94H BSW
P205/70R-15 95T VSB
215/70R-15 98T VSB
16″
P205/50R-16 86H VSB
P205/55R-16 89H VSB
205/60R-16 92V BSW
P205/60R-16 91H VSB
P205/65R-16 94T VSB
P215/55R-16 91H VSB
215/60R-16 95V BSW
215/65R-16 98T VSB
225/55R-16 95H BSW
225/60R-16 98H BSW
225/65R-16 100H BSW
235/60R-16 100H VSB
235/65R-16 103T VSB
17″
215/45R17 87V BSW
P215/50R17XL 93V BSW
215/55R-17 94V VSB
P215/55R17 93H BSW
215/55R17 94V CHV BW
P215/60R-17 95T VSB
P215/65R-17 98T VSB
225/45R17 91V BSW
225/50R-17 94V BSW
P225/55R-17 95H VSB
225/55R17 95HCHV BSW
P225/60R-17 98T VSB
225/65R-17 102T VSB
P235/55R-17 98H VSB
235/60R-17 102H BSW
P235/65R-17 103H VSB
Price Range
Goodyear provides a 6-year or 65,000 mile warranty on the Assurance Fuel Max. A 6-month or first 2/32 inch of wear guarantee on tire uniformity is also given.
Materials and workmanship are covered for 6-years and call for free replacement during the first year or first 2/32 inch of wear. A prorated amount is given for the remaining time period or until the final 2/32 inch of tread depth.
---