Goodyear Assurance ComforTred Touring Tire Review & Rating
With an eye towards providing the best in passenger comfort, all-season traction and a long tread life, the Goodyear Assurance ComforTred Touring has a lot going on.
Designed for drivers of sport coupes, sedans, minivans and other vehicles, Goodyear states that the ComforTred Touring provides up to 20% more cushion than other passenger tires. This is due in part to Goodyear's Special Comfort Layer, which is basically an added layer of soft rubber, in the tread that fits between the tread and the steel belts. An outer ComfortEdge in the sidewall layer further enhances comfort by absorbing those nasty road shocks.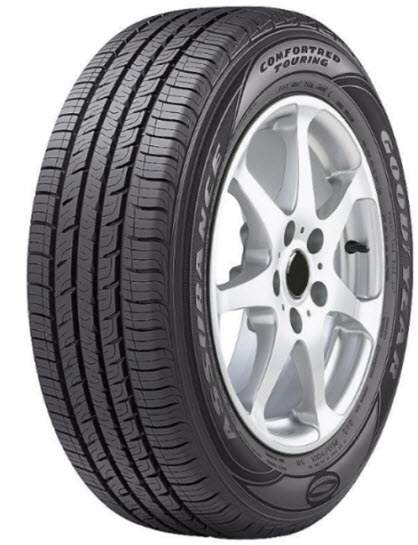 Delivering a smooth, quiet ride is not all that this tire is about. All-season handling and traction is improved through an asymmetric tread design that includes four wide circumferential grooves, notched intermediate ribs and independent shoulder blocks. They combine to provide enhanced dry pavement grip and improved handling. The on-center feel this tire provides is excellent.
The Inner Handling Sidewall layer is created to further increase handling and steering response at higher speeds. Another thing you'll find is that it goes through the rain and light to moderate snow and slush better than expected. Numerous notches and tread sipes form biting edges that work together in getting through the snow and other wet road surfaces.
Inside the tread are two steel belts that are spirally wrapped with nylon to give the tire increased strength and stability at higher speeds. They also create a smoother ride and better overall tread life. Sizes are available from 15-18 inches, and speed ratings of T, H and V.
Click Here For Current Goodyear Coupons
Click Here To Find Current Prices
Buy Used for 40 – 50% Less than Retail
Pros
Dry and wet surface traction is excellent

Long lasting tread life

Ride comfort is among the best in touring tires

Winter weather handling and grip is above average

Very good tread warranty
Cons
Some have said that road noise increases as tires begin to wear out
Overall Thoughts
The Goodyear ComforTred Touring is one of our better choices in all-season touring tires. We believe the combination of all-weather performance, riding comfort and the longer tread life is right up there among the likes of other tires such as the Michelin Premier A/S, Pirelli Cinturato P7 All Season Plus and Cooper CS5 Ultra Touring.
Steering response is quick and precise on this tire, and the handling and cornering stability is far above average. It feels like a high performance tire at times.
The only issue you may find on this tire would be some added road noise once it begins to wear out, but our own experience has not found that to be true. Goodyear provides an 80,000 mile tire warranty which is among the better models in this category.
Overall, we feel this is one of Goodyear's best models in their lineup and highly recommend it.
What Vehicles Will The Goodyear ComforTred Touring Fit?
(This is not a complete list of ALL vehicles this tire will fit)
Acura RDX, MDX

Chevrolet Venture, Impala, Malibu

Chrysler Town and Country, 300

Dodge Charger, Grand Caravan

Ford Fusion, Focus, Flex, Taurus, Five Hundred

Honda Accord, CR-V, Odyssey, Civic

Hyundai Santa Fe, Elantra, Sonata

Infiniti M35, G35x

Lexus RX 350

Mazda CX-7, Mazda6

Mercedes-Benz ML350, E320

Mitsubishi Galant, Outlander

Pontiac Torrent, Bonneville, Grand Prix, Sunfire, G6

Saturn Vue, L200, Aura

Scion xD, xB

Subaru Forester, Impreza

Toyota Celica GT, Corolla, Camry, Highlander, Avalon, RAV4, Prius, Sienna

Volkswagen Jetta
Tire Sizes
15″
P185/65R15 86T BSW
195/60R15 88H BSW
195/65R15 91H BSW
P205/60R15 90H BSW
205/65R15 94H BSW
215/70R15 98T BSW
16″
205/55R16 91H BSW
P205/60R16 91V BSW
215/55R16 93H BSW
P215/60R16 94V BSW
215/65R16 98T BSW
225/55R16 95H BSW
225/60R16 98H BSW
225/70R16 103T BSW
235/60R16 100H BSW
235/65R16 103T BSW
17″
205/50R17 89V BSW
P215/50R17XL 93V BSW
215/55R17 94V BSW
215/60R17 96H BSW
P215/65R17 98T BSW
225/50R17 94V BSW
225/55R17 97V BSW
P225/60R17 98H BSW
225/65R17 102H BSW
235/45R17 94H BSW
235/55R17 99H BSW
235/60R17 102H BSW
235/65R17 104H BSW
18″
P225/50R18 94H BSW
P225/55R18 97H BSW
235/55R18 100V BSW
P235/60R18 102V BSW
245/45R18 96V BSW
Price Range
Prices on the Goodyear Assurance Comfor Tred Touring range from approximately $109 and up. You may also find occasional rebates, discounts, coupons and special offers on this tire.
Click Here To Find The Current Prices On All Goodyear Assurance ComforTred Touring Sizes
Warranty
The Assurance ComforTred Touring is backed by Goodyear's 6-year or 80,000 mile tread life warranty on T and H-speed rated tires. For V-speed rated tires it is 6-years or 70,000 miles. Tire uniformity is guaranteed for 6-months or the first 2/32 inch of tread wear.
Materials and workmanship are covered for 6-years and include free replacement the first year or first 2/32 inch of tread wear. Goodyear prorates out the amount for the remaining time period or down to the final 2/32 inch of tread depth left on the tire.
You also get a 2-year roadside warranty and 30-day test drive whereby you can exchange the tires for another Goodyear model if you are not satisfied.
---