Goodyear Assurance ComforTred Tire Review & Rating
The Assurance ComforTred is Goodyear's premium all-season tire that is designed to deliver increased traction and handling on all types of road surfaces. Engineered for use on coupes, sedans, minivans, SUV's and other vehicles, the ComforTred offers the kind of smooth and more comfortable ride you look for among tires in this class.
An all-season tread compound and symmetric tread pattern feature open narrow grooves on the outer shoulder that work to increase traction on dry or wet road surfaces, as well as in light snow. Four circumferential grooves provide added wet grip and reduce the risk of hydroplaning.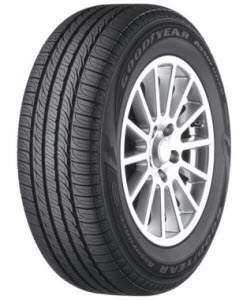 Ride comfort is a big part of this tire's makeup, and Goodyear has increased cushion by 20% over other tires in this class by adding a shock absorbant rubber layer between the steel belts and the tread. This layer provides an insulating effect when rolling over bumps, potholes and other jarring road imperfections. The results are a smoother and more comfortable ride, as well as much lower road noise.
Inside the tire you will find two steel belts with a nylon reinforcement for added strength and durability. A polyester cord body and the added cushion layer enhance ride comfort and smoothness. Sizes are available from 14-18 inches, and you will also receive an 80,000 mile tread warranty.
Pros
Exceptional dry and wet traction

Steering is responsive and tire provides excellent stability

Ride comfort is outstanding

Minimal road noise

80,000 mile tread warranty
Cons
Winter ice handling

Would like to see more sizes available
Overall Thoughts
Note: The Assurance ComforTred tire has been updated with the release of the Assurance ComforTred Touring.
This model from Goodyear is arguably one of the company's better tires in their touring all-season lineup. Expect to find excellent dry and wet traction, as well as more responsive steering that gives you a feeling of being in complete control at all times. It provides more than adequate cornering performance and remains stable throughout the speed range. Our only issue would be traction and handling on icy roads, but we've driven on much worse tires.
Another area this tire excels in is ride comfort. The added cushion between the belts and the tread makes a huge difference in how comfortable this tire rides. It's like walking with an extra padded insole in your shoe. You feel the added comfort. As you might expect, this also contributes to a lower outside road noise. Tread life is very good on the ComforTred, with many drivers saying the same things in driver reviews and ratings.
Overall, though we would like to see a few more sizes available, Goodyear has produced one of the better tires in the all-season class and one that we can certainly recommend. That said, we would recommend going with its newer sister tire, the ComforTred Touring, which offers even more impressive performance and ranks among the best tires in this class.
Click Here For Current Goodyear Coupons
What Vehicles Will The Goodyear ComforTred Fit?
(This is not a complete list of ALL vehicles this tire will fit)
Buick Rendezvous, Centruy, LeSabre

Cadillac Seville, Deville, CTS

Chevrolet Malibu, Venture, Impala, Equinox

Chrysler 300, Town and Country, Pacifica, Cirrus, LHS

Dodge Charger, Grand Caravan

Ford Flex, Windstar, Five Hundred, Mustang, Contour, Fusion, Taurus

Honda Odyssey, CR-V, Accord, Civic

Hyundai Santa Fe, Tucson

Lexus LS430, RX400h, RX330

Mercury Grand Marquis, Montego

Nissan Altima, Maxima, Sentra

Pontiac Torrent, G6, Grand Prix, Bonneville, Grand Am

Saturn SC1, L200, Vue

Subaru Outback

Toyota Camry, Corolla, Avalon, Prius, RAV4, Highlander, Matrix

Volkswagen Jetta
Tire Sizes
14″
P195/70R14 90T VSB
15″
P205/70R15 95T VSB
P215/65R15 95T VSB
16″
P225/60R16 97T WB
18″
P225/60R18 99H VSB
P235/60R18 102T VSB
Price Range
Goodyear Assurance ComforTred prices range from approximately $94 and up. You may also find occasional rebates, discount prices, coupons and special offers on this tire.
Click Here To Find The Current Prices On All Goodyear Assurance ComforTred Sizes
Warranty
Goodyear provides a 6-year or 80,000 mile tread warranty on the ComforTred. Tire uniformity is guaranteed for one-year or the first 2/32 inch of wear.
Materials and workmanship are warranted for 6-years and include free replacement during the first year or first 2/32 inch of wear. A prorated amount is given for the remaining time period or down to the final 2/32 inch of tread depth.
A 2-year roadside protection plan is also included, and Goodyear provides a 30-day test driver guarantee that allows you to exchange the tire for another Goodyear model if you are not completely satisfied.
---