General Grabber UHP Tire Review & Rating
The General Grabber UHP is General Tire's high performance summer model that is designed to provide a high level of traction and grip to go with better overall ride comfort. Engineered for sport trucks and SUV's, the UHP focus is all about performance.
General uses a 2nd generation silica tread compound that is matched up with a directional tread pattern to increase dry and wet traction. Wide shoulder blocks with multiple edges combine with unique V-shaped grooves to enhance dry pavement traction and cornering grip, which is an area that this tire excels in.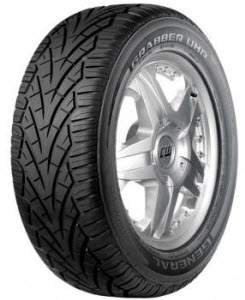 On wet pavement, the V-shaped grooves also work to evacuate water from under the tread. The results are better handling and grip, as well as reducing the risk of hydroplaning. This is another area where this tire does quite well.
Inside the tire you will find two steel belts that are reinforced with a jointless wrapped nylon for added strength and durability throughout the speed zone. They also promote more even tread wear and a longer lifespan. General has sizes available from 16-24 inches to fit most any application. T, H, V and W-speed ratings are also available.
Pros
Outstanding traction on dry or wet pavement

Cornering grip and steering response are excellent

Ride is smooth and comfortable

Aggressive good looks

Good value for the money
Cons
Tires have been noisy for some drivers as they wear down

Not suited for winter driving conditions
Overall Thoughts
These General UHP tires provide some of the best straight line and cornering performance of any street SUV or truck tire you'll find available today. You'll love the grip they give, and the ride is surprisingly comfortable for this type of high-performance tire.
We would advise against driving these when winter rolls around if you live in a part of the country that sees any snow because traction is not good. Then again, this is not a winter tire in the least. It's designed to provide high performance on dry or wet road surfaces, and to that end it does a great job of it.
Overall, this is one of the top high performance street tires on the market for trucks/SUV's. Highly recommended.
Click Here For Current General Tire Coupons
Click Here To Find Current Price
What Vehicles Will The General UHP Fit?
(This is not a complete list of ALL vehicles this tire will fit)
Acura MDX

BMW X5

Cadillac SRX

Chevrolet Suburban, Blazer, S10, Silverado, Tahoe

Dodge Dakota, Ram, Durango

Ford Escape, F-150, Sport Trac, Freestyle

GMC Sonoma, Sierra

Honda Element

Hyundai Tucson, Santa Fe

Jeep Grand Cherokee, Commander

Land Rover Discovery, Range Rover

Lexus LX470

Mercedes-Benz ML320, ML500

Mitsubishi Montero

Nissan Xterra, Titan, Frontier, Pathfinder

Porsche Cayenne

Suzuki Grand Vitara

Toyota Highlander, Tundra, RAV4

Volkswagen Touareg, R32
Tire Sizes
16″
255/65R-16 109H BSW
17″
255/60R-17 106V BSW
275/55R-17 109V BSW
18″
235/60R18XL 107V BSW
255/55R18XL 109W BSW
19″
255/50R-19 XL 107W B
285/45R-19 XL 111W B
20″
275/40R20XL 106W BSW
275/45-20XL 110V BSW
275/55R20XL 117V BSW
285/50R-20 112V BSW
295/45R20XL 114V BSW
295/50R20XL 118V BSW
22″
305/40R22XL 114V BSW
305/45R22XL 118V BSW
23″
305/40R23XL 115V BSW
24″
305/35R24XL 112V BSW
305/40R24XL 117V BSW
Price Range
Click Here To Find The Current Prices On All General Grabber UHP Sizes
General provides a limited warranty on the UHP. You will find a one-year or first 2/32 inch of wear on the tire's uniformity.
Materials and workmanship are guaranteed for 6-years and include free replacement during the first year or first 2/32 inch of wear. A prorated amount is given for the remaining time period or down to the final 2/32 inch of tread depth.
There is also a 30-day customer satisfaction trial whereby you can exchange the tire for another General brand if you are not completely satisfied.
---