General Grabber MT Tire Review & Rating
It was all the rage when it made its debut in 2015. I'm speaking of the General Grabber MT tire that is built as an off-road mud and all-terrain tire with a very unique looking diagonal tread design. Created for all types of light trucks and SUV's, the Grabber MT is featured as being a very durable tire with extreme traction for rugged terrain.
With maximum off-road performance, the tread on this model has an open patterned design with stone ejecting ribs, which prevent the tire from spinning and dirt and mud from getting caked on. The self-cleaning traction is great in all types of terrain with an exceptionally high level of traction on soft terrain such as sand and mud.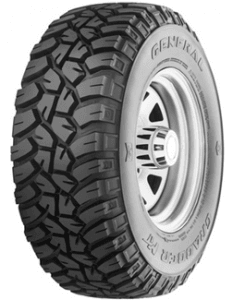 The General MT sports a tougher tread compound to go along with 3-ply-dura gen-construction and a unique patented strake & chamfer tread pattern, which means that the tread has a trans-toric groove repeated all around the tire.
The tread is something of a hybrid; a cross between a deep grooved mud tire with an aggressive tread-block design – and an all-terrain tread with the tread along the shoulders which are closer together. Aired down, the tire's high-void shoulder blocks help it go over rocky surfaces without much interference.
General Tire's Acoustic Modulation Sound Technology (AMST) sound wave suppression helps reduce tire noise on the road, but you can still expect to find a little extra hum at highway speeds. It's easy to forget sometimes that this is a mud tire after all.
Traction and grip on-road is reliable and very good for the most part. We say for the most part because you may find traction on snow and ice to be a little more problematic even with the M+S rating. Of course, this is a common issue for most MT tires due in part to the lack of sipes.
General Tire currently has 5 available sizes in the Grabber MT that range from 15-16 inches. A limited tread warranty is also included.
Pros
High level of traction in all off-road conditions
Self-cleaning capabilities are very good
Large tread void has a high level traction in various terrains
Cons
Overall Thoughts
The Grabber MT has quickly become widely popular with truck, SUV and 4×4 owners. It's easy to see why as this tire delivers solid performance in nearly all conditions. Aired down into the teens, the tire flexes well and has enhanced multi-angled sidewall protectors to help prevent punctures.
Perhaps somewhat surprising, the tires mount well, requiring less than four ounces of weight to balance them out. They are very similar in comparison to many of the better MT tires out on the market when it comes to both off-road performance and looks.
Overall we give the General Grabber MT tire a rank in the middle to upper half of the MT class. For price and performance, it offers good value and makes for a nice option in an off-road tire.
Click Here For Current General Tire Coupons
Click Here To Find Current Lowest Price On Amazon
What Vehicles Will The General MT Fit?
Fits these vehicles and many others:
Chevrolet Silverado, Colorado, S-10
Dodge Dakota, Ram
Ford F-150, F-250, F-350, Ranger
GMC Sierra, Canyon
Honda Ridgeline, Passport
Jeep Wrangler, Grand Cherokee, Liberty, Cherokee, Commander
Nissan Xterra, Pathfinder, Frontier, Titan
Toyota Tacoma, Tundra
Tire Sizes
15″
LT235/75R15 C 104/101Q BW
31X10.50R15 C 109Q BW
33X12.50R15 C 108Q BW
16″
LT265/75R16 E 123/120Q BW
Price Range
General Grabber MT prices range from approximately $152 and up. You may also find occasional rebates, discount prices, coupons and special offers on this tire.
Click Here To Find Current Lowest Price On Amazon For All General Grabber MT Tire Sizes
Warranty
General provides a limited warranty on the Grabber MT. You will find a one-year or first 2/32 inch of wear on the tire's uniformity.
Materials and workmanship are guaranteed for 6-years and include free replacement during the first year or first 2/32 inch of wear. A prorated amount is given for the remaining time period or down to the final 2/32 inch of tread depth.
There is also a 30-day customer satisfaction trial whereby you can exchange the tire for another General brand if you are not completely satisfied.
---