General Grabber HTS60 Tire Review & Rating
Built to replace the original HTS, the new General Grabber HTS60 puts an emphasis on performance, comfort and improved treadwear. In fact this new model is said to improve wear by 25% over its predecessor, which is an area that most all drivers can appreciate.
Designed for all types of pickups, vans, crossovers and SUV's, the HTS60 uses a new cut and chip resistant tread compound. This new compound, which is part of the company's DuraGen Technology, adds to durability and better overall treadlife.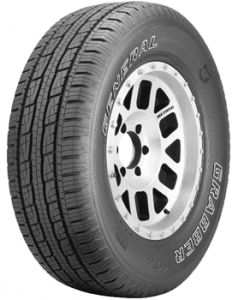 The tread pattern has changed only slightly and does differ a bit between metric sizes and LT sizes. Metric sizes are designed to provide enhanced traction and ride comfort, while LT sizes are optimized for added stability and grip when hauling heavier loads.
Dry traction and handling, as well as steering response, are increased through the tire's continuous center rib, intermediate tread blocks and notched shoulders. This combination gives the HTS60 a very good on-center feel and more responsive steering than the original.
With its circumferential grooves and added sipes around the tread, you can expect to find confident handling on wet pavement. The tread is optimized to channel away more water and reduce the risk of hydroplaning. In addition, it holds its own in light to moderate snow.
General has added unique sound barrier ribs to the tread that work in reducing road noise and adding to ride comfort. Comfort Balance Technology helps give the tire a smoother ride through the use of an added layer of rubber that helps cushion the ride over harsh bumps and other obstacles.
Inside the tread you'll find two steel belts that are reinforced with spirally wrapped nylon for added strength and durability. General offers a wide range of 16-22 inch sizes, with speed ratings of S, T and H. There's also a 50K or 65K mile tread warranty included with the HTS60.
Pros
Dry/wet traction and handling

Braking on wet or snow covered road surfaces

Treadlife
Cons
Nothing major at this time
Overall Thoughts
While the original HTS has been one of the higher rated all-season tires for trucks, vans and SUV's, this new HTS60 has managed to increase the performance level. Ride stability, control and steering response are impressive. Further, it handles quite well on wet pavement.
General has increased the comfort level with their added layer of rubber in the tread, and their sound barrier ribs do help in lowering outside noise. While arguably not on the level of top all-season tires like the Michelin Defender LTX M/S, you won't find excessive noise on this tire.
Treadwear looks to be improved, but it's too early to say whether the claim of 25% more treadlife is true or not. What we can safely say is that we have not heard any complaints about treadwear from other drivers to this point.
Overall, we rate the General HTS60 as one of the top models in the truck/SUV all-season class. Highly recommended.
What Vehicles Will The General HTS60 Fit?
(This is not a complete list of ALL vehicles this tire will fit)
Chevrolet Silverado, Avalanche, Suburban, Tahoe, TrailBlazer

Dodge Ram, Dakota

Ford F-150, Escape, Explorer, Expedition, Ranger, Edge

GMC Canyon, Sierra, Yukon

Honda Pilot, Ridgeline

Jeep Grand Cherokee, Wrangler

Land Rover Range Rover

Mercury Mountaineer

Mitsubishi Montero

Nissan Titan, Frontier, Armada, Pathfinder

Toyota FJ Cruiser, Highlander, 4Runner, Sequoia, Tundra, Tacoma, L

and Cruiser
Tire Sizes
15″
265/75R15 112S OWL
255/70R15 108S OWL
31X10.50R15LT 109R C OWL
16″
LT235/85R16 120/116R E OWL
225/75R16 104S SL OWL
235/75R16 108S SL OWL
245/75R16 111S SL BSW
245/75R16 111S SL OWL
LT245/75R16 120/116S E BSW
LT245/75R16 120/116S E OWL
265/75R16 116T SL OWL
LT265/75R16 123/120R E OWL
215/70R16 100T SL OWL
225/70R16 103T SL OWL
235/70R16 106T SL BSW
235/70R16 106T SL OWL
245/70R16 107T SL BSW
245/70R16 107T SL OWL
255/70R16 111S SL OWL
265/70R16 112T SL BSW
265/70R16 112T SL OWL
255/65R16 109S SL OWL
255/65R16 109H SL BSW
17″
LT235/80R17 120/117R E OWL
LT245/75R17 121/118S E BSW
LT245/75R17 121/118S E OWL
235/70R17 111T XL OWL
245/70R17 110T SL BSW
LT245/70R17 119/116S E OWL
265/70R17 115S SL BSW
265/70R17 115S SL OWL
LT265/70R17 121/118S E OWL
235/65R17 108T XL OWL
235/65R17 108H XL BSW
245/65R17 107T SL OWL
245/65R17 107T SL BSW
255/65R17 110T SL OWL
265/65R17 112T SL OWL
275/60R17 110T SL OWL
18″
255/70R18 113T SL OWL
265/70R18 116T SL OWL
LT275/70R18 125/122S E OWL
235/65R18 106T SL OWL
255/65R18 111S SL BSW
265/65R18 114T SL OWL
275/65R18 116T SL OWL
LT275/65R18 123/120S E OWL
235/60R18 103H SL BSW
245/60R18 105H SL BSW
265/60R18 110T SL OWL
255/55R18 109H XL BSW
19″
255/60R19 109H SL BSW
255/60R19 109S SL BSW
235/55R19 101H SL BSW
245/55R19 103T SL BSW
20″
275/60R20 119T XL BSW
255/55R20 107H SL BSW
275/55R20 117T XL BSW
275/55R20 117H XL BSW
245/50R20 102H SL BSW
265/50R20 107T SL BSW
22″
285/45R22 114H XL BSW
Price Range
General Grabber HTS60 prices range from approximately $92 and up. You may also find occasional rebates, discount prices, coupons and special offers on this tire.
Warranty
The HTS60 comes with either a 6-year/65,000 mile or 6-year 50,000 mile tread warranty depending on speed rating or LT models. A one-year or first 2/32 inch of wear tire uniformity guarantee applies to all tires.
Materials and workmanship are warranted for 6-years and include first year or first 2/32 inch free replacement. A prorated amount is given for the remaining time period or down to the final 2/32 inch of tread depth.
General also includes their 45-day or first 2/32 inch of wear customer satisfaction trial guarantee with every HTS60 tire.
---