General Grabber HTS Tire Review & Rating
With precise steering response and performance handling and traction, the General Grabber HTS has been engineered for drivers of all types of pickup trucks, crossovers, SUVs and vans. The tire combines an attractive tread design with a long treadlife to give drivers a good option in all-season highway tires.
General Tire has developed a unique Eco-Ride tread compound that provides enhanced ride comfort, longer treadlife and all-season traction throughout the year. The symmetric tread design also sports a larger contact patch and General's Duragen design technology. (More on that in a minute.)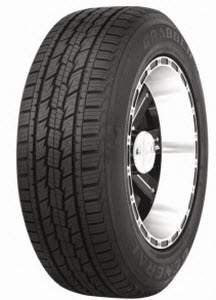 Wet traction is a strong suit for the HTS due in part to response grooves that enhance steering control, and Hydro Channels that expel rain water from under the tire, giving you increased control and a lower risk of hydroplaning. The multi-sipe design around the tread provides added bite and grip on wet or snow covered roads.
The tire's ride comfort and minimal road noise come from General's tread cushioning and noise capturing pockets around the tread. The result is a smoother ride without all the outside road noise.
As mentioned earlier, General uses its Duragen technology inside the tread, which consists of two high tensile steel belts and microfiber casing reinforcement to provide added strength and durability, as well as more comfort from vibrations and bumps along the road. A 45,000 or 60,000 mile tread guarantee is also included, depending on the tire's speed rating.
Click Here For Current General Tire Coupons
Click Here To Find Current Price
Pros
Dry and wet traction are both excellent

 

Steering response and control are sure and precise

 

Ride is comfortable and road noise is minimal

 

60,000 mile warranty

 
Cons
Treadlife has been a concern for some

 
Overall Thoughts
(Note: General has released the new Grabber HTS60 in late 2015 that will eventually replace this original HTS. Click Here to read our review on this new version)
A very good choice for owners of SUV's and light duty use pickups. This tire provides excellent wet or dry surface traction and handling. The steering response is precise and among the better tires of this type. Ride comfort on the highway is very good. You will not find bothersome road noise or bone-jarring bumps when riding on these tires.
The only issue with this tire for some has been a lower than expected treadlife. For other drivers it has not been a problem. That said, there is a 60,000 mile tread guarantee.
Overall, the HTS performs well and ranks in the upper half of the all-season highway class.
What Vehicles Will The Grabber HTS Fit?
(This is not a complete list of ALL vehicles this tire will fit)
Acura MDX

 

Chevrolet Silverado, Tahoe, Trailblazer, Suburban

 

Dodge Durango, Ram, Dakota

 

Ford F Series, Escape, Expedition, Ranger, Edge

 

GMC Jimmy, Sierra, Envoy

 

Honda Pilot, Ridgeline

 

Mercedes-Benz ML500

 

Mercury Mountaineer

 

Nissan Titan, Frontier, Pathfinder

 

Toyota 4 Runner, RAV4, Highlander, Land Cruiser, Tacoma, Tundra

 
Tire Sizes
15″
LT235/75R15 104/101Q C OWL
235/75R15 105T OWL
235/75R15 109T XL OWL
265/75R15 112S OWL
225/70R15 100T OWL
235/70R15 103T OWL
255/70R15 108S OWL
265/70R15 112S OWL
31X10.50R15LT 109Q C OWL
16″
LT235/85R16 120/116Q E OWL
LT225/75R16 115/112S E BSW
225/75R16 104S OWL
235/75R16 108S OWL
235/75R16 108S BSW
LT245/75R16 120/116S E OWL
LT245/75R16 120/116S E BSW
245/75R16 111S BSW
245/75R16 111S OWL
LT265/75R16 123/120Q E OWL
265/75R16 116T OWL
P215/70R16 99S BSW
215/70R16 100S OWL
225/70R16 103S OWL
235/70R16 106T OWL
235/70R16 106T BSW
245/70R16 107S OWL
245/70R16 107S BSW
255/70R16 111T BSW
255/70R16 111S OWL
265/70R16 112S OWL
265/70R16 112S BSW
275/70R16 114S OWL
275/70R16 114S BSW
235/65R16 103T BSW
255/65R16 109S OWL
255/65R16 109H BSW
17″
LT235/80R17 120/117R E OWL
235/75R17 109S BSW
LT245/75R17 121/118S E BSW
LT245/75R17 121/118S E OWL
235/70R17 111T XL OWL
LT245/70R17 119/116S E OWL
P245/70R17 108S BSW
245/70R17 110S OWL
P245/70R17 108T BSW
LT265/70R17 121/118S E OWL
P265/70R17 113S BSW
P265/70R17 113S OWL
LT285/70R17 121/118Q D OWL
LT315/70R17 121/118S D BSW
225/65R17 102T BSW
235/65R17 108H XL BSW
235/65R17 108T XL OWL
245/65R17 111T XL OWL
255/65R17 110S BSW
265/65R17 112T OWL
275/60R17 110S OWL
275/55R17 109V BSW
18″
255/70R18 113T OWL
265/70R18 116S OWL
LT275/70R18 125/122S E OWL
235/65R18 106S OWL
LT275/65R18 123/120S E OWL
265/60R18 110T OWL
275/60R18 113H BSW
255/55R18 109H XL BSW
20″
LT275/65R20 126/123S E OWL
275/60R20 119S XL BSW
275/60R20 119S XL OWL
275/55R20 117S XL BSW
Price Range
Prices on the General HTS range from approximately $107 and up. You may also find occasional rebates, discounts, coupons and special offers on this tire.
Click Here To Find The Current Price On All General Grabber HTS Sizes
Warranty
The HTS comes with a 6-year or 60,000 mile warranty on T speed rated tires and below. For H speed rated tires and above, or LT models, the warranty is for 6-years or 45,000 miles. A one-year or first 2/32 inch of wear tire uniformity guarantee applies to all tires.
Materials and workmanship are warranted for 6-years and include first year or first 2/32 inch free replacement. A prorated amount is given for the remaining time period or down to the final 2/32 inch of tread depth.
General also includes their 45-day customer satisfaction guarantee whereby you can exchange the tires for another tire is you are not satisfied. See General's warranty terms for more information.
---