General G-Max AS-05 Tire Review & Rating
The General G-Max AS-05, released in May 2017, is an ultra-high performance all-season tire aimed at drivers of all types of sport coupes and sedans. Built to provide the highest levels of performance from an all-season tire, this new model will replace the current G-Max AS-03 which has been a widely popular tire since 2011.
General uses their unique GripTread technology and an asymmetric tread pattern that is designed to increase not only overall traction on dry/wet pavement, but to deliver more responsive handling and cornering grip. It works very well for this tire as cornering grip and stability is among the best in the UHP AS class.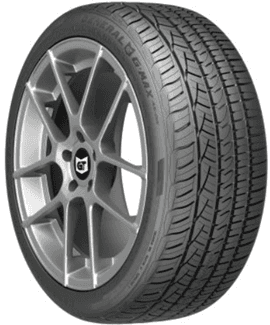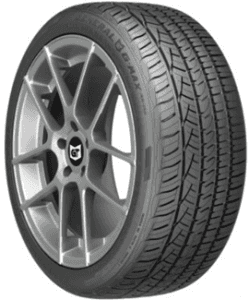 The G-Max AS-05 features General's Smart Monitor tread indicators that allow you to visually see when the tires need to be replaced, and a Visual Alignment Indicator that shows you when to get your alignment checked.
StabiliTread Technololgy enhances treadlife and even tread wear by creating a larger contact patch. A 500 UTGC rating and General Tire's 50K mile warranty on this model speak well of expected treadlife on this tire.
General offers 54 sizes that range from 16-22 inches, and all sizes sport a W-speed rating.
Pros
Dry and wet traction
Outstanding cornering grip and stability
Comfortable ride for UHP tire
Treadlife better than average
Cons
Too early to know winter performance
Overall Thoughts
If you're a driving enthusiast looking for a UHP all-season tire that delivers on its promises of outstanding traction and cornering performance, you're going to like the new General G-Max AS-05. While the older AS-03 was a popular choice in its own right, this new model exceeds it in all areas.
Traction on both dry or wet pavement is excellent and what you would expect from a top UHP tire. Cornering stability is equally as impressive and we feel it holds the road at a noticeably higher level than the AS-03. This tire does not break free without really making a concentrated effort. In addition, the ride is comfortable and road noise is not an issues.
Winter traction and handling is an area that we can't speak to at this time. (We will update during the coming winter season.) Although early, treadlife is another area that looks to be strong at this stage.
Overall, the AS-05 is simply among the best in class for UHP AS tires. We expect it to compete favorably against the likes of the Michelin AS3 Plus, Continental DWS06 and others as top dog in this category. Highly recommended.
Click Here For Current General Coupons
Click Here To Find Current Prices
What Vehicles Will The General G-Max AS-05 Fit?
(This is not a complete list of ALL vehicles this tire will fit)
Acura TL, RL, RSX
Audi A6, A4, A8L, TT
BMW 135i, 545i, 550i, 750Li, M5, M3, 330i
Buick Regal, Lucerne
Chevrolet Corvette, Impala, Monte Carlo SS, Camaro, Cobalt, Cruze, Malibu
Chrysler 200
Dodge Charger, Avenger, Challenger
Ford Mustang GT, Fusion, Focus, Explorer, Contour
Honda Civic, CRZ
Hyundai Sonata, Veloster
Jaguar XKR, XK8
Lexus GS350, GS430, IS300, LS460L
Lincoln LS
Mazda3, RX-8, Miata
Mercedes-Benz E550, SL55, SL500, SLK320, CLK430
Nissan 370Z, Maxima
Pontiac GTO, G8, G6, Grand Prix, Trans Am
Scion tC
Subaru Legacy, Outback, Impreza, BRZ
Volkswagen Jetta, CC Sport, Passat, GTi
Tire Sizes
16″
195/50R16 84W BSW
205/45R16 83W BSW
205/50R16 87W BSW
205/55R16 91W BSW
215/55R16 93W BSW
225/50R16 92W BSW
225/55R16 95W BSW
17″
205/40R17 84W XL BSW
205/45R17 88W XL BSW
205/50R17 93W XL BSW
215/50R17 95W XL BSW
215/55R17 94W BSW
225/45R17 91W BSW
225/50R17 94W BSW
225/55R17 97W BSW
235/45R17 94W BSW
235/50R17 96W BSW
235/55R17 99W BSW
245/40R17 91W BSW
245/45R17 95W BSW
245/50R17 99W BSW
275/40R17 98W BSW
18″
215/40R18 89W XL BSW
215/45R18 93W XL BSW
225/40R18 92W XL BSW
225/45R18 91W BSW
225/50R18 95W BSW
235/40R18 95W XL BSW
235/45R18 98W XL BSW
235/50R18 97W BSW
245/40R18 97W XL BSW
245/45R18 100W XL BSW
245/55R18 103W BSW
255/35R18 94W XL BSW
255/40R18 99W XL BSW
255/45R18 103W XL BSW
265/35R18 97W XL BSW
275/40R18 99W BSW
19″
225/40R19 93W XL BSW
225/45R19 92W BSW
245/40R19 98W XL BSW
245/45R19 98W BSW
255/35R19 96W XL BSW
255/40R19 100W XL BSW
275/40R19 101W BSW
20″
245/35R20 95W XL BSW
245/40R20 99W XL BSW
245/45R20 103W XL BSW
255/35R20 97W XL BSW
255/45R20 105W XL BSW
275/35R20 102W XL BSW
275/40R20 106W XL BSW
22″
265/40R22 106W XL BSW
Price Range
General G-Max AS-05 prices range from approximately $98 and up. You may also find occasional rebates, discount prices, coupons and special offers on this tire.
Click Here To Find The Current Prices On All General G-Max AS-05 Sizes
Warranty
General provides a 6-year or 50,000 mile tread warranty on the G-Max AS-05. A one-year or first 2/32 inch of wear tire uniformity guarantee applies to all tires.
Materials and workmanship are warranted for 6-years and include first year or first 2/32 inch free replacement. A prorated amount is given for the remaining time period or down to the final 2/32 inch of tread depth.
General also includes their 45-day or first 2/32 inch of wear customer satisfaction trial guarantee.
---