General G-MAX AS-03 Tire Review & Rating
General Tire is known for making some very good performance tires, and the G-MaxAS-03 continues down that same path. Designed for sport coupes and sedans, this tire is developed not only for high performance, but for year round all-season driving, including snow.
Naturally, drivers of this type of tire are looking for performance handling and the AS-03 does not disappoint. Dry grip and traction is enhanced through intermediate tread blocks and more stable shoulders. A continuous center rib adds more stability and response as well. Interlocking 3-D tread blocks also help improve handling and give the tire a better overall tread life.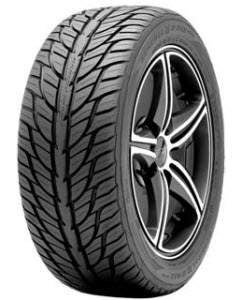 An area that we found this tire to excel in would be driving on wet roads. The higher void-to-tread ratio and the added lateral and longitudinal grooves provide amazing traction on wet surfaces. Hydroplane resistance is excellent on this model. Another advantage of the 3-D siping in the tread is that it adds more biting edges for driving in the snow, something that you will find this tire does quite well.
General has added a couple of unique tread and alignment indicators to the G-MaxAS-03 that you may find helpful. The Replacement Tire Monitor (RTM) lets you visually see when the tire needs to be replaced. The indicator will show "replace tire" on the tread. It's a quick and easy way to know when your tires have reached the point of needing to be replaced.
The Visual Alignment Indicator (VAI) lets you know when your vehicle is misaligned. There are short sipes along the shoulders of the tire, and when one wears off before the other one opposite to it, you quickly know there is an alignment problem.
Inside the tire you'll find two steel belts that are spirally wrapped with a jointless polyamide on polyester plies that make the tire more stable at higher speeds. It also provides added durability for a longer tread life, which General backs up with a 40,000 mile warranty.
Click Here For Current General Coupons
Click Here To Find Current Prices
Pros
Cornering grip and higher speed handling is impressive

Wet and snow traction is among the best in all-season tires

Treadwear is good for a high performance tire

Very comfortable ride
Cons
Would like to see just a little better steering response

A bit more road noise than other top tires in this class
Overall Thoughts
Although it's starting to get up there in age, we still like this General AS-03 tire when it comes all-around performance. Grip on dry and wet pavement is very good. The tire doesn't let you down and the confidence it inspires is a good feeling to say the least. Dry grip in the corners is equally impressive. Riding comfort is better than you might expect from a high performance tire.
The only noticeable area that could use improvement in our opinion is road noise. It's not an issue that would prevent us from running this tire, but it's a little higher than other top tires in this class, especially with newer models. That said, General has made a good tire in the G-Max.
There's a reason why it has been around for several years and remains in the upper half of the UHP all-season category. It simply delivers solid performance and the cost is more budget-friendly for those looking to save money as well.
What Vehicles Will The G-Max AS-03 Fit?
(This is not a complete list of ALL vehicles this tire will fit)
Acura RL

BMW 535i

Chevrolet Camaro, Corvette

Ford Mustang

Hyundai Sonata, Genesis

Infiniti G35

Lincoln LS

Mazda Miata

Mercedes-Benz C-Class

Nissan Maxima, 350Z

Pontiac Grand Prix

Volkswagen Beetle
Tire Sizes
15″
195/55R15 85V BSW
16″
195/55R16 87V BSW
205/55ZR16 91W BSW
215/55ZR16 93W BSW
225/55ZR16 95W BSW
195/50ZR16 84W BSW
205/50ZR16 87W BSW
225/50ZR16 92W BSW
205/45ZR16 93W BSW
17″
215/55ZR17 94W BSW
225/55ZR17 97W BSW
235/55ZR17 99W BSW
205/50ZR17 93W XL BSW
215/50ZR17 95W XL BSW
225/50ZR17 94W BSW
235/50ZR17 96W BSW
245/50ZR17 99W BSW
205/45ZR17 88W XL BSW
215/45ZR17 91W XL BSW
225/45ZR17 91W BSW
235/45ZR17 94W BSW
245/45ZR17 95W BSW
205/40ZR17 84W XL BSW
245/40ZR17 91W BSW
255/40ZR17 94W BSW
18″
235/55ZR18 100W BSW
225/50ZR18 95W BSW
235/50ZR18 97W BSW
215/45ZR18 93W XL BSW
225/45ZR18 91W BSW
235/45ZR18 98W XL BSW
245/45ZR18 100W XL BSW
255/45ZR18 103W XL BSW
215/40ZR18 89W XL BSW
225/40ZR18 92W XL BSW
235/40ZR18 95W XL BSW
245/40ZR18 97W XL BSW
255/40ZR18 99W XL BSW
275/40ZR18 99W BSW
255/35ZR18 94W XL BSW
265/35ZR18 97W XL BSW
275/35ZR18 95W BSW
19″
225/45ZR19 92W BSW
245/45ZR19 98W BSW
225/40ZR19 93W XL BSW
245/40ZR19 98W XL BSW
255/40ZR19 100W XL BSW
275/40ZR19 101W BSW
225/35ZR19 88W XL BSW
235/35ZR19 91W XL BSW
245/35ZR19 93W XL BSW
255/35ZR19 96W XL BSW
275/35ZR19 100W XL BSW
265/30ZR19 93W XL BSW
275/30ZR19 96W XL BSW
20″
245/45ZR20 103W XL BSW
255/45ZR20 105W XL BSW
245/40ZR20 99W XL BSW
275/40ZR20 106W XL BSW
245/35ZR20 95W XL BSW
255/35ZR20 97W XL BSW
275/30ZR20 97W XL BSW
Price Range
G-Max AS-03 prices range from approximately $92 and up. You may also find occasional rebates, discounts, coupons and special offers on this tire.
Click Here To Find The Current Prices On All General G-MAX AS-03 Sizes
Warranty
The G-Max AS is backed by a 6-year or 40,000 mile treadlife guarantee. Tire uniformity is covered for one-year or the first 2/32 inch of tread wear.
Materials and workmanship are covered for 6-years and include free first year replacement. General prorates out the amount for the remaining time period or until tread depth reaches its final 2/32 inch.
A 45-day customer satisfaction trial guarantee is also included. It allows you to exchange the tire for another General tire model if you are not completely satisfied.
---