General Altimax RT Tire Review & Rating
The General Altimax RT touring tire sports an attractive symmetrical tread design to go with a smoother ride in all-season driving conditions for drivers of all types of coupes, sedans, minivans and crossovers.
A unique Twin Cushion Silica Tread Compound is designed to add better driving stability while providing a more comfortable and quiet ride. The silica compound also enhances dry and wet surface grip and handling.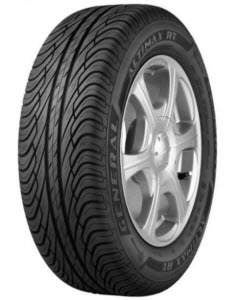 General's Acoustic Modulation Sound Technology (AMST) utilizes the latest in soundwave suppression to virtually eliminate road noise, giving the Altimax RT a very quiet tire. You will not find yourself having to raise your voice when talking to others in your car or turning up the radio to tune out the road noise.
General Tire has added Visual Alignment Indicators on the tire that give you a visual indication of misalignment that help you to correct the problem before it ruins the tread. Misalignment is one of the top reasons why tires wear out much quicker than they should have. This is a handy feature they have added in.
Reactive Contour Technology is another feature that has been added, and it is designed to help the tire react to changing road conditions and maintain optimal traction with the surface for added driver confidence behind the wheel.
Inside the tread carcass are two steel belts with a polyester cord cap that give the Altimax more strength and stability at higher speeds. It also promotes more even tire wear, which is one reason why there is a 70,000 mile tread warranty.
Pros
Dry pavement handling and steering response are very good

 

Wet surface control is better than average

 

Tire is comfortable to ride on and very quiet

 

70,000 mile tread warranty

 
Cons
Tread wear could be better

 

Snow and ice traction

 
Overall Thoughts
The General Tire Altimax RT touring tire is a middle of the pack performer. It does a lot of nice things, but also has some drawbacks thrown in. Dry grip and traction are very good among tires in this class, while the ride is comfortable and very quiet.
On the other hand, tread life seems to be an issue with a few drivers as they have reported shorter than average mileage from this model. That said, we would recommend going with the newer Altimax RT43 instead of this model as it has proven itself to be one of the best tires in its class.
Click Here For Current General Tire Coupons
Click Here To Find Current Prices
What Vehicles Will The Altimax RT Fit?
(This is not a complete list of ALL vehicles this tire will fit)
Acura RSX

 

Chrysler 300, Sebring, PT Cruiser

 

Chevrolet Malibu, Cruze, Cavalier, Astro, Impala, Equinox

 

Dodge Challenger, Charger, Magnum, Avenger, Caliber

 

Ford Focus, Mustang, Escort, Ranger, Taurus, Escape

 

Honda Accord, Civic, Odyssey, CR-V

 

Jeep Patriot, Liberty, Grand Cherokee

 

Kia Optima, Soul, Spectra

 

Lexus LS400

 

Mazda 3,5,6

 

Nissan Altima, Sentra, Versa, Frontier

 

Pontiac Grand Prix, G6

 

Saturn Aura, SC2, L200

 

Scion xA

 

Toyota Camry, Corolla, Supra, Sienna

 

Volkswagen Passat, Golf, Jetta

 
Tire Sizes
13″
175/70R13 82T BSW
14″
175/65R14 82T BSW
175/70R14 84T BSW
185/65R14 86T BSW
185/70R14 88T BSW
195/65R14 89T BSW
195/70R14 91T BSW
205/70R14 98T BSW
15″
185/60R15 84T BSW
185/65R15 88T BSW
195/60R15 88T BSW
195/65R15 91T BSW
205/60R15 91T BSW
205/65R15 94T BSW
205/70R15 96T BSW
215/60R15 94T BSW
215/65R15 96T BSW
215/70R15 98T BSW
225/70R15 100T OWL
235/70R15 103T OWL
235/75R15 105T OWL
16″
205/55R16 91T BSW
205/60R16 92T BSW
205/65R16 95T BSW
215/60R16 95T BSW
215/65R16 98T BSW
225/60R16 98T BSW
235/60R16 100T BSW
235/65R16 103T BSW
17″
215/50R17 91T BSW
215/60R17 96T BSW
215/65R17 99T BSW
225/50R17 94T BSW
225/55R17 97T BSW
225/60R17 99T BSW
18″
215/55R18 95T BSW
225/50R18 95T BSW
235/65R18 106T BSW
Price Range
Prices on the Altimax RT range from approximately $53 and up. You may also find occasional rebates, discounts, coupons and special offers on this tire.
Click Here To Find The Current Price On All General Altimax RT Sizes
Warranty
The General Altimax RT comes with a 6-year or 70,000 mile treadlife warranty that also has a one-year or first 2/32 inch guarantee on tire uniformity.
Materials and workmanship are guaranteed for 6-years and include free tire replacement during the first year or first 2/32 inch of wear. General then prorates the amount for the remaining time period or down to the final 2/32 inch of tread depth.
There is also a 45-day customer satisfaction period. If you are not completely satisfied with the tires you can exchange them for another General tire model.
---