Fuzion Touring Tire Review & Rating
The Fuzion Touring is engineered to provide all-season touring performance for drivers of coupes, sedans, minivans and crossovers. With its budget-friendly low price, the Touring is available with your choice of T, H or V-speed ratings for drivers who seek a tire that is intended to deliver higher performance at a lower price.
An all-season tread compound that includes silica for increased wet traction, is molded into a symmetric tread pattern that is built to deliver year-round handling on dry, wet or snow covered roads. The tire's continuous center rib and notched shoulders enhance stability and cornering grip, while also providing more even tread wear.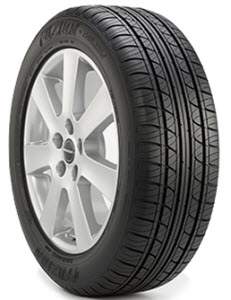 Four circumferential grooves around the tread enhance wet handling by channeling away water and reducing the risk of hydroplaning. The tire's notched lateral grooves provide enhanced wet surface traction, while multiple sipes give the tire its biting edges for grip on snow covered road surfaces, which is often mentioned as something this tire does well in various driver reviews.
Inside the tire you will find two high-tensile steel belts that are nylon reinforced for added strength and durability at higher speeds. A polyester cord body increases ride comfort and better stability. Fuzion has sizes available from 14-18 inches, and includes up to a 55,000 mile tread guarantee depending on the tires speed rating.
Pros
Dry and wet traction/handling are very good

Steering is responsive

Cornering and stability performance is as good as some major tire brands

Excellent performance and value for the low price
Cons
Would like to see a little better winter handling
Overall Thoughts
The Touring from Fuzion has been a pleasant surprise for the most part. Performance on dry or wet pavement has been solid. The tire is responsive and provides very good feedback. Cornering is stable and braking/acceleration is excellent.
Winter handling is the only area where we could see improving a bit, but we sometimes forget that this is not a winter tire by any means. That said, you just need to use a bit of extra caution and not push the tire beyond its limits when driving in rough weather.
Treadlife is impressive with this model and Fuzion includes up to a 55,000 mile tread warranty. Overall, this tire provides solid value for a lower cost.
What Vehicles Will The Fuzion Touring Fit?
(This is not a complete list of ALL vehicles this tire will fit)
Acura TL

Audi A4

Chevrolet Impala, HHR, Cobalt

Chrysler 300C

Ford Focus, Mustang

Honda Accord, Civic

Infiniti I35

Kia Spectra, Optima

Lexus LS400

Mazda Protege, Mazda3

Nissan Altima, Maxima

Oldsmobile Alero

Pontiac Grand Prix, Vibe, Grand Am

Saab 9-3

Subaru Outback, Legacy

Suzuki Reno
Tire Sizes
14″
185/60R14 82H BL
185/65R14 86T BL
195/60R14 86H BL
195/70R14 91T BL
15″
185/65R15 88H BL
195/55R15 85V BL
195/60R15 88H BL
195/65R15 91H BL
205/65R15 94H BL
205/70R15 96T BL
205/60R15 91H BL
215/60R15 94H BL
215/70R15 98T BL
225/60R15 96H BL
16″
195/55R16 87V BL
205/50R16 87V BL
205/55R16 91V BL
205/60R16 92H BL
215/55R16 97H XL BL
215/60R16 95H BL
215/65R16 98T BL
225/50R16 92V BL
225/55R16 99V XL BL
225/60R16 98H BL
235/65R16 103T BL
17″
215/50R17 95V XL BL
215/55R17 94V BL
215/60R17 96H BL
215/65R17 99T BL
225/55R17 101H XL BL
225/60R17 99H BL
225/65R17 102T BL
18″
225/60R18 100V BL
Price Range
Prices on the Fuzion Touring range from approximately $49 and up. You may also find occasional rebates, discounts, coupons and special offers on this tire.
Warranty
Fuzion provides a 5-year or 55,000 mile tread warranty on T-speed rated tires, or 5-years 40,000 miles on V & H-speed rated models. Tire uniformity is guaranteed for the first 1/32 inch of wear.
Materials and workmanship are warranted for 5-years and prorated out to the final 2/32 inch of tread depth.
---