Firestone Champion Fuel Fighter Tire Review & Rating
The Firestone Champion Fuel Fighter is the company's latest all-season tire that is also engineered with a lower rolling resistance for enhanced fuel economy. Built for all types of coupes, sedans, minivans and crossovers, this new model sports longer treadwear and a more comfortable ride.
A silica-infused tread compound and symmetric tread pattern provide for reliable dry traction and handling. One of the goals with this new compound and tread design was to increase the treadlife and improve fuel efficiency, and Firestone did a nice job in this area. Claims from the company of a 30% improvement in rolling resistance over the older Affinity and Precision tires appear to be about right.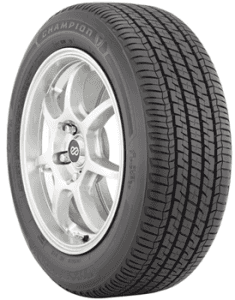 Wet grip is addressed through the tire's four circumferential grooves which expel water away from the tire and reduce the risk of hydroplaning, although traction could be better on wet road surfaces. Firestone has added full-depth sipes to the Champion Fuel Fighter that gives this tire more traction on snow and ice.
Inside the tire are two steel belts Firestone's Fuel Fighter Steel Cord. This new cord is created to provide strength while also lowering the weight for a bit more fuel savings. Firestone has a number of 14-18 inch sizes available, and all tires come with either a T, H or V-speed rating. A 70K mile tread warranty is also included on the Champion Fuel Fighter.
Pros
Dry traction
Ride is quiet
Longer lasting treadlife
Fuel efficient design adds to fuel economy
Cons
Wet traction
Winter performance
Overall Thoughts
Reviving the Champion name after this many years may prove to be a good move on Firestone's part. The original Champion back in the 30's was very popular. Today, the Fuel Fighter tire has been completely redesigned and engineered, and in some ways Firestone got it right.
Dry traction and cornering stability are very good on this all-season tire. It holds the road confidently and delivers a good on-center feel. The ride is smooth and comfortable on all but the roughest road surfaces. Naturally, you'll find better fuel efficiency with this tire than you might think. That's a real plus for drivers looking to save as much as possible on fuel costs.
The one area that we found where the tire struggles is with winter traction. It does fine on light snow, but heavy snow and ice are more problematic. While this is common on all-season tires, the traction in winter conditions is a little less than you find on other top models in this class like the Nokian Entyre 2.0 or Continental TrueContact to name a couple.
In addition, we'd like to see the wet grip increased a bit as well, especially when cornering at highway speeds.
Overall, the Champion Fuel Fighter is a step in the right direction for Firestone. Other than winter traction, this model provides a good balance of performance and the lower rolling resistance helps save money on fuel. We give it a rank in the upper half of this class.
Click Here For Current Firestone Coupons
What Vehicles Will The Firestone Champion Fit?
Fits these vehicles and many others:
Acura Integra, CSX, CL, TL, RSX, ILX
BMW 3-Series, M3, Z3
Chevrolet Aveo, Cobalt, Sonic, Cavalier, HHR, Malibu, Cruze
Chrysler PT Cruiser, Sebring
Dodge Stratus, Challenger, Avenger, Caliber, Dart
Ford Fusion, Focus, Taurus
Honda Civic, Fit, CR-X, Accord, CR-V
Hyundai Accent, Elantra, Sonata, Azera, Genesis
Kia Soul, Forte, Optima
Mazda Mazda5, Mazda6, Mazda3
Nissan Maxima, Sentra, Altima
Subaru Legacy, Outback
Toyota Corolla, Yaris, Camry, Matrix, Avalon
Volkswagen Golf, Jetta, Beetle
Volvo C30, V40, V50, S90, S70, C70
Tire Sizes
14″
185/60R14 82H BW
15″
175/65R15 84H BW
185/55R15 82H BW
185/60R15 84T BW
185/65R15 88H BW
195/55R15 85H BW
195/60R15 88H BW
195/65R15 91H BW
205/60R15 91H BW
205/65R15 94H BW
205/70R15 96T BW
205/55R16 91H BW
205/60R16 92H BW
215/60R15 94H BW
215/70R15 98T BW
16″
195/50R16 84H BW
195/55R16 87H BW
205/50R16 87H BW
205/65R16 95H BW
215/55R16 93H BW
215/60R16 95T BW
215/60R16 95V BW
215/65R16 98T BW
225/60R16 98H BW
225/65R16 100H BW
225/70R16 103T BW
235/60R16 100T BW
235/65R16 103T BW
17″
205/50R17 89V BW
215/45R17 87V BW
215/50R17 95V XL BW
215/55R17 94V BW
215/60R17 96T BW
215/65R17 99T BW
225/45R17 91V BW
225/50R17 94V BW
225/55R17 97V BW
225/60R17 99H BW
225/65R17 102T BW
235/45R17 97H XL BW
235/55R17 99H BW
235/60R17 102H BW
235/65R17 104T BW
18″
215/55R18 95H BW
225/45R18 95V XL BW
225/50R18 95T BW
225/60R18 100H BW
235/45R18 94V BW
235/55R18 100V BW
Price Range
Firestone Champion Fuel Fighter prices range from approximately $72 and up. You may also find occasional rebates, discount prices, coupons and special offers on this tire.
Warranty
Firestone provides a 5-year or 70,000 mile tread warranty on the Champion. Tire uniformity is guaranteed for the first 1/32 inch of wear.
Materials and workmanship are warranted for 5-years and include free replacement during the first 3 years. A prorated amount is given for the remaining time period or down to the final 2/32 inch tread depth. You will also receive Firestone's exclusive 30-day buy and try guarantee. If you are not completely satisfied you can refund or exchange the tires.
---