Firestone WeatherGrip Vs. Toyo Celsius
Just like we change our wardrobes according to the seasons, we also need to replace our car tires depending on how the weather is outside. Your car should have the right set of tires to deliver a safe, stable, and comfortable driving experience.
Winter tires are known for their brilliant grip on snow, ice, and slush, whereas summer tires provide effective control on dry and wet roads.
So you can buy several sets of tires to replace each other when seasons shift – or buy a jack of all trades, i.e., all-season tires. All-season tires perform well and keep the drive comfortable no matter what season it is, no replacement is required, that is unless you are driving in knee-deep snow.
We compared two of the top tires on the market — the Firestone WeatherGrip and the Toyo Celsius.
Read on to know which one is your best bet:
Firestone WeatherGrip
Ever since the 1900s, Firestone Tire and Rubber Company has been in the business of making remarkable tires.
Their latest offering, the Firestone WeatherGrip, is a fantastic all-year tire meant for station wagons, coupes, sedans, and crossovers.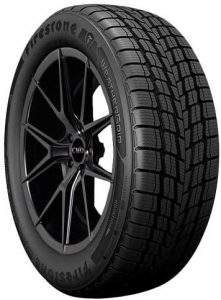 Product Information
The Firestone WeatherGrip is an excellent tire from the all-season category, with all the right features that people look for in a good tire. Comfortable commute, great grip, good tread wear, exceptional handling, and on-point tractions, are just some of the many benefits of these tires.
But remember, if you reside in an area that is snow-ridden for most of the year, any all-season tire won't do you much good.
However, unlike many other all-season tires, the WeatherGrip tire is marked with the Three Peak Mountain Snowflake Symbol, which means that it won't dismay you in severe weather conditions.
The tire rocks a directional tread pattern, and thanks to the featured Firestone's Hydro-Grip technology, hydroplaning issues may not be of concern as deep grooves, open shoulders, and a circumferential footprint prevent water from accumulating.
All forces are evenly distributed across the tire as the contact patch remains connected to the road at all times – this means that the braking and control are always on-point. The Firestone tire has cornered shoulders to enable all these capabilities.
The tire features snow traction claw technology on the intermediate and shoulder ribs, along with vices on the center rib. The superior light snow traction is possible thanks to the featured TractionTech Package that allows for interlocking grooves and Zigzag sipes.
The internal construction of the Firestone WeatherGrip features twin steel belts cased in a single-ply polyester casing.
Pros
A Three Peak Mountain Snowflake Symbol assures you that the tire will have uncompromised performance when the weather goes from bad to worse

Water slush or snow never gets accumulated in the contact patch

Smooth sailing in standing water
Cons
Some people did not like the way it performed on the track.
Toyo Celsius
Since 1945, Toyo Tire Corporation, a Japanese tire manufacturer, has been a dominant figure in the tire and rubber industry.
They introduced an outstanding all-season tire, the Toyo Celsius, a perfect product with all the bells and whistles that people seek from an all-year-round high-performance tire, and they are meant to be put on passenger cars.
Product Information
No matter the season, the Celsius's tread compound, tread pattern, and deep channels provide a safe and comfortable driving experience on wet, dry, snow-ridden surfaces.
The tread pattern has an asymmetric design, which also adds to the comfort by reducing any noise that is created from the tire.
There are numerous sipes across the tread block and edged treads that allow for adequate traction In winter-like conditions. Also, the sipes are more in number in the middle, which leads to short braking distances when it's cold and snowing.
Hydroplaning resistance is made possible by the featured deep channels of these tires, all slush, mud, water, and ice is evacuated from the tire's footprint. This leads to better braking and steering control.
Furthermore, even if there are sudden drops or hikes in temperature, the Toyo Celsius will remain unaffected courtesy of its tread compound.
Long story short — this tire is an excellent choice and provides traction to the max on wet, dry, cold, warm, and light-snow covered surfaces.
Plus, it is also marked with the Three Peak Mountain Snowflake symbol — you can use these tires in severe weather conditions
Pros:
Are cost-effective — no need to buy tire racks to store seasonal tires

Treadlife is much better than that of other all-season tires

3PMSF symbol

Exceptional dry and wet traction
Cons:
Some users complained that the tires are no good in medium to significant snow. However, that is a given with all tires, other than winter tires.
Difference Between The Two Tires
Motorheads recommend the tires we selected to review to help you in narrowing down to what you may choose, plus the manufacturers in question have an exceptional track record.
The Firestone WeatherGrip come in sizes ranging from 15-inches to 19-inches, whereas as the Toyo tire can be put on cars with rim sizes ranging between 14-inches to 20-inches
When in the market to buy the WeatherGrip tire, you will find it priced between $101.99 and $188.99. The prices for Toyo Celsius tire start at $74.81, and can go all the way up to $243.52.
The good thing is that both tires have an excellent warranty policy. However, the Firestone WeatherGrip is backed with a 65,000 miles' tread-life warranty. In contrast, the Toyo Celsius has a treadlife warranty of 60,000 miles.
Now on to the performance part — both options have a multitude of strong suits, for instance, the Firestone tire performed very well in wet areas, but traction seen from it was similar to that of a winter tire.
Interestingly, the Toyo Celsius had excellent traction on all types of roads, be it, rugged, paved, wet, or light snow; and this is possible because of the unique rubber compound used to build it. The inner rubber ensures adequate traction n cold weather and light snow, whereas the exterior rubber ensures stability and traction during summers (dry or wet).
The braking capability of Toyo is beyond impressive; it can stop 14 feet faster than other all-season tires, no matter the road condition.
All in all, no matter what you choose, both are excellent options, but to get the most out of them — mount them on all four.
Comparison
Aspect
Firestone WeatherGrip
Toyo Celsius

Diameter

25.7″

26.5″

Width

8.1″

8.2″

Rim Size

16″

16″

Weight

19.3 Lbs.

22 Lbs.

Revolutions Per Mile

837

785

Maximum Load

1389 Lbs.

1521 Lbs.

Air Pressure

44 PSI

51 PSI

Tread Depth

10/32"

11/32"

Rim Width

6″

5.5-7.5″
What We Like/What We Didn't
The Firestone as well as the Toyo tire both have a Three Peak Mountain Snowflake Symbol

Excellent braking power on the Toyo Celsius

The Firestone WeatherGrip tires performed quite well on wet surfaces, even with standing water

Gripping and on-point steering control was seen from both tires

Driving in the deep snow was not good for either tire, but if we had to choose, Toyo did better

The Firestone tires lacked traction on wet roads
Conclusion
Having the right set of tires is essential for your comfort and safety, and all-season tires are an excellent choice if you live in a region that has all four seasons.
If you ask us, we recommend Toyo Celsius for places where winters can be a little extreme, and if you like to drive fast, and now and then visit the track — go with the Firestone WeatherGrip.