Firestone WeatherGrip Vs. Goodyear WeatherReady
No matter how powerful your vehicle may be — you won't be able to enjoy a safe, smooth, and hassle-free drive without the right set of tires.
If you are on the lookout for quality tires and are confused between the various types, you are not alone. It's not uncommon for people to juggle between what to mount—winter tires, summer tires, or all-season tires.
This brings us to the star of the show, i.e., all-season tires — they have fantastic tread life, provide a quiet ride, and perform throughout all year round come rain or sunshine.
Simply put, they are versatile and cost-friendly as you don't need to change tires several times a year, which makes them highly convenient.
But not all all-season tires are alike, which is why to help you decide on the right one, we put two of the best against each other — Firestone WeatherGrip vs. Goodyear Assurance WeatherReady.
Firestone WeatherGrip
A subsidiary of Bridgestone, Firestone Tire and Rubber Company has been in business since 1900, and they have created some of the highest quality tires known to car owners.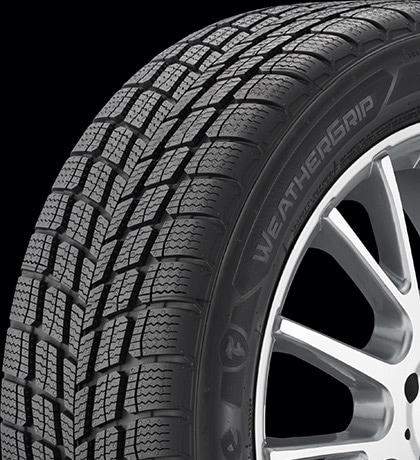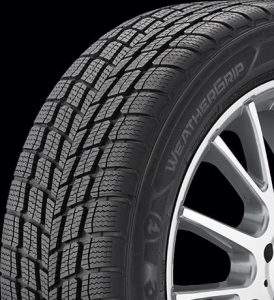 Their WeatherGrip is an all-Season tire meant for coupés, station wagons, crossovers, and sedans.
Product Information
This tire makes for a comfortable driving experience thanks to excellent gripping on wet surfaces, exceptional treadlife, and adequate traction on light snow.
To top it all, the Firestone WeatherGrip tire has the 3PMSF symbol, which ensures that it can perform in severe weather conditions. However, if you face considerable snowfall, you may need to get something more suitable, like winter-tires. But if it's only light snow, these tires are all you need as your perfect year-round solution.
The tread is molded into a directional pattern for enhanced traction, and Firestone's Hydro-Grip technology backs the tire to perform exceptionally well. The tire has a circumferential contact patch, which helps the car to move through the water easily, while the open shoulders and deep grooves keep water from accumulating in the contact patch.
Thanks to the cornered and sloping shoulder blocks, the tire footprint remains connected to the ground below for shorter braking distances in all conditions.
The traction seen on light snow is also quite remarkable, and this is made possible by the vices on the center ribs and the snow traction claw technology on the shoulder and intermediate ribs.
The WeatherGrip tire has grooves that interlock, featuring zigzag sipes that are a perfect combination for light traction on snow.
On the inside of the Firestone WeatherGrip, you shall find twin steel belts reinforced by a single-ply polyester casing. And for on-point handling on low as well as high speeds, there is nylon support.
Pros
3PMSF symbol ensures that the tire will perform well in severe weather conditions

Excellent resistance to hydroplaning

Hydro-Grip technology to move seamlessly through standing water

Impressive traction on light snow
Cons
Not your best bet, if the region in question has heavy snowfall—something that is not uncommon for all-season tires.
Goodyear Assurance WeatherReady
The Goodyear Tire & Rubber Company was established in 1898, and ever since they have been producing brilliant products, and are featured as OEMs by many popular car manufacturers.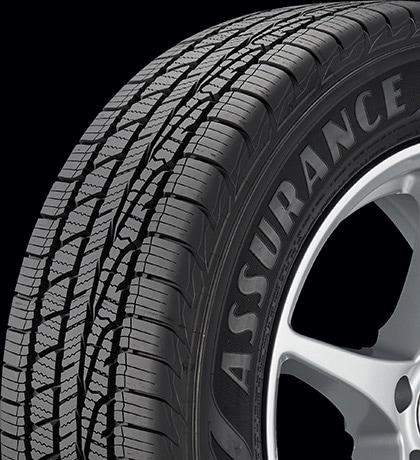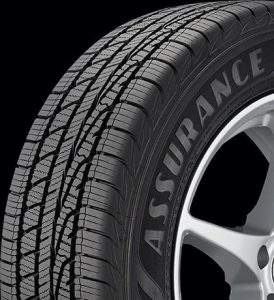 The Assurance WeatherReady tire further reinforces their standing as a top tire manufacturer. These are all-season tires for drivers of coupés, sedans, SUVs, minivans, and crossovers.
Product Information
These tires will let you enjoy a pleasing driving experience with little to no noise. The best part is that performance stays constant all year round, even in severe conditions.
The tire is certified with the Three Peak Mountain Snow Flake Symbol (3PMSF) so you can count on its efficiency and longevity.
The tread compound is soy-based and molded into an asymmetric tread pattern, which ensures the right amount of traction for all conditions, be it dry, wet, or light snow.
Even when on slippery slopes and extreme weather conditions, the featured patent-protected Goodyear's Weather Reactive Technology offers excellent steering control and stable cornering. This technology has 3D Treadlock technology blades in the shoulder and intermediate ribs.
The traction grooves adjust to road conditions and provide exceptional gripping even when the tire is wearing out.
Furthermore, the tread compound of the Goodyear Assurance WeatherReady tire has silica that further strengthens traction on wet roads. Thanks to the tread grooves, resistance to hydroplaning is at an all-time high — no water is accumulated in the footprint.
The center rib of this tire has many biting edges to provide the right amount of traction on wet, slippery, icy, and light snow-ridden surfaces.
On the inside of the Goodyear Assurance WeatherReady tire, you'll find two broad well-placed steel belts support the tread area, a single-ply polyester casing, and a polyamide reinforcement to allow for driving at high speeds and on-point steering response.
Pros
Beyond brilliant dry and wet traction/braking

Winter traction is way better than other all-season tires

Goodyear's Weather Reactive Technology for excellent cornering capabilities

Certified with the 3PMSF symbol
Cons
Some people criticized that this tire is a bit pricy for them, but again, the price is reasonable when compared to the many performance enhancements you will experience.
Differences Between The Two Tires
Whether you are a car enthusiast or someone who drives down to the mechanic for the slightest of issues — we do not doubt that you are familiar with both Goodyear and Bridgestone brands.
The Firestone WeatherGrip comes in sizes ranging from 15-inches to 19-inches. In contrast, the Goodyear Assurance WeatherReady covers sizes ranging from 15 to 20-inches with more useful options within each size.
Prices for the WeatherGrip tire start at $101.99 and go all the way up to $188.99, whereas the Assurance WeatherReady can cost you anywhere from $126.99 to $261.99.
Both tires are backed with leading technologies and have different strong suits. For instance, the Firestone tire performs well in the wet with very little noise, but it would have been if the traction was improved-upon, and could have been something similar to that of the Goodyear's tire.
On the other hand, the Goodyear performs very well when on the track, the steering control is always on-point, so it's easy to maneuver the car, and this is where the Firestone tire lacked a little.
On snow, both were decent, but Firestone WeatherGrip stole the show as it is more at par with winter tires, which is also why it is not suitable for the track.
Comparison

Aspect
Firestone WeatherGrip
Goodyear Assurance WeatherReady

Diameter

25.7″

25.7″

Width

8.1″

8.2″

Rim Size

16″

16″

Weight

19.3 Lbs.

20 Lbs.

Revolutions Per Mile

837

814

Maximum Load

1389 Lbs.

1389 Lbs.

Air Pressure

44 PSI

51 PSI

Tread Depth

10/32"

10/32"

Rim Width

6″

5.5-7.5″
What We Like/What We Didn't
Both tires are backed with the 3PMSF symbol

Short braking distances offered by both tires

The snow performance of the Firestone tire was great

It was a thrill riding a car mounted with the Goodyear tires on the track

Both tires were ok when it comes to knee-deep snow, something that we expected

Despite the strong performance on the snow, the traction was great on the Firestone tires

The wet grip on the Goodyear tires was decent, but not great
Conclusion
All in all, you can't go wrong with either tire, so choose according to the road conditions you usually encounter.
If you are known to drive more on paved roads, the Goodyear Assurance WeatherReady will be a good option, whereas you see slightly intense winters go with the Firestone WeatherGrip.