Firestone Weathergrip Review: Everything You Need To Know
If you and your vehicle are often subjected to extreme weather, or you often have to drive through different types of weather conditions, you need all-season tires.
These tires have been built to deliver performance whether you are driving in the desert or pouring rain – this way, you don't have to change tires every time the weather changes.
That makes all-season tires a cost-effective choice for car owners because you do not have to break the bank by buying separate sets of tires for summer and winter driving, plus the cost of storage and maintenance is no longer a worry either.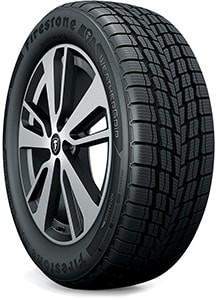 One of our favorites from the all-season category is the fantastic Firestone WeatherGrip, with all the necessary features required for a safe and comfortable drive.
Firestone Tire and Rubber Company is a sister concern of the ever so popular Bridgestone, and their products are sold and loved the world over by car owners.
The Firestone WeatherGrip tire is designed for larger-sized passenger cars, which include coupes, crossovers, sedans, and station wagons.
It offers a multitude of features such as strong gripping on dry, wet and light snow-covered surfaces, slower tread wear, and controlled traction even on snow.
The tire features Firestone's patent-protected Hydro-Grip technology, along with a tread compound that's molded into a directional pattern of circumferential grooves. These let the car move effortlessly through standing water, and to add to that, the deep grooves and open shoulders prevent hydroplaning.
The Firestone WeatherGrip has cornered shoulder blocks and the contact patch is held to the ground at all times, ensuring that encountered forces are dispersed across the tire efficiently. It also has dependable handling and control as well as short braking distances on all types of roads.
If your commute involves driving on light snow, you will be amazed by the traction these tires offer on such surfaces. This is made possible by the interlocking grooves, zigzag sipes, vices on the intermediate ribs, and claw technology on the center and shoulder ribs.
Above all, the Firestone Weathergrip tire is certified with the Three Peak Mountain Snowflake Symbol — it can perform well in the severest weather, as long as you aren't driving in a snow storm. You may need dedicated winter tires to deal with that.
On the inside, the Firestone WeatherGrip tire has two steel belts cased in single-ply polyester covering, and superior nylon support that makes for improved handling across different speeds.
Pros
The Three Peak Mountain Snowflake Symbol means that the tire can withstand weather-related adversities

The contact patch never gets ridden with water, slush, mud, or snow; everything is dispensed on-time, every time

Exceptional traction on light snow

Impressive traction on light snow

Short braking distances

Responsive steering control
Cons
The tire doesn't perform at its best in heavy snow
Overview
Good all-season tires are known for their traction capabilities on different types of surfaces for a comfortable and safe driving experience all year round — and the Firestone WeatherGrip tire is your perfect option.
While the wet traction isn't great, and light snow traction is good enough to get it authenticated with the 3PMSF symbol.
However, what makes this tire a strong contender in this category is its ability to perform on ice and light snow, and even though the traction and steering control is not the best on wet surfaces, yet you always remain in control.
And all this is made possible by unique technologies such as the TractionTech package and the HydroGrip that lead to slower tread wear, exceptional gripping, reasonable steering control, precise braking, resistance to hydroplaning, etc.
The result is that you enjoy a safe, comfortable, and noise-free ride, without worrying about changing tires every time the season changes.
Remember, these tires aren't your best option if your region experiences extreme snowfalls — while tread design is similar to snow tires, they aren't designated snow tires.
However, you can rest assured that you are not making a bad call if you drive often and across different terrains ad in varying weather conditions – these tires are backed with a 90-day try-and-buy guarantee plus an extended warranty period.
All in all, once the Firestone WeatherGrip tires are installed, it will feel like you are driving a brand new car.
What Vehicles Will The Firestone Weathergrip Fit?
Here are some of the many cars that will accommodate these tires (not a complete list):
Acura – CL, CSX, ILX, Legend, RSX, TL, Vigor

Audi – 100, 80, A3, A4, A6, Cabriolet, Coupe, S2 TT

BMW – 1 Series, 2 Series, 3 Series, 6 Series, M1, Z4

Dodge – Avenger, Challenger, Dart Monaco, Neon, Stratus

Ford – C-MAX, Contour, Escort Focus, Focus C-MAX Galaxy Grand C-MAX Mondeo Tourneo Conn, Fusion

Honda – Accord, Accord Euro, HR-V, Inspire, Jade, Odyssey, Spirior, XR-V

Kia – Carens, K4, K5 Niro, Optima, Rondo, Soul, Stinger

Opel – Ampera, Astra, Insignia, Signum, Vectra, Zafira

Lexus – CT, ES, IS

Peugeot – 207, 208, 301, 308

Volkswagen – Passat, Polo, Virtus
Tire Size
15″
195/60R15

195/65R15

205/65R15

215/70R15
16″
205/55R16

205/60R16

205/65R16

215/55R16

215/60R16

215/65R16

215/70R16

225/60R16

235/70R16
17″
205/50R17

215/45R17

215/50R17

215/55R17

215/65R17

225/45R17

225/50R17

225/55R17

225/60R17

225/65R17

235/65R17
18″
225/45R18

225/60R18

235/45R18

235/50R18

235/55R18

235/60R18

235/65R18

245/60R18
19″
Price Range
When in the market to buy WeatherGrip tires, expect to pay anywhere from $101.99 to $188.99for one tire. To find the best bargains look for the tires online, or you can buy a slightly used variant.
Warranty
There is no denying the fact that new tires are a significant investment which may last you for a decade or even more depending on how well you take care of them. That's why it is important to invest in quality tires from the get-go.
The good news is that the Firestone WeatherGrip has an excellent warranty plan, plus, Bridgestone provides you with a 90-day buy-and-try guarantee for these tires.
The tread life warranty is three years or 65,000 miles whichever comes first. The tire also has a workmanship & materials warranty for 5 years – free replacement during the first three years then prorated until 2/32″ remaining depth.