Firestone Precision Touring Tire Review & Rating
The Firestone Precision Touring offers all-season traction and handling to go with a more smooth and comfortable ride. Designed for drivers of all types of coupes, sedans and minivans, the Precision Touring is engineered to provide a longer lasting treadlife for dependable everyday performance.
An all-season tread compound that includes added silica, combines with rounded shoulders and deeper grooves for added dry traction and cornering grip, while also providing increased steering response and feel.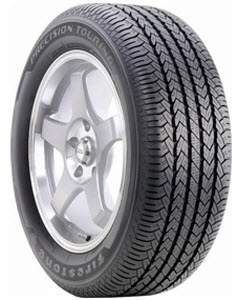 Four circumferential grooves around the tread evacuate water from under the tire and reduce the risk of hydroplaning. Multiple sipes add the bite necessary to safely drive through snow packed road surfaces. Winter traction is another area that many drivers have mentioned as being very good on this tire.
Inside the tire you will find two steel belts with nylon reinforcement for added strength and durability. A polyester cord carcass further enhances ride quality and better overall handling. Firestone has 15-17 inch sizes available, and the tire comes with up to an H-speed rating. Firestone includes a 70,000 mile tread guarantee.
Pros
Outstanding dry and wet traction

 

Steering is crisp and responsive

 

Above average winter performance

 

Excellent ride comfort

 

Long tread life and a 70,000 mile warranty

 
Cons
Would like to see just a little less road noise

 
Overall Thoughts
The Precision Touring is a lower costing all-season tire that ranks right up there in the upper half of this class with other models like the Michelin Defender and Continental TrueContact. Traction on wet, dry and even snow covered road surfaces is very good. The steering inspires confidence in all driving situations and cornering performance is good for an all-season touring tire.
Perhaps the biggest plus for this tire is its smooth and comfortable ride. This took us by surprise, and is an area that has also been mentioned favorably by a large number of other drivers. The only real issue we could find with the ride is that road noise is noticeable at times. It is nothing to excessive, and like most tires it tends to get a little more noticeable as the tread wears down.
Overall, we feel this is one of Firestone's best passenger car tires. It offers exceptional value for the low cost and is highly recommended.
Click Here For Current Firestone Coupons
What Vehicles Will The Precision Touring Fit?
Fits these vehicles and many others:
Buick Lesabre

 

Chevrolet Monte Carlo, HHR, Malibu

 

Chrysler Town and Country, Concorde

 

Dodge Grand Caravan

 

Ford Taurus, Windstar

 

Honda CR-V, Accord, Odyssey, Civic

 

Mini Cooper

 

Pontiac G6, Grand Prix, Grand Am

 

Saturn Vue, L200

 

Suzuki XL7

 

Toyota Sienna, Corolla, Camry

 

Volkswagen Jetta

 
Tire Sizes
15″
185/65R15 86T BLK
195/55R15 84H BLK
195/60R15 87T BLK
195/65R15 89T BLK
205/60R15 90T BLK
205/65R15 92T BLK
205/70R15 95S WSW
215/60R15 93T BLK
215/70R15 97S WSW
16″
195/55R16 87H BLK
205/55R16 89T BLK
205/60R16 91H BLK
215/55R16 93H BLK
215/60R16 94T BLK
215/65R16 98T BLK
225/60R16 97T BLK
225/65R16 100T BLK
235/60R16 99T BLK
235/65R16 103T BLK
17″
215/50R17 93H BLK
215/55R17 93T BLK
215/65R17 98T BLK
225/55R17 95T BLK
225/60R17 98H BLK
225/65R17 100T BLK
235/55R17 98H BLK
235/60R17 102T BLK
235/65R17 104T BLK
Price Range
Prices on the Firestone Touring range from approximately $72 and up. You may also find occasional rebates, discounts, coupons and special offers on this tire.
Warranty
Firestone provides a 5-year or 70,000 mile tread warranty on this model. Tire uniformity is guaranteed for the first 1/32 inch of wear.
Materials and workmanship are warranted for 5-years and include free replacement during the first 3 years. A prorated amount is given for the remaining time period or down to the final 2/32 inch tread depth. You will also receive Firestone's exclusive 30-day buy and try guarantee. If you are not completely satisfied you can refund or exchange the tires.
---