Firestone FR710 Tire Review & Rating
The Firestone FR710 is the company's budget-friendly basic all-season tire. Designed for drivers of coupes, sedans, minivans, crossovers and SUV's, the FR710 is engineered to deliver dependable year round traction and handling, as well as smoother riding comfort.
An all-season tread compound and Firestone's Innovative Roundness technology enhance tread design and casing shape for maximum contact with the road surface. The wider footprint provides increased traction and cornering grip, while also adding to overall ride comfort.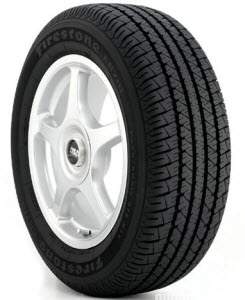 Four circumferential grooves and the tire's lateral grooves aid in wet handling performance, although this is not a strength for this model. The grooves evacuate water from under the tread and reduce the risk of hydroplaning for improved safety and driving confidence.
The addition of L.L. Carbon to the tread compound is created to further enhance wet traction, as well as tread life. Multiple sipes around the tire add biting edges for grip in light snow.
Inside the tire you will find two steel belts and a polyester cord body that incorporate UNI-T Technology for added strength and durability. It also increases treadlife, which Firestone backs up with a 65,000 mile tread guarantee. The 710 is available in 14-17 inch sizes and comes with an S, T or H-speed rating.
Pros
Low cost all-season tire

 

Very good dry and wet traction and handling

 

Steering is responsive and stable

 

Comfortable riding tire

 

Long treadlife and a 65,000 mile warranty

 
Cons
Winter handling

 

A little road noise

 
Overall Thoughts
The 710 fills a big need in the low cost basic all-season tire market. Performance on dry road surfaces is good, and cornering grip is predictable and stable. The steering is crisp for an all-season tire like this, and the ride is very comfortable.
Where things need improving would be the tire's wet and winter traction performance. While being acceptable, it lacks the type of grip and handling you find on other tires like the General Altimax RT43, Continental TrueContact and others. Road noise is a little more pronounced on the highway as well.
Tread life is average on this tire, and Firestone does include a 65,000 mile tread warranty.
Overall, we like this model for an everyday back and forth to work type of tire. It delivers basic all-season performance and features a budget-friendly price that will appeal to many drivers.
Click Here For Current Firestone Coupons
What Vehicles Will The FR710 Fit?
(This is not a complete list of ALL vehicles this tire will fit)
Buick Rendezvous

 

Cadillac DTS

 

Chevrolet Cruze, Malibu, Impala, Equinox, Venture

 

Dodge Caliber, Grand Caravan, Neon, Intrepid

 

Ford Taurus, Focus, Freestyle, Five Hundred

 

Honda Odyssey, Civic, Accord, EX-L, CR-V

 

Infiniti I35

 

Mercury Grand Marquis, Sable

 

Mitsubishi Eclipse

 

Nissan Quest, Rogue

 

Oldsmobile Intrigue, Alero

 

Pontiac Aztek, Montana, Grand Prix, G6

 

Saturn Vue, Aura, SL2

 

Subaru Forester S

 

Suzuki XL7

 

Toyota Sienna, Camry, Corolla

 

Volvo S80

 
Tire Sizes
14″
P175/65R14 81T BW
P185/65R14 85T BW
P185/60R14 82H BW
15″
P185/60R15 84T BW
P185/60R15 84H BW
P185/65R15 86T BW
P195/60R15 87H BW
P195/65R15 89T BW
P205/65R15 92T BW
P205/70R15 95S WW
P215/65R15 95T BW
P215/70R15 97S WW
16″
P205/60R16 91H BW
P205/50R16 86H BW
P205/55R16 89T BW
P215/60R16 94T BW
215/65R16 98T BW
P225/60R16 97T BW
225/65R16 100T BW
P235/60R16 99T BW
235/65R16 103T BW
17″
P215/65R17 98T BW
P225/55R17 95T BW
P225/60R17 98H BW
P235/55R17 98H BW
P215/55R17 93S BW
P215/60R17 95T BW
P225/50R17 93T BW
P225/65R17 100T BW
P235/60R17 100T BW
18″
P225/60R18 99T BW
Price Range
Prices on the FR 710 range from approximately $64 and up. You may also find occasional rebates, discounts, coupons and special offers on this tire.
Warranty
Firestone provides a 5-year or 65,000 mile tread warranty on the FR710. Tire uniformity is guaranteed for the first 1/32 inch of wear.
Materials and workmanship are warranted for 5-years and include free tire replacement during the first 3 years. A prorated amount is given for the remaining time period or down to the final 2/32 inch of tread depth. A 30-day buy and try guarantee is also provided and allows you to refund or exchange the tires if you are not completely satisfied.
---