Firestone Firehawk Wide Oval AS Tire Review & Rating
The Firestone Firehawk Wide Oval AS is the company's high performance all-season model for drivers of all types of coupes and powerful sedans. It's designed to deliver dependable all-season traction and handling, a smooth ride and a longer lasting treadlife.
Firestone utilizes a new all-season silica enhanced tread compound that is created to increase dry and wet traction. Along with its symmetric tread pattern and wider shoulder ribs, the Firehawk A/S provides confident traction with good cornering stability. Although steering response is average, the tire does feel a bit heavy and not as nimble as other similar tires.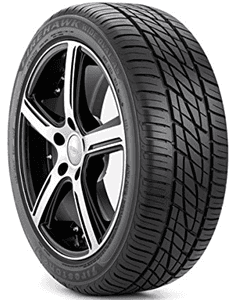 The silica-enhanced tread compound and full depth grooves does help this tire on wet road surfaces. Sweeping tread grooves further aid in reducing the risk of hydroplaning.
Firestone has built this model to perform very good in light to moderate amounts of snow, and we agree that it does quite well in this area. Unless you're driving on ice, this tire holds its own in braking and acceleration in the snow.
Inside the tire are dual steel belts that are spirally wrapped with nylon for increased strength and durability. Firestone has also added a unique sidewall filler that lowers heat build-up when driving at higher speeds or during harder cornering.
Sizes are available ranging from 16-20 inches and with speed ratings of H, V and W. It comes backed with either a 40K or 50K mile warranty depending on the speed rating of the tire.
Pros
Good dry and wet traction
Performs better than many HP tires in snow
Smooth and comfortable ride
Cons
A little extra noise during high speed cornering
Tires feel a bit heavy
Ice traction and braking
Overall Thoughts
We have quite a bit of mixed feelings on the Firehawk Wide Oval AS. The positives include how well the traction is on dry or wet pavement. The ride is smooth and comfortable, although we've heard from a few drivers who say the tire gets noisier as it wears. Traction in light to moderate snow is among the best in its class.
The negatives include a little more noise during high speed cornering than you'll find on other models. Traction and braking on ice is another area that is lacking in our opinion. Finally, the tire feels a bit heavy and doesn't deliver the crisp handling performance we find in other top HP all-season tires. Of course, this is subjective and you may not get that same feeling. 
Overall we rank this Firestone tire in the middle of the pack. It's an average performing tire that doesn't do anything spectacular, yet doesn't do anything too poorly as well. That said, it does provide a pretty good treadlife and the cost is lower than similar tires from Michelin, Continental and a few other name brands.
Click Here For Current Firestone Coupons
What Vehicles Will The Firestone Firehawk AS Fit?
(This is not a complete list of ALL vehicles this tire will fit)
Acura RL, RLX

Audi A6, Allroad

BMW X3, Z8, 650i, 535i, 128i

Buick Regal

Cadillac CTS

Chevy Cobalt, Sonic

Chrysler PT Cruiser, 300

Honda Civic, Accord

Hyundai Azera, Genesis, Elantra, Tiburon, Veloster, Sonata

Infiniti G35, G37, M45, Q60

Kia Cadenza, Forte

Lincoln MKZ

Mazda3, Mazda5

Nissan Maxima, 350Z, Leaf, Sentra

Pontiac G8, G5

Saab 9-5, 9-3

Scion tC

Subaru Impreza, Legacy, BRZ

Suzuki SX4

Toyota Prius, Corolla, Matrix, Camry

Volkswagen Passat, Beetle

Volvo S40, C30, V50
Tire Sizes
16″
195/50R16 84V BW
195/55R16 87H BW
205/50R16 87V BW
205/55R16 91H BW
P205/60R16 91V BW
215/55R16 93H BW
215/60R16 95V BW
225/50R16 92V BW
225/55R16 95H BW
P225/60R16 97H BW
P245/50R16 96W BW
17″
205/40R17 84H XL BW
205/50R17 93V XL BW
215/45R17 91W XL BW
P215/50R17 93W XL BW
P215/55R17 93V BW
225/45R17 94W XL BW
225/50R17 94V BW
225/55R17 97V BW
235/45R17 97W XL BW
235/50R17 96W BW
P235/55R17 98W BW
18″
215/45R18 93W XL BW
225/40R18 92W XL BW
225/45R18 95W XL BW
225/50R18 95W BW
235/50R18 97W BW
235/55R18 100V BW
245/40R18 97W XL BW
245/45R18 100W XL BW
P215/55R18 94H BW
P225/60R18 99H BW
245/55R18 103W BW
19″
245/40R19 98W XL BW
245/45R19 98W BW
245/50R19 105W XL BW
20″
245/35R20 95W XL BW
275/40R20 106W XL BW
245/45R20 103W XL BW
Price Range
Firestone Firehawk Wide Oval AS prices range from approximately $81 and up. You may also find occasional rebates, discount prices, coupons and special offers on this tire.
Warranty
Firestone provides a 5-year or 50,000 mile tread warranty on H & V speed rated tires. A 40,000 mile tread warranty is provided on W-speed rated models. Tire uniformity is guaranteed for the first 1/32 inch of wear.
Materials and workmanship are warranted for 5-years and include free replacement during the first 3 years. A prorated amount is given for the remaining time period or down to the final 2/32 inch tread depth. You will also receive Firestone's exclusive 30-day buy and try guarantee. If you are not completely satisfied you can refund or exchange the tires.
---