Firestone Firehawk AS Tire Review & Rating
New for 2016, the Firestone Firehawk AS high performance all-season tire replaces the older Firehawk Wide Oval AS in the company's lineup. Built for drivers of sport coupes and sedans, the Firehawk AS provides an improvement over the original model in several key areas.
Firestone uses an all-season tread compound that contains silica and Long Link Carbon, as well as an asymmetric tread pattern that increases traction on dry, wet or snowy road surfaces. They have also added full-depth sipes and grooves around the tread in order to give the tire better performance as it wears down. It's nice to see the addition of full-depth sipes, and they do add to the traction and handling on this tire.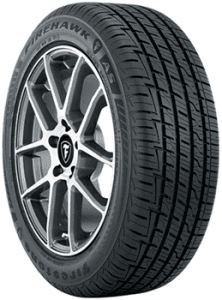 The addition of added tread channels certainly enhances grip on wet pavement and reduces the risk of hydroplaning. This is an area we've heard mentioned often in other driver reviews of this tire as well.
Firestone claims the Firehawk AS has 20% more biting edges than on the original Wide Oval AS, which should result in much improved braking/acceleration and traction on snow covered roads. While this is definitely a big help for those who live in areas that see their fair share of winter weather, you might want to keep in mind that this is still an all-season tire and not a dedicated winter tire.
Inside the tire are two high-tensile steel belts that are spirally wrapped with nylon for increased strength, durability and higher speed durability. Firestone has released a wide range of 15-20 inch sizes with an H or V-speed rating depending on the size chosen. All sizes come backed with a 50K mile tread warranty.
Pros
Good dry traction and cornering grip
Much improved performance on wet pavement
Treadlife has shown to be very good at this stage
Cons
Winter performance in deeper snow and ice
Overall Thoughts
While the Firestone Wide Oval AS was a decent tire in its own right, there remained several key areas that presented issues for many drivers. This new Firehawk AS has fixed much of them to be sure. Expect to find very good dry and wet traction. Cornering stability is also much improved and welcomed.
Ride comfort is about average among tires in this class. There's not a lot of excessive road noise with this tire, and it seems that Firestone has greatly improved the treadlife.
Although much better on snow covered road surfaces due in part to the added channels and biting edges, grip/braking/acceleration in deeper snow, ice and hard-pack is what you would expect from an all-season tire.
Overall, the Firehawk AS is a solid performing tire and one of the better models in the high-performance AS category. We rank it in the mid to upper half of the class and give it a good recommendation.
Click Here For Current Firestone Coupons
What Vehicles Will The Firestone Firehawk AS Fit?
Fits these vehicles and many others:
Audi A3, A4, A6, TT
BMW 3-Series, 1-Series, 2-Series
Buick Regal, Lacrosse
Chevy Aveo, Cavalier, Cruze, Sonic, Cobalt, Monte Carlo, Camaro
Chrysler PT Cruiser, Sebring
Dodge Avenger, Charger, Challenger, Stratus, Dart, Caliber
Ford Focus, Mustang, Taurus, Five Hundred, Fusion
Honda Accord, Civic
Hyundai Elantra, Sonata, Genesis, Azera
Kia Soul, Optima, Forte, Amanti
Mazda 626, Mazda3, Mazda6, RX-7, Mazda5
Mitsubishi Eclipse, Galant
Nissan Altima, Sentra, Maxima, 370Z
Pontiac Grand Am, Firebird, Grand Prix, Sunfire, G6, Bonneville
Subaru Impreza, Legacy, WRX
Toyota Corolla, Camry, Prius, Avalon
Volkswagen Golf, New Beetle, Passat
Tire Sizes
15″
185/55R15 82V BW
195/60R15 88H BW
195/65R15 91H BW
16″
195/50R16 84V BW
195/55R16 87V BW
205/55R16 91H BW
205/60R16 92H BW
215/55R16 97V XL BW
215/60R16 95V BW
17″
205/50R17 93V XL BW
215/45R17 91V XL BW
215/50R17 95V XL BW
215/55R17 94V BW
225/45R17 94V XL BW
225/50R17 98V XL BW
225/55R17 97V BW
235/45R17 97V XL BW
235/55R17 99V BW
18″
215/55R18 95H BW
225/45R18 95V XL BW
225/50R18 95V BW
235/50R18 97V BW
235/55R18 100V BW
245/40R18 97V XL BW
245/45R18 100V XL BW
19″
245/40R19 98V XL BW
245/45R19 98V BW
245/50R19 105V XL BW
20″
245/45R20 103V XL BW
275/40R20 106V XL BW
Price Range
Firestone Firehawk AS prices range from approximately $61 and up. You may also find occasional rebates, discount prices, coupons and special offers on this tire.
Warranty
Firestone provides a 5-year or 50,000 mile tread warranty on the Firehawk AS. Tire uniformity is guaranteed for the first 1/32 inch of wear.
Materials and workmanship are warranted for 5-years and include free replacement during the first 3 years. A prorated amount is given for the remaining time period or down to the final 2/32 inch tread depth. You will also receive Firestone's exclusive 30-day buy and try guarantee. If you are not completely satisfied you can refund or exchange the tires.
---