Firestone Destination LE Tire Review & Rating
The Destination LE from Firestone features all-season traction and handling, as well as a smoother and more comfortable ride. Designed for drivers of all types of light trucks, minivans, crossovers and SUV's, the LE includes some of the latest in tire technology, including UNI-T technology.
Firestone uses its unique all-season Weather grip tread compound that includes L. L. Carbon for added traction on wet pavement, as well as improved tread wear. Dry surface traction is enhanced through an asymmetric tread pattern and larger open shoulder blocks. It also provides added stability and steering response on both dry or wet roads.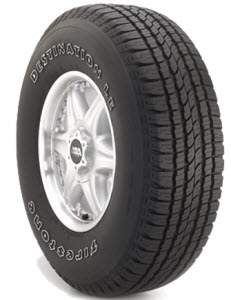 Four circumferential grooves add to wet road performance by evacuating water away from the tire and providing added confidence behind the wheel. Lateral grooves and multiple sipes increase grip and bite on snow covered surfaces, which is something this tire does fairly well.
5 Degree Noise Reduction technology is used on this tire to reduce road noise. It produces noise cancelling sound waves that are designed to dramatically lower road surface noise and create a more comfortable ride quality.
Inside the tire you will find two steel belts that are nylon wrapped for added strength and durability. A polyester cord body provides added riding comfort to the tire. You'll find sizes available from 14-18 inches. Firestone backs up the treadlife with a 65,000 mile guarantee.
Pros
Dry and wet traction are excellent

 

Snow traction is among the best in this class

 

Cornering is stable and steering provides good feel

 

Smooth and comfortable ride

 
Cons
A little road noise at higher speeds

 

Treadlife could be better

 
Overall Thoughts
The Destination LE is one of those tires that provides very good year round performance, but still has a few issues in a couple of areas that prevent it from being a great tire. Dry and wet traction are excellent on all types of road surfaces. The tire is stable and corners quite well. Ride comfort is very good and you can expect a smooth ride around town or on the highway.
On the other hand, road noise is a little more pronounced at higher speeds, especially as the tire begins to wear down. Some of this is to be expected of course, but we would like to hear a bit less of it. Treadlife is another area that some have mentioned as being shorter than it should be. Firestone does provide a 60,000 mile warranty.
Overall, while there are other tires in this class that offer higher performance like the Michelin Defender LTX M/S or Yokohama YK-HTX for example, this is still not a bad tire by any means. However, we would recommend moving up to the newer Firestone LE2 instead of this model.
Click Here For Current Firestone Coupons
What Vehicles Will The Destination LE Fit?
(This is not a complete list of ALL vehicles this tire will fit)
Acura MDX

 

Buick Rendezvous, Enclave

 

Chevrolet Equinox, Silverado, Trailblazer, Suburban, Tahoe, Colorado

 

Dodge Ram, Dakota, Durango

 

Ford Explorer, F-150, Expedition, Ranger, Edge, Escape

 

GMC Sierra, Yukon, Canyon, Sonoma, Envoy

 

Honda CR-V, Pilot, Element

 

Hummer H3

 

Hyundai Santa Fe

 

Isuzu Axiom

 

Jeep Wrangler, Grand Cherokee, Liberty, Commander

 

Kia Sorento, Sedona

 

Lexus RX300

 

Mazda Tribute

 

Mercury Mariner, Mountaineer

 

Nissan Titan, Frontier, Pathfinder, Murano

 

Saturn Vue

 

Toyota Tacoma, FJ Cruiser, Tundra, 4Runner, Highlander, RAV4, Sequoia

 
Tire Sizes
14″
P225/70R14 98S OWL
15″
P215/75R15 100S OWL
P235/75R15 105S OWL
P215/70R15 97S OWL
P225/70R15 100S OWL
P235/70R15 102S OWL
16″
P225/75R16 XL 106S OWL
P235/75R16 XL 109S OWL
P245/75R16 109S OWL
P265/75R16 114S OWL
P215/70R16 99S OWL
P225/70R16 101S OWL
P235/70R16 XL 107S OWL
P245/70R16 106S OWL
P255/70R16 109S OWL
P265/70R16 111S OWL
P235/65R16 101S OWL
P255/65R16 106S OWL
17″
P235/70R17 XL 108S OWL
P245/70R17 108S OWL
P265/70R17 113S OWL
225/65R17 102S OWL
P235/65R17 103T OWL
P245/65R17 105S OWL
P255/65R17 108S OWL
P265/65R17 110T OWL
P235/60R17 100H OWL
P275/60R17 110S OWL
18″
P265/70R18 114S OWL
P265/65R18 112S OWL
P265/65R18 112S OWL
P245/60R18 104S OWL
P265/60R18 109T OWL
Price Range
Prices on the Firestone Destination LE range from approximately $99 and up. You may also find occasional rebates, discounts, coupons and special offers on this tire.
Warranty
Firestone provides a 5-year or 60,000 mile tread warranty on P-metric and Euro-metric sizes. Tire uniformity is warranted for the first 1/32 inch of wear.
Materials and workmanship are guaranteed for 5 years and include free tire replacement during the first 3 years. A prorated amount is given for the remaining time period or down to the final 2/32 inch of wear. You will also receive Firestone's 30-day buy and try guarantee, which allows you to refund or exchange the tires if you are not completely satisfied.
---