Firestone Destination LE 2 Tire Review & Rating
The Firestone Destination LE 2 all-season tire is the company's second version of this model and arguably one of the highest rated models in their entire lineup. Designed for drivers of all types of pickups, crossovers, vans and SUV's, the LE2 is engineered to provide increased handling and ride quality over the original LE.
A silica enhanced all-season tread compound and symmetric tread pattern deliver solid traction on dry, wet or snow covered road surfaces. The center rib and notched shoulder blocks provide increased handling and cornering performance, as well as better overall steering response. While the original LE offers good response, you can feel the difference on this tire.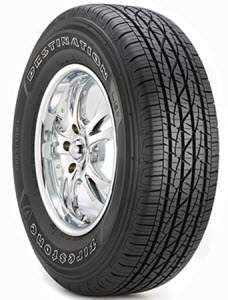 The tire's circumferential grooves and sweeping lateral grooves expel water away from the tread and reduce the risk of hydroplaning. The result is better wet pavement traction and added confidence when driving in rough weather. Unique cross grooves and added zig-zag sipes around the tire enhance performance on snow. This is another area that this tire excels in. Whether light or deep snow, sleet or slush, the LE2 gets you through it.
Inside the tire you will find two steel belts that are nylon reinforced for added strength and durability throughout the speed range. A polyester cord body further increases ride comfort. Firestone has a massive number of sizes available ranging from 15-20 inches, and includes a 60,000 mile tread guarantee as well.
Pros
Dry and wet traction is excellent

Handling and cornering stability is very good

Comfortable ride and little to no road noise

Long lasting tread life
Cons
Traction on ice and hardpack is poor



Overall Thoughts
The Destination LE2 is a nice upgrade from the original LE. The biggest differences seem to be an improvement in handling and lower road noise. Traction on dry or wet pavement, as well as in snow, is excellent. We'd like to see better traction on ice and hard-packed snow, but this is not a winter tire. That said, this tire does a decent job in lighter amounts of snow and slush, which is a point made in many driver reviews as well.
Handling and cornering are tighter on this tire than the original, which is great to see. You can really feel it behind the wheel. The ride is very comfortable, and road noise is nominal. You feel as if you are riding on a more expensive touring tire. We'd go as far to say it is one of the better riding standard all-season tires available today for trucks and SUV's.

The tread is designed to be longer lasting, which Firestone backs up with a 60,000 mile guarantee. We've heard very few complaints in regards to treadwear on this tire.

Overall, the performance on this tire nearly matches that of other tires like the Michelin Defender LTX M/S, General Grabber HTS60 and other top all-season models at the top of this class. Even better is that Firestone has priced the LE2 lower than many of these brand name tires, making it an outstanding value in new tires. Highly recommended.

Click Here For Current Firestone Coupons
Click Here To Find Current Prices
Buy Used for 40 – 50% Less than Retail
What Vehicles Will The Firestone LE 2 Fit?
(This is not a complete list of ALL vehicles this tire will fit)
Acura MDX, RDX

Chevrolet Traverse, Colorado, Equinox, Silverado

Dodge Caliber, Dakota, Durango, Journey, Nitro, Ram

Ford Edge, Escape, Explorer, F150, Flex, Ranger

GMC Sierra, Yukon, Acadia

Honda Accord CrossTour, CRV, Element, Odyssey, Pilot

Hyundai Santa Fe, Tuscon

Jeep Compass, Patriot, Grand Cherokee

Kia Sorrento, Sportage

Land Rover LR2, Range Rover

Mazda CX-7, CX-9

Mitsubishi Montero, Outlander

Nissan Frontier, Murano, Pathfinder, Rogue, Xterra

Suzuki Grand Vitara

Toyota 4Runner, Highlander, Land Cruiser, RAV4, Tacoma, Tundra

Volkswagen Tiguan, Touareg

Volvo XC90
Tire Sizes
15″
P215/75R15 100T OWL
P225/70R15 100T OWL
P225/75R15 102T OWL
P235/70R15 102T OWL
P235/75R15 108T XL OWL
P265/75R15 112T OWL
16″
P215/70R16 99H BW
225/70R16 103H OWL
P225/75R16 104T OWL
P235/65R16 101T BW
P235/70R16 107T XL OWL
P235/75R16 109T XL OWL
P245/70R16 106H OWL
P245/75R16 109T OWL
P255/65R16 106T OWL
P255/70R16 109T OWL
P265/70R16 111T OWL
P265/75R16 114T OWL
17″
225/60R17 99T BW
225/65R17 102T BW
225/65R17 102H BW
P235/60R17 100H BW
235/65R17 104H BW
P235/70R17 108T XL OWL
P245/65R17 105T OWL
P245/70R17 108T OWL
P255/65R17 108T OWL
P255/70R17 110T OWL
P265/65R17 110T OWL
P265/70R17 113T OWL
P275/60R17 110T OWL
18″
P235/55R18 99H BW
P235/60R18 102H BW
P235/65R18 104T OWL
P245/60R18 104H BW
P255/65R18 109S BW
P255/70R18 112T OWL
P265/60R18 109T OWL
P265/65R18 112T OWL
P265/70R18 114T OWL
P275/65R18 114T OWL
19″
P245/55R19 103T BW
20″
265/50R20 107H BW
P275/55R20 111H BW
P275/60R20 114T BW
Price Range
Prices on the Destination LE 2 range from approximately $98 and up. You may also find occasional rebates, discounts, coupons and special offers on this tire.
Click Here To Find The Current Prices On All Firestone Destination LE 2 Sizes
Warranty
Firestone provides a 5-year or 60,000 mile tread warranty on the LE2. Tire uniformity is guaranteed for the first 1/32 inch of wear.
Materials and workmanship are warranted for 5-years and include free replacement during the first 3-years. A prorated amount is given for the remaining time period or down to the final 2/32 inch of tread depth. You will also receive Firestone's 30-day buy and try guarantee which allows you to refund or exchange the tires in the event you are not completely satisfied.
---