Firestone Destination A/T Tire Review & Rating
The Firestone Destination A/T is engineered to deliver a combination of off-road performance on all types of terrain, along with year round traction and comfort on-road. Designed for drivers of trucks, SUV's and vans, the A/T sports rugged good looks to match its capabilities on the road.
A tough tread compound includes L.L. Carbon black to enhance wet traction, while also increasing overall treadwear. This more rugged compound also provides better resistance to cuts and abrasions you often find off road. The tire's continuous center rib increases steering response and provides better handling on dry pavement, while the wider circumferential grooves and multiple sipes deliver wet handling performance and reduce the risk of hydroplaning.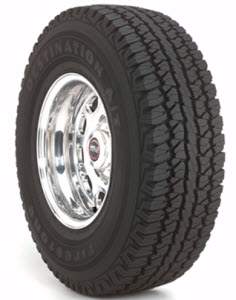 An off shoulder tread block design increases traction on all types of terrain, including mud, while also providing enabling improved performance in deep snow and ice. Interlocking tread blocks and notches further enhance mud traction, which is a plus for this tire.
Beyond driving performance, the Destination AT rides smooth and comfortable, and without all the road noise you often find on many AT tires. This is due in part to the optimized tread design and 5 degree noise reduction technology used in the tire. O-bead construction adds to ride comfort as well.
Inside the tire you will find two high-tensile steel belts to go along with a polyester cord body and Firestone's UNI-T construction. The result is added strength and durability, as well as increased ride comfort. Sizes are available from 14-20 inches, and the tread is guaranteed for 5-years or 50,000 miles.
Pros
Some of the best on and off-road traction in class

 

Outstanding steering response

 

Ride is comfortable and road noise is nearly non-existent

 

Long lasting treadlife

 
Cons
Deeper snow traction could be better



Overall Thoughts
For on and off road performance with your truck or SUV, the Destination A/T is one of the better tires available today. We like this tire for a variety of reasons. Traction and handling on almost any surface is outstanding. Steering response and feel are excellent. If you don't believe us you can read the same thing on hundreds of driver reviews on this model. The tire simply stands with the top tires in this class in nearly every category.
The only real area where you may find issues is this tire's grip in deeper amounts of snow. Light to moderate is no problem, but when it really starts piling up it seems the tires struggle a bit. We've heard this from more than a few drivers. Ride comfort exceeds expectations, while outside road noise is minimal. It gives you the feeling of riding on a highway touring tire at times. Tread life is pretty good, but we could see it being improved on just a bit. That said, Firestone does back it up with a 50K mile warranty.

Overall, if we were choosing an A/T tire for our own personal truck or SUV, this would be one of our top choices.

Click Here For Current Firestone Coupons
What Vehicles Will The Firestone A/T Fit?
(This is not a complete list of ALL vehicles this tire will fit)
Cadillac Escalade

 

Chevrolet Silverado, Colorado, K1500, Trailblazer, Tahoe, Suburban

 

Dodge Ram, Durango, Dakota

 

Ford F-150, Ranger, Explorer, Escape, F-250, Expedition

 

GMC Yukon, Canyon, Sierra, Envoy, Sonoma

 

Honda Pilot, Element

 

Hyundai Tucson

 

Isuzu Trooper

 

Jeep Wrangler, Grand Cherokee, Liberty, Commander

 

Land Rover Discovery

 

Nissan Xterra, Titan, Frontier

 

Mazda B2300

 

Toyota Tacoma, 4Runner, Tundra, FJ Cruiser, Sequoia

 
Tire Sizes
14″
P225/70R14 98S OWL
15″
30X9.50R15LT 104R OWL
31X10.50R15LT 109R OWL
33X12.50R15LT 108R OWL
LT235/75R15 104R OWL
P205/75R15 97S OWL
P215/75R15 100S OWL
P225/70R15 100S OWL
P225/75R15 102S OWL
P235/70R15 102S OWL
P235/75R15 105S OWL
P235/75R15 108S XL BL
16″
LT245/75R16 108R OWL
LT265/75R16 112R OWL
LT285/75R16 126R OWL
LT305/70R16 124R OWL
LT315/75R16 127R OWL
P235/70R16 104S OWL
P235/75R16 106S OWL
P235/75R16 106S BL
P245/70R16 106S OWL
P245/75R16 109S OWL
P255/70R16 109S OWL
P265/70R16 111S OWL
P265/75R16 114S OWL
17″
LT255/75R17 111R OWL
LT275/70R17 114R OWL
LT285/70R17 121R OWL
LT315/70R17 121R OWL
P235/65R17 103T OWL
P235/75R17 108S OWL
P245/65R17 105S OWL
P245/70R17 108S OWL
P245/75R17 110S OWL
P255/65R17 108S OWL
P255/70R17 110S OWL
P255/75R17 113S OWL
P265/65R17 110T OWL
P265/70R17 113S OWL
P285/70R17 117T OWL
18″
LT275/65R18 113S OWL
LT325/65R18 127R BL
P255/70R18 112S OWL
P265/60R18 109T OWL
P265/65R18 112S OWL
P275/65R18 114T OWL
20″
P275/55R20 111S OWL
P275/60R20 114S OWL
Price Range
Prices on the Destination A/T range from approximately $102 and up. You may also find occasional rebates, discounts, coupons and special offers on this tire.
Warranty
Firestone provides a 5-year or 50,000 mile tread warranty on this model for P-Metric and euro metric sizes. Tires uniformity is guaranteed for the first 1/32 inch of wear on all sizes.
Materials and workmanship are warranted for 5-years and include free replacement during the first 3-years. A prorated amount is given for the remaining time period or down to the final 2/32 inch of tread depth. You will also get Firestone's exclusive 30-day buy it and try it guarantee. If you are not completely satisfied you can refund or exchange the tires for another Firestone model.
---