Firestone Champion HR Tire Review & Rating
Built for sport coupes and sedans, the Firestone Champion HR is designed to provide year round all-season performance at a lower price point than many tires in its class.
An all-season tread compound utilizes L.L. Carbon to improve tread wear while the directional tread pattern is created to maximize dry and wet traction. Open slotted shoulders increase cornering stability and performance, which is a plus for this model.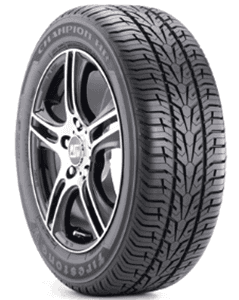 Two large circumferential grooves and unique V-shaped grooves help channel away water for better wet traction and a reduced risk of hydroplaning. Ride comfort and overall tire uniformity are increased through the O-bead construction that Firestone uses on this tire.
Inside the tread are twin steel belts for added strength and durability. 14 to 17 inch sizes are available in the Champion HR, and the tires come with either an H or V-speed rating. A 40,000 mile tread warranty is also included.
Pros 
Dry and wet traction and braking performance

 

Comfortable ride

 

Good value for the money

 
Cons
Winter handling is poor

 

Treadlife could be better

 
Overall Thoughts
The Champion HR provides decent dry and wet year round performance for the value price. Braking and acceleration are also strong points for this tire. The ride is comfortable on most road surfaces, although road noise is a little more noticeable than on several other tires in this category.
Winter handling on this model is poor, so don't expect good traction if you live in areas that see moderate to heavy amounts of snow and ice. Treadlife is another area of concern with this tire. We've heard some drivers mention not seeing the miles they believed they should have.
Overall, the Champion HR is a low to middle of the pack performer. It's a tire best suited for everyday commuting needs or for drivers who are looking to save some money on a set basic all-season tires.
Click Here For Current Firestone Coupons
What Vehicles Will The Firestone Champion HR Fit?
(This is not a complete list of ALL vehicles this tire will fit)
Buick Lesabre, Rendezvous

 

Chevrolet HHR, Equinox, Malibu, Impala, Venture, Metro

 

Chrysler LHS, Town and Country

 

Dodge Caliber, Grand Caravan

 

Ford Taurus, Contour, Crown Victoria

 

Honda Civic, Odyssey

 

Jeep Patriot, Compass, Grand Cherokee

 

Kia Sportage, Optima

 

Lexus LS430

 

Mercury Sable

 

Nissan Maxima, Quest, Altima

 

Pontiac G6, Montana, Aztek, Bonneville

 

Saturn Vue, L200, SL2, Ion

 

Suzuki Reno

 

Toyota Camry, Corolla, Sienna

 

Volkswagen Passat, Golf

 
Tire Sizes
14″
185/60R14 82H BSW
15″
185/65R15 88H BSW
195/65R15 91H BSW
205/65R15 94H BSW
215/65R15 96H BSW
195/60R15 88H BSW
205/60R15 91H BSW
215/60R15 94H BSW
195/55R15 85V BSW
16″
205/60R16 92H BSW
215/60R16 95H BSW
225/60R16 98H BSW
205/55R16 91H BSW
215/55R16 93H BSW
225/55R16 95H BSW
205/50R16 87H BSW
17″
215/55R17 94V BSW
225/55R17 97V BSW
215/50R17 95H BSW
225/50R17 94V BSW
215/45R17/XL 91V BSW
225/45R17 91H BSW
235/45R17 94H BSW
Price Range
Firestone Champion HR prices range from approximately $77 and up. You may also find occasional rebates, discount prices, coupons and special offers on this tire.
Warranty
Firestone provides a 5-year or 40,000 mile tread warranty on the Champion HR. Tire uniformity is guaranteed for the first 1/32 inch of wear.
Materials and workmanship are warranted for 5-years and include free replacement during the first 3 years. A prorated amount is given for the remaining time period or down to the final 2/32 inch of tread depth. You will also receive Firestone's exclusive 30-day buy and try guarantee. If you are not completely satisfied you can refund or exchange the tires.
---