Firestone Affinity Touring Tire Review & Rating
The Firestone Affinity Touring all-season tire is used as original equipment on many of today's luxury sedans, minivans and smaller SUV's. Engineered to provide all-season performance and a quiet and comfortable ride, the Affinity Touring also offers a budget-friendly price point.
An all-season tread compound includes silica and L.L. Carbon in its formula for increased wet handling capabilities, in addition to better resistance to cracking and premature wear. The tire's open-slotted shoulder design and unique deeper grooves enhance dry and wet traction for year-round performance.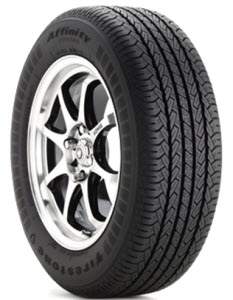 Lateral sipes around the tread increase wet or snow traction, while circumferential grooves evacuate water from under the tire and reduce the risk of hydroplaning. Optimized shoulder angles and the center rib enhance comfort and lower outside road noise.
Inside the tire you will find two steel belts that are nylon reinforced for added strength and durability. A polyester cord body smoothens the ride and provides further ride comfort. Firestone includes a 50,000 mile tread guarantee and has sizes available from 14-17 inches.
Pros
Excellent dry traction and cornering stability

 

Wet handling is good

 

Ride is comfortable

 

Low priced tire

 
Cons
Winter handling performance

 

Treadlife could be a little better

 
Overall Thoughts
We have mixed feelings on the Affinity. On the plus side, traction on dry pavement is very good on this tire. It corners adequately, and braking and acceleration are good for a tire like this model. Handling on wet roads is average, and the steering response is ok as well. This is also one of the lowest priced all-season touring tires of any major brand name.
Where we have some issues is definitely with winter performance. It needs a big boost. Other tire owners have mentioned how bad the traction in snow and ice is on this tire. Beyond that, treadlife has been disappointing for many also.
Overall, we rank this tire in the lower half of all tires in this class. It does some things very well, but just don't expect it to perform like other models in its class. If you want to stay with a Firestone tire, we would suggest going with the Precision Touring in place of this model.
Click Here For Current Firestone Coupons
What Vehicles Will The Affinity Touring Fit?
(This is not a complete list of ALL vehicles this tire will fit)
Buick Lesabre, Rendezvous

 

Chevrolet HHR, Equinox, Malibu, Impala, Venture, Metro

 

Chrysler LHS, Town and Country

 

Dodge Caliber, Grand Caravan

 

Ford Taurus, Contour, Crown Victoria

 

Honda Civic, Odyssey

 

Jeep Patriot, Compass, Grand Cherokee

 

Kia Sportage, Optima

 

Lexus LS430

 

Mercury Sable

 

Nissan Maxima, Quest, Altima

 

Pontiac G6, Montana, Aztek, Bonneville

 

Saturn Vue, L200, SL2, Ion

 

Suzuki Reno

 

Toyota Camry, Corolla, Sienna

 

Volkswagen Passat, Golf

 
Tire Sizes
14″
P185/65R14 85T BL
15″
P195/60R15 87T BL
P195/65R15 89T BL
P205/60R15 90T BL
P205/65R15 92T BL
P205/70R15 95S WS
P215/60R15 93T BL
P215/70R15 97S WS
16″
215/55R16 93H BL
215/65R16 98T BL
P205/55R16 89T BL
P205/60R16 91H BL
P215/60R16 94T BL
P225/60R16 97T BL
17″
P225/55R17 95T BL
P225/60R17 98H BL
P235/55R17 98H BL
Price Range
Prices on the Firestone Affinity range from approximately $72 and up. You may also find occasional rebates, discounts, coupons and special offers on this tire.
Warranty
Firestone provides a 5-year or 50,000 mile tread warranty on this model. Tire uniformity is guaranteed for the first 1/32 inch of wear.
Materials and workmanship are warranted for 5-years and include free replacement during the first 3-years. A prorated amount is given for the remaining time period or down to the final 2/32 inch of tread depth. You'll also receive Firestone's 30-day buy and try guarantee. If you are not completely satisfied you can refund or exchange the tires.
---