Fierce Attitude MT Tire Review & Rating
The Fierce Attitude MT tire has been engineered to deliver high performance in the toughest of conditions. Whether it's deep mud, heavy snow or anything in between, the Attitude MT has been designed for all types of trucks, 4×4's or SUV's to go through it.
A tough truck tread compound is matched up to an aggressive mud terrain tread pattern that is designed for maximum traction in mud and rough off-road terrains. Most sizes are built with an E load range rating, making it ideal for use on trucks that are used on construction sites, farms, etc., that also need the extra load carrying capacity.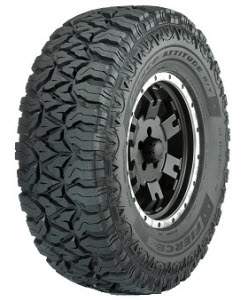 The tire itself sports staggered shoulder blocks that not only increase traction off-road, but also enhance performance on-road and make for a more quiet ride quality, which is something that will likely surprise you with. The alternating lug pattern features larger lugs with added sipes that provide extra grip on wet pavement as well as in the snow.
Larger deep tread voids allow the tire to self-clean itself of mud, rocks and other debris from the tread, something this tire does an adequate job at but could be just a touch better. Fierce has added a rim protector to help in protecting expensive wheels from accidental damage.
Inside the tire you will find a 3-ply steel belted construction for added strength and durability. There is also a 3-ply polyester sidewall for increased puncture resistance. Sizes are available from 16-18 inches.
Pros
Outstanding traction in dirt, mud, sand, rock, snow and other terrain

Aggressive good looks and unique barbed wire design on the sidewall

Tire is tough as nails

Lower than expected noise

Excellent treadlife
Cons
Would like to see just a little more clean-out abilities

Needs additional sizes in their lineup
Overall Thoughts
There are a number of choices to be found in the mud tire market, but this Fierce model ranks in the upper half of the class. We're impressed with how well this tire performs both on and off-road. As a Goodyear sub-brand, the Attitude M/T has some of the best mud performance you'll find from any tiremaker.
When it comes to toughness, this tire doesn't disappoint. A rugged 3-ply sidewall stands up to rocks and other debris in providing excellent puncture resistance. The tire cleans out the mud pretty good, but because it's also designed to provide for a little more on-road performance, clean out could be just a touch better. That said, it shouldn't be an huge issue, and the lower road noise is a welcome addition for most drivers.
Tread life is very good for this model, and we've heard the same thing in many driver reviews and ratings. The only other thing we would really like to see is the addition of more sizes. Overall, the Fierce MT is an excellent choice for a mud tire that also provides capable manners for on-road driving as well.
Click Here To Find Current Prices
What Vehicles Will The Fierce M/T Fit?
(This is not a complete list of ALL vehicles this tire will fit)
Chevrolet Silverado, Colorado, K1500, Avalanche, S10, Blazer, Tahoe

Dodge Ram, Dakota, Nitro, 2500 Van, Durango

Ford F-150, Ranger, Bronco, Econoline Series, Expedition

GMC Sierra, Canyon, Envoy, Yukon, Jimmy, Suburban

Honda Passport

Hummer H3

Isuzu Trooper, Hombre5, Rodeo, Amigo S

Mitsubishi Montero

Nissan Crew Cab, Titan, Pathfinder

Jeep Wrangler, Cherokee, Grand Cherokee, Liberty, CJ5, CJ7

Land Rover Range Rover

Toyota FJ Cruiser, 4Runner, Tacoma, Tundra, Sequoia
Tire Sizes
16″
LT225/75R16 E 115P BSW
LT235/85R16 E 120P BSL
LT245/75R16 E 120P BSW
LT265/75R16 E 123P BSL
LT285/75R16 E 126P BSL
LT305/70R16 E 124P BLK
LT315/75R16 E 127P BSW
17″
LT265/70R17 E 121P BSW
LT285/70R17 D 121P OWL
35-1250R17LT D 119P BSW
18″
LT275/65R18 E 123P BSW
LT275/70R18 E 125P BSW
LT325/65R18 E 127P BSW
Price Range
Fierce Attitude M/T prices range from approximately $189 and up. You may also find occasional rebates, discount prices, coupons and special offers on this tire.
Click Here To Find The Current Prices On All Fierce Attitude MT Sizes
Warranty
Fierce provides a limited tread warranty on the Attitude MT. Tire uniformity is warranted for 6-months or the first 2/32 inch of wear. Materials and workmanship are guaranteed for 6-years and include free tire replacement during the first year or first 2/32 inch of wear. A prorated amount is given for the remaining time period or down to the final 2/32 inch of tread depth.
---