Federal Couragia XUV Tire Review & Rating
The Federal Couragia XUV is designed as a highway all-season tire that offers capable traction and handling to go with a longer lasting treadlife. Built for drivers of light trucks, SUV's and larger crossovers, the XUV sports a value price that is aimed at budget-minded drivers looking to save money on a set of new tires.
Federal uses an all-season tread compound and asymmetric tread pattern with an opposite slanted angle that the company says will add to treadlife and reduce uneven wear. Larger shoulder blocks and unique stiffer interconnected tread blocks combine to deliver increased stability, as well as added ride comfort at highway speeds.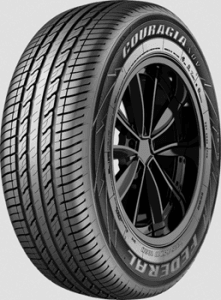 A solid center rib with smaller lateral grooves enhance steering response and cornering stability throughout the speed range. This is an area where the Couragia XUV excels in our opinion. It provides a very good feel on all types of pavement and road surfaces.
Four circumferential grooves and multiple sipes around the tread help expel water from the footprint for improved wet traction. These variable sipes are further designed to reduce road noise and increase ride comfort.
Inside the tire are twin steel belts with a polyester body that adds strength and better long term durability. The XUV has a 440 AA UTQG rating, and Federal offers a range of 15-20 inch sizes that carry either an H or V-speed rating. A limited number of LT sizes have also been made available as well.
Pros
Dry traction and handling
Ride comfort
Treadlife
Cons
Needs an increase in wet traction/braking
Braking/acceleration on ice
Overall Thoughts
As a second-tier brand tire, the Federal Couragia XUV has a number of good features going for it. Traction and handling on dry pavement is more than capable for all but the most serious of driving enthusiasts. The ride is quiet for the most part and treadlife appears to be very good for a budget model.
Areas of concern that we've found start with less than stellar grip on wet road surfaces, especially in regards to wet braking. In addition, winter traction is not on the levels of some of the best tires in this class. Braking and acceleration on ice and hard-pack can be problematic.
Overall, the XUV is a solid performing second-level tire that can save you a considerable amount of money if budget is a major driver for you.
What Vehicles Will The Federal Couragia XUV Fit?
(This is not a complete list of ALL vehicles this tire will fit)
Chevrolet Silverado, Avalanche, Suburban, Tahoe, TrailBlazer
Dodge Ram, Dakota
Ford F-150, Escape, Explorer, Expedition, Ranger, Edge
GMC Canyon, Sierra, Yukon
Honda Pilot, Ridgeline
Jeep Grand Cherokee, Wrangler
Land Rover Range Rover
Mercury Mountaineer
Mitsubishi Montero
Nissan Titan, Frontier, Armada, Pathfinder
Toyota FJ Cruiser, Highlander, 4Runner, Sequoia, Tundra, Tacoma, Land Cruiser
Tire Sizes
15″
205/70R15 96H BSW
255/70R15 112H XL BSW
265/70R15 112H BSW
16″
235/60R16 100H BSW
215/65R16 98H BSW
255/65R16 109H BSW
215/70R16 100H BSW
225/70R16 103H BSW
235/70R16 106H BSW
245/70R16 107H BSW
255/70R16 111H BSW
265/70R16 112H BSW
275/70R16 114H BSW
LT225/75R16 115/112S BSW
LT245/75R16 120/116S BSW
LT265/75R16 123/120S BSW
17″
235/55R17 99H BSW
225/60R17 99H BSW
235/60R17 102V BSW
255/60R17 110V XL BSW
225/65R17 102H BSW
235/65R17 108V XL BSW
245/65R17 111H XL BSW
265/65R17 112H BSW
265/70R17 115H BSW
LT265/70R17 121/118S BSW
18″
225/55R18 98V BSW
235/55R18 104V XL BSW
245/60R18 105H BSW
265/60R18 110H BSW
235/65R18 106H BSW
20″
245/50R20 102H BSW
255/50R20 109H XL BSW
Price Range
Federal Couragia XUV prices range from approximately $52 and up. You may also find occasional rebates, discount prices, coupons and special offers on this tire.
Warranty
Warranty information unavailable at time of review.
---