Federal Couragia M/T Tire Review & Rating
The Federal Couragia M/T tire is built with off-road performance in mind for drivers of of all types of trucks, SUV's and 4×4's. As one of the more popular second-tier MT tires, the Federal MT also features a lower price for budget-minded drivers.
A cut and chip resistant tread compound and Federal's unique SRG (Sloped Radius Gradient) lug design add tread block stiffness for increased traction on all types of terrain.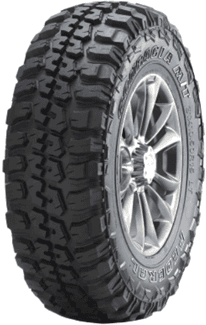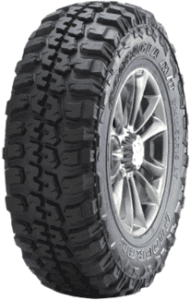 Traction in mud is one of the areas that the Couragia MT excels in. Larger lugs, which are also siped, feature high void areas for enhanced self-cleaning of mud, rocks and other messy debris.
Although not rated for severe snow service with the mountain snowflake emblem, the deeper shoulder lugs and added sipes help deliver excellent grip on snow, slush and other winter weather conditions. We've heard this frequently mentioned in other driver reviews of this tire as well.
Noise levels are not bad, but these tires do hum on the highway, although nowhere close to some we've heard.
The Federal Couragia M/T is available in C, D and E load ratings, and comes with a 2 or 3-ply sidewall depending on the tire chosen. Federal offers a range of 15-24 inch LT and flotation sizes, and all sizes come with a limited tread warranty.
Pros
Tackles all types of off-road terrain as well as some big-name brands
Traction and handling on dry/wet pavement
Good performance in deep snow
Hard to beat the performance for the lower cost
Cons
Not the best for a daily driver on the street
Overall Thoughts
The Federal Couragia MT are one of those tires that people seem to either love or hate passionately. For many, this tire delivers excellent off-road traction as well as exceptional grip in deep snow. They do well on dry/wet pavement, and tread life has been long lasting.
For other drivers, the tires have separated or the tread wears out within 15K miles. In addition, we've heard complaints about added noise on the highway.
We feel the Federal MT is an average mid-pack performer in this class. Although we wouldn't use it as a daily driver around town, we feel that for rural use or more dedicated off-road use, it could be a good option. In addition, the lower price is certainly appealing if budget is an issue.
What Vehicles Will The Federal Couragia M/T Fit?
(This is not a complete list of ALL vehicles this tire will fit)
Chevrolet Silverado, C2500, Blazer, Tahoe
Dodge Ram, Nitro, Durango, Dakota
Ford F-150, Excursion, F-250, F-350
GMC Sierra, Yukon, Jimmy
Hummer H3
Isuzu Rodeo
Jeep Liberty, Grand Cherokee, Wrangler
Land Rover Defender
Nissan Titan, Xterra, Pathfinder, Frontier
Suzuki Equator
Toyota FJ Crusier, Tacoma
Federal Couragia M/T Tire Sizes
15″
LT235/75R15 6 104/101Q OWL
30*9.50R15 6 104Q OWL
31*10.50R15 6 109Q OWL
33*12.50R15 6 108Q OWL
35*12.50R15 6 113Q BSW
16″
LT235/85R16 10 120/116Q OBL
LT205/80R16 8 110/108Q OWL
LT225/75R16 10 115/112Q BSW
LT245/75R16 10 120/116Q BSW
LT265/75R16 8 119/116Q OWL
LT265/75R16 10 123/120Q OWL
LT285/75R16 8 122/119Q OWL
LT285/75R16 10 126/123Q OWL
LT315/75R16 10 127/124Q OWL
17″
LT265/70R17 10 121/118Q OWL
LT285/70R17 8 121/118Q OWL
35*12.50R17 10 125Q OWL
37*12.50R17 10 129Q BSW
18″
LT275/65R18 8 119/116Q BSW
LT275/65R18 10 123/120Q BSW
35*12.50R18 10 123Q BSW
37*12.50R18 10 128Q BSW
20″
33*12.50R20 10 114Q BSW
35*12.50R20 10 121Q BSW
37*12.50R20 10 126Q BSW
40*15.50R20 8 130Q BSW
22″
40*15.50R22 8 127Q BSW
24″
40*15.50R24 10 128Q BSW
Price Range
Federal Couragia M/T prices range from approximately $110 and up. You may also find occasional rebates, discount prices, coupons and special offers on this tire.
Warranty
Federal provides a limited tread warranty on the Couragia M/T.
---