Some automobiles invite assumptions about their owners: Pricey sports cars create the impression of privilege, while hybrids convey conscientiousness. Intentionally or unconsciously, drivers reveal plenty about their values through their vehicle selection. But perhaps specific makes and models also provide a different kind of information – data far more essential to the drivers around them. Are certain cars more likely to have reckless drivers inside them?
In this project, we analyzed the National Highway Traffic Safety Administration's (NHTSA) Fatality Analysis Reporting System (FARS), an exhaustive database of deadly accidents across the U.S. We studied how often drivers in different makes of cars are involved in fatal crashes and segmented our data by gender, state, and potential contributing factor. Our findings suggest that individuals in certain vehicles may be more likely to drive dangerously, while other brands are associated with responsibility behind the wheel. To find out which cars you may want to avoid when you're on the road, keep reading.
Fatally Fast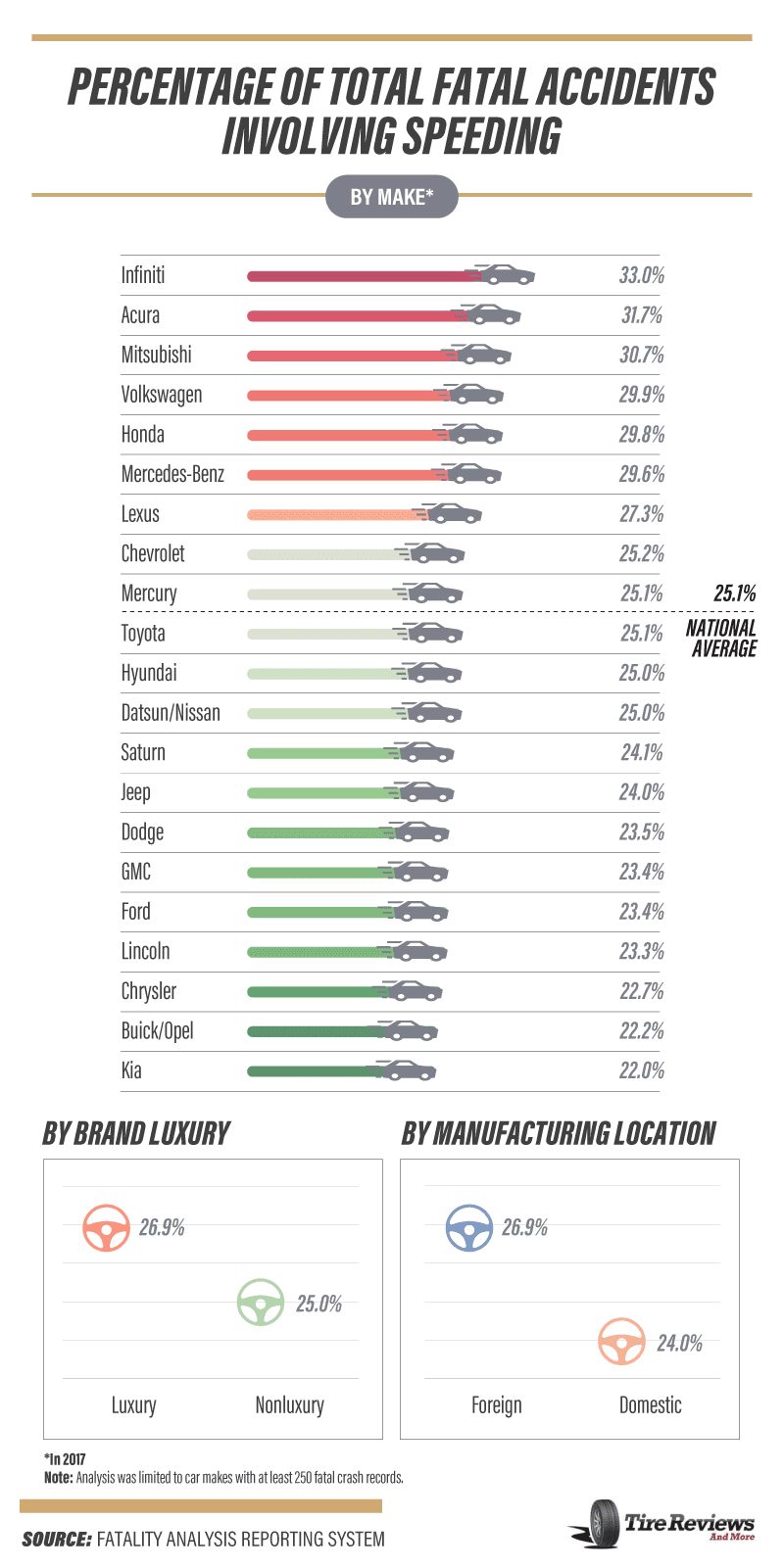 For fatal crashes, which car makes had the highest percentage of accidents in which speeding was a contributing factor? Infiniti drivers topped the list for fatal crashes involving speeding, with 1 in 3 accidents entailing illegal speeds. Acura, Mercedes-Benz, and Lexus also had high rates of accidents involving speeding, suggesting the owners of popular luxury vehicles are often inclined to put them through their paces. Indeed, 27 percent of crashes featuring luxury cars involved speeding, whereas just 25 percent of accidents involving nonluxury vehicles did so.
A similar pattern emerged for cars made by foreign brands, which were more likely to be involved in speeding crashes. Among drivers of Mitsubishi, Volkswagen, and Honda vehicles, roughly 3 in 10 fatal crashes involved speeding. Conversely, drivers of American brands, such as Buick, Chrysler, and Lincoln, had a relatively low percentage of speeding crashes. This trend stands in compelling contrast to the macho tradition of American muscle cars: Drivers today seem more likely to pursue dangerous speeds in cars manufactured in Asia or Germany.
Intoxication Association?
Infiniti drivers also claimed the top spot for the percentage of crashes involving alcohol, with a quarter of crashes entailing drunk driving. Acura, Cadillac, and Mercedes-Benz also made the top five in this unfortunate category, a trend that would seem to suggest an association between luxury brands and driving under the influence. Overall, however, our data indicate otherwise: Drivers of nonluxury vehicles were actually slightly more likely to be in deadly crashes involving alcohol.
A larger gap emerged between drivers of foreign and domestic vehicles: 19 percent of fatal accidents involving American cars entailed drinking, compared to just 17 percent of crashes involving international brands. Indeed, Pontiac and Chevrolet drivers had particularly high rates of accidents involving alcohol, with Jeep, GMC, and Dodge close behind. Conversely, one foreign brand had a distinctly low percentage of crashes involving booze. Just 7 percent of fatal crashes involving Volvo included drinking – 8 percentage points lower than the next-best brand. Safety has long been a cornerstone of Volvo's brand identity: Perhaps individuals attracted to the company's vibe are less inclined to take reckless risks.
Weed Behind the Wheel
In recent years, the role of cannabis in car accidents has incited much debate, with some evidence indicating higher crash rates in states where marijuana is legal. Our findings suggest that drivers of particular cars may be especially likely to consume pot and drive: Pontiac and Mitsubishi led all other brands in the percentage of fatal accidents involving marijuana. Acura, BMW, and Saturn drivers were close behind, with roughly 6 percent of fatal accidents involving cannabis to some extent. This mix of American and international brands is indicative of a broader pattern: Overall, marijuana was implicated in an equal percentage of fatal accidents involving foreign and domestic vehicles.
Luxury brands had a slightly higher percentage of accidents involving pot than nonluxury automakers. Yet, Volvo, Lexus, and Mercedes-Benz ranked near the bottom of our list, with marijuana involved in fewer than 3 percent of these brands' crashes. These figures may reflect demographics differences: Pot is most popular among Americans between the ages of 18 and 29, so marijuana-related crashes could be less common among brands that appeal to older audiences. Volvo, for example, has historically struggled to attract younger buyers, while Mercedes has only recently introduced models that aim for youthful audiences.
High Stakes
Much like marijuana legalization, the opioid epidemic has greatly troubled transportation safety experts, who say a sizeable percentage of drivers in fatal crashes are under the influence of these narcotics. As with marijuana crashes, Pontiac drivers had the highest percentage of deadly accidents involving drugs. Buick drivers ranked second overall for the percentage of crashes involving drugs other than pot, despite only a middling rate of accidents involving marijuana. This finding could relate to the brand's core demographic, which has historically been older Americans. Experts say that the elderly often drive under the influence of medications, putting themselves and others in grave danger.
Overall, drivers of nonluxury cars had a slightly higher rate of crashes involving drugs other than pot. Some research suggests that the opioid epidemic has disproportionately affected low-income Americans, so it makes sense that drivers of affordable cars would have higher crash rates. Crashes involving drugs other than marijuana were slightly more common among owners of American-made vehicles as well. Indeed, Lexus and Volvo had distinctly low rates, driving down the average for foreign cars more generally.
Hit-and-Run Hazards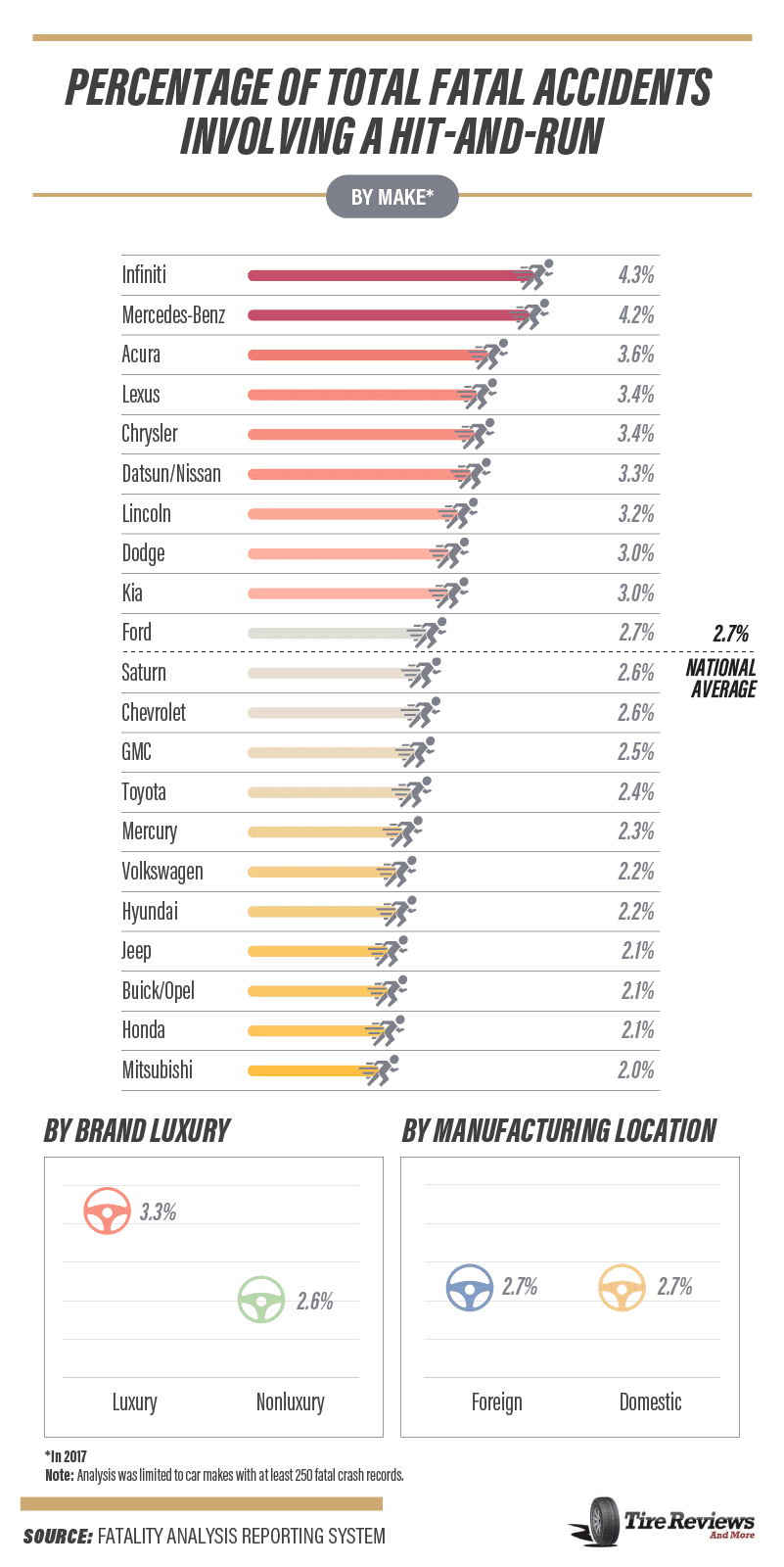 Research suggests that hit-and-run incidents are at an all-time high, and pedestrians and cyclists are the most common victims. In terms of the percentage of fatal crashes that developed into hit-and-run incidents, luxury brands topped our list. A hit-and-run occurred in roughly 4 percent of fatal accidents involving Infiniti, Mercedes-Benz, and Acura drivers and approximately 3 percent of crashes involving luxury cars overall. Relatively speaking, hit-and-runs were less common among nonluxury vehicles.
Fatal crashes involving foreign and domestic vehicles were equally likely to become hit and run incidents. As far as American brands, Chrysler, Lincoln, and Dodge drivers had the highest hit-and-run percentages, while Buick and Jeep owners were the least likely to be involved in hit-and-runs. Among foreign automakers, Mitsubishi and Honda had the lowest rates, with Hyundai and Volkswagen close behind.
Protection and Performance
Our findings present strikingly high rates of fatal crash activity among individuals who drive specific cars. Yet, when we consider contributing factors, accident data vary substantially and prevent any sweeping conclusions. Drivers of luxury vehicles are implicated in speeding crashes more frequently, while people in nonluxury cars are more likely to be involved in hit-and-run incidents. Owners of foreign cars seem particularly inclined to speed, while individuals in domestic vehicles have higher rates of crashes involving alcohol and drugs.
Accordingly, we hope our readers will exercise caution in interpreting our results to avoid imprudent assumptions. Speeding and intoxicated driving are exceedingly dangerous activities in any vehicle – and every car can be operated recklessly. If you witness another driver behaving erratically or irresponsibly, keep a safe distance and prepare yourself to take evasive maneuvers if necessary. Our data may present significant differences between certain brands, but vigilance is warranted regardless of the cars around you on the road.
Methodology
We collected data from the National Highway Traffic Safety Administration's Fatality Analysis Reporting System (FARS) to examine car crash fatalities in 2017. The numbers presented do not take into consideration the type or manner of the crash, vehicle manufacturing year, nor the vehicle's safety equipment. The numbers we are presenting only factor in the variables we are focusing on.
We combined the car makes into categories. Makes were grouped into domestic or foreign depending on where the manufacturing company was founded. Makes were grouped into a luxury group if they were the luxury division of an automaker, or if the automaker itself was a luxury brand. All others were grouped as nonluxury.
Fair Use Statement
Want to share our work on your own website or social media? You're free to use our information and graphics however you see fit, so long as you do so for noncommercial purposes. We do have one simple request, however: When you share this project, please include a link back to this page. That way, everyone can explore our full findings … and see the results for the car they drive.