Falken Ziex ZE329 Tire Review & Rating
With the high-performance all-season Falken Ziex ZE329 tire, the company has produced a tire offering which claims to provide drivers with true year-round performance. The manufacturer purports that this passenger tire offers a longer tread life, reduced hydroplaning, improved handling, including braking and cornering response, and more. The low profile sidewall has a rim protector, and the tire also includes a set of Rotation Wear Indicators which allow drivers to accurately determine tread wear.
The Ziex ZE329 has a softer tread compound and a non-directional symmetric tread pattern to promote traction in both dry and wet road conditions. These features, along with a deeper tread depth, five circumferential grooves and lateral grooves, are there to help in providing traction on wet road surfaces and over snow and ice, while also delivering added grip during summer highway driving.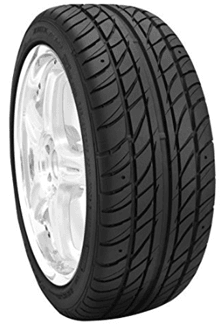 Ride comfort is also intended to be improved by these design elements. Additionally, multiple rotation patterns are designed to improve the tire's tread life and prevent irregular or uneven wear on the treads. (We talk more about this in our overall thoughts of the tire below)
Falken's tire is available in a wide range of 15-18 inch sizes, and speed ratings of H, V and W. A 60K mile tread warranty is also included on this model.
Pros
Dry traction and handling
Treadwear indicators
Does have a warranty
Cons
High degree of in-vehicle road noise
Major tread life issues
Less than desirable traction in winter conditions and on wet roads
Overall Thoughts
It seems that every tire maker has a tire in their lineup that for whatever reason, simply doesn't deliver on its promises. We feel that's the case here with the Ziex ZE329. It just falls short in far too many key areas to give it a positive recommendation.
While many tires often fail to live up to their advertised tread life, the Ziex ZE329 takes it to a whole new level in this department, with other tire owners reporting that the treadwear is rapid, even with normal driving use and regular rotations. The overwhelming number of drivers who have complained about treadlife makes this totally unacceptable regardless of this model's lower cost.
Furthermore, most any all-season tire will not perform as well in severe winter weather conditions as a dedicated winter tire, but typically drivers can expect at least some degree of reasonable handling performance in light snow-this isn't the case with Falken's offering, as the tire's snow performance leaves much to be desired. Some have went as far as to say you would be better off leaving the car parked than to take the chance of driving in snow. All of that said, the ZE329 does outperform the Falken 512 in terms of handling, wet traction and treadlife.
Unfortunately, the negatives far outweigh the positives when compared to other models in this class. Wet and dry road conditions don't offer much of an improvement either, with unsatisfactory overall handling, braking, and cornering. Finally, ride comfort could be better, and in-vehicle noise is much louder than expected. Overall, we rank the ZE329 near the bottom of the high-performance all-season class.
Click Here For Current Falken Coupons
What Vehicles Will The Falken ZE329 Fit?
(This is not a complete list of ALL vehicles this tire will fit)
Acura ZDX, TSX, ILX, RSX

Audi A3, A4, TT Quattro, A6

BMW 128i, 135i, 328i, 335i, M3, Z4, X5, X6, 535i, X1

Cadillac ATS, CTS

Chevrolet Cruze, Malibu, Cobalt, Sonic, Camaro, Impala

Chrysler PT Cruiser

Dodge Dart, Challenger, Charger

Ford Focus, Fusion, Mustang, Fiesta

Honda Accord, Civic

Hyundai Sonata, Elantra, Tiburon, Genesis

Infiniti G35, I35, Q45, G37

Kia Rondo, Forte, Optima, Soul

Lexus IS250, IS350, GS350, IS300

Lincoln MKZ

Mazda3, Mazda5

Mitsubishi Eclipse

Nissan Sentra, 350Z, Maxima, Leaf

Saab 9-5, 9-3

Scion xB, tC

Subaru Impreza, Legacy

Toyota Corolla, Matrix, Camry, Avalon, Prius

Volkswagen Beetle, Golf, GTI, Jetta, Rabbit, Touareg, Passat

Volvo C70, S80, V70, S60
Tire Sizes
15″
185/65R15 88H BSW
195/55R15 85V BSW
195/60R15 88H BSW
195/65R15 91H BSW
205/50R15 86H BSW
205/65R15 94H BSW
205/65R15 94V BSW
215/60R15 94H BSW
215/65R15 96H BSW
16″
205/55R16 91V BSW
205/60R16 92V BSW
215/55R16 93V BSW
215/65R16 98H BSW
225/55R16 95V BSW
225/60R16 98H BSW
235/60R16 100H BSW
245/50R16 97H BSW
17″
205/40R17 84W BSW
205/50R17 93W BSW
215/40R17 87W BSW
215/50R17 91V BSW
215/55R17 94V BSW
225/45R17 94W BSW
225/50R17 94V BSW
225/55R17 97V BSW
235/45R17 97W BSW
235/55R17 99H BSW
245/45R17 99W BSW
18″
225/40R18 92W BSW
225/45R18 91W BSW
225/60R18 100H BSW
235/40R18 95W BSW
235/50R18 97W BSW
235/55R18 100V BSW
245/40R18 93W BSW
245/45R18 96W BSW
255/45R18 99W BSW
Price Range
Falken Ziex ZE329 prices range from approximately $58 and up. You may also find occasional rebates, discount prices, coupons and special offers on this tire.
Warranty
Falken includes a 60,000 mile tread warranty on the Ziex ZE-329. Tire uniformity is guaranteed for the first 2/32 inch of wear.
Materials and workmanship are backed for the life of the tire down to the final 2/32 inch of tread depth. Free tire replacement is provided for unserviceable defects during the first 2/32 inch of wear. Falken prorates out the amount for the remaining tread depth, down to the last 2/32 inch.
---