Falken Ziex ZE-912 Tire Review & Rating
With an asymmetric tread design and all-season performance, the Falken Ziex ZE-912 is built for drivers of high performance sport compacts, sedans and even older muscle cars.
The ZE912 sports an aggressive hybrid tread pattern that includes Rotation Wear Indicators. These indicators immediately let you know how much tread is left on the tire and to know when it's time to perform routine tire rotation and maintenance as well.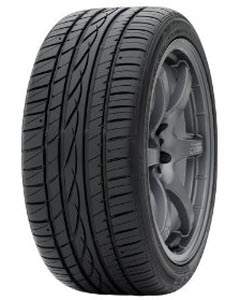 Larger shoulder blocks and a stiffer tread compound enhance dry surface handling and grip, while four circumferential grooves and an infinite number of sipes throughout the tread increase performance in all types of weather and road conditions, and improve hydroplane resistance.
Falken also uses High Angle Variable Cross Grooves technology in the tread to help in reducing tire noise. Most drivers have mentioned minimal road noise while driving on this tire.
Twin steel belts that are nylon wrapped aid in providing added strength and stability at higher driving speeds, as well as enhancing tread wear and tire life.
Pros
Dry surface grip and handling are good

 

 

 

Ride comfort is nice and road noise is minimal

 

 

 

Economically priced tires

 

 

 
Cons
Tread life needs improvement

 

 

 

Snow traction is an issue for many drivers

 

 

 
Overall Thoughts
As high performance all-season tires go, these Falken 912's are above average when compared to other models in this class. While they ride comfortably and grip on dry road surfaces is good, they can slide under heavy acceleration when the roads turn wet or snow starts to stick.
One area we would like to see improved is the treadlife. Depending on how spirited your driving is you may not get as many miles out of the tire that you would expect. That said, if you don't have your foot mashed against the accelerator every day, you will have better results.
Overall, if you are on a tight budget, but would like to upgrade your current tire set, this tire may be a good option for you.
Click Here For Current Falken Coupons
What Vehicles Will The ZE-912 Fit?
(This is not a complete list of ALL vehicles this tire will fit)
Chevrolet Cobalt

 

 

 

Chrysler PT Cruiser

 

 

 

Dodge Caliber

 

 

 

Ford Focus

 

 

 

Honda CRV

 

 

 

Nissan Sentra

 

 

 

Toyota Camry

 

 

 

Volkswagen Golf

 

 

 
Tire Sizes
14″
185/60R-14 82H BLK
185/65R-14 86H BLK
195/60R-14 86H BLK
195/65R-14 89H BLK
15″
175/65R-15 84H BLK
185/60R-15 84H BLK
185/65R-15 88H BLK
195/55R-15 85V BLK
195/60R-15 88H BLK
195/65R-15 91H BLK
205/50R-15 86H BLK
205/55R-15 88V BLK
205/60R-15 91H BLK
205/65R-15 94V BLK
205/65R-15 94H BLK
215/60R-15 94H BLK
215/65R-15 96H BLK
225/50R-15 91V BLK
225/60R-15 96H BLK
16″
195/50R-16 84V BLK
195/55R-16 87V BLK
205/45R16 87V XL BLK
205/50R-16 87V BLK
205/55R-16 91V BLK
205/60R-16 92V BLK
205/60R-16 92H BLK
205/65R-16 95V BLK
215/50R-16 90V BLK
215/60R-16 99H XL B
215/65R-16 98H BLK
225/50R-16 96V BLK
225/55R-16 95V BLK
225/65R-16 100H BLK
235/60R-16 100W BLK
235/65R-16 103H BLK
245/50R-16 97W BLK
245/50R-16 97H BLK
17″
205/40R-17 84W XL B
205/45R-17 88W XL B
205/50R-17 93W XL B
215/40R-17 87W XL B
215/45R-17 91W XL B
215/50R-17 91V BLK
215/60R-17 96H BLK
215/65R-17 98H BLK
225/45R-17 94W XL B
225/50R-17 94V BLK
225/65R-17 102H BLK
235/45R-17 94W BLK
235/50R-17 96W BLK
235/60R-17 102H BSW
255/40R-17 94W BLK
18″
215/35R-18 84W XL B
215/40R-18 89W XL B
215/45ZR-18 93W XL B
215/55R-18 95H BLK
225/45R-18 91W BLK
225/50R-18 95W BLK
225/55R-18 98H BLK
225/60R-18 99H BLK
235/35R-18 90W XL B
235/40R-18 95W XL B
235/45R-18 94W BLK
235/50R-18 101W XL B
235/65R-18 106H BLK
245/40R-18 97W XL B
245/45R-18 100W XL B
P255/65R-18 109H BLT
265/35R-18 97W XL B
19″
245/55R-19 103H BLT
Price Range
Prices on the Falken Ziex 912 range from around $70 and up. You may also find occasional rebates, discounts, coupons and special offers on this tire.
Warranty
Falken Tires includes two different mileage warranties on this tire. 55 series tires and below come with a 40,000 mile mileage warranty, while 60/65 series tires have a 65,000 treadlife warranty.
Materials and workmanship are backed for the life of the tire down to the final 2/32 inch of tread depth. Free tire replacement is provided for unserviceable defects during the first 2/32 inch of wear. Falken prorates out the amount for the remaining tread depth, down to the last 2/32 inch.
---