Falken Ziex ZE-512 Tire Review & Rating
Combining the ride quality of a touring tire with high performance all-season handling and traction is what Falken has developed with the Ziex ZE-512. This combination has worked fairly well based on how the tire is selling, as well as being named #1 in its class by a leading consumer magazine.
The tire sports an aggressive directional tread pattern to go with a unique silica tread compound for enhanced cornering performance and quick steering response. Variably sized shoulder blocks help eliminate road noise, which is why many drivers have commented on the ZE-512 being so quiet on the road.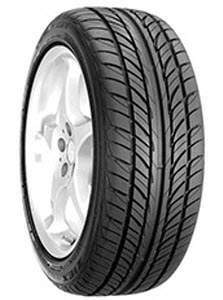 Wet traction and handling is aided by the 5 circumferential grooves and a multi-radius shape design that provides more tire to road contact. These grooves work to evacuate more water from under the tread and reduce the risk of hydroplaning. This model is also M+S rated for increased snow and ice traction, although this is a weak point on this model.
Inside the tire you will find twin steel belts and spirally wrapped nylon cap for added durability and stability at higher speeds. It also helps even the tread wear and overall ride quality. Falken has also included a nice rim protection ridge to prevent damage to your custom wheels. This model comes with either a 45,000 or 60,000 mile tread warranty depending on the tire size.
Click Here For Current Falken Coupons
Click Here To Find Current Prices
Pros
Among the best in class for cornering grip

 

 

 

Steering response and control are very good

 

 

 

Wet traction is above average

 

 

 

Very quiet riding tire

 

 



Cons
Lower than expected tread life is an issue for many

Winter traction and handling

 



Overall Thoughts
Falken has developed a tire that shows mixed results in the 512. Cornering grip is amazing for a tire in this class, and dry and wet traction is equally as impressive. Steering response is quite nice as well.
On the other hand, we have to say that grip on snow and ice is not up to other tires in this class. Numerous reviews from other drivers speak to this as well. In addition, many drivers mention poor treadlife and getting mileage that is shorter than the warranty says to expect.
Overall, if winter driving is not a big issue for you, the lower price and good wet/dry performance you can expect make for a very good overall value. That said, we would recommend going with the newer Falken Pro G4 A/S instead, as it sports new technology and higher levels of performance.

What Vehicles Will The Ziex ZE-512 Fit?
(This is not a complete list of ALL vehicles this tire will fit)
Acura CSX

 

 

 

Audi A3

 

 

 

Buick Lucerne

 

 

 

Cadillac DTS

 

 

 

Chevrolet Cobalt, Malibu

 

 

 

Chrysler PT Cruiser

 

 

 

Dodge Neon

 

 

 

Ford Focus

 

 

 

Honda Civic, Accord

 

 

 

Hyundai Sonata

 

 

 

Lexus GS450h

 

 

 

Mitsubishi Lancer

 

 

 

Nissan Sentra

 

 

 

Suzuki SX4

 

 

 

Toyota Corolla, Camry

 

 

 

Volkswagen Beetle

 

 

 
Tire Sizes
14″
175/65R-14 82H B
185/60R-14 82H B
185/65R-14 86H B
195/60R-14 86H B
205/60R-14 88H B
15″
185/65R-15 88H B
195/50R-15 82H B
195/55R-15 85V B
195/60R-15 88H B
195/65R-15 91H B
205/50R-15 86H B
205/55R-15 88V B
205/60R-15 91H B
205/65R-15 94V B
205/65R-15 94H B
215/60R-15 94H B
215/65R-15 96H B
225/60R-15 96H B
16″
195/50R-16 84V B
205/45R-16 XL 87V B
205/50R-16 91V XL B
205/55R-16 91V B
205/60R-16 92H B
205/65R-16 95H B
215/55R-16 93V B
215/60R-16 95H B
225/50R-16 92V B
225/50R-16 92H B
225/55R-16 95V B
225/60R-16 98H B
235/55R-16 96V B
235/60R-16 100H B
245/50R-16 97H B
255/50ZR-16 99W XL B
17″
205/40ZR-17 XL 84W B
205/50R-17 XL 93V B
215/40ZR-17 XL 87W B
215/45ZR-17 87W B
215/50R-17 91V B
215/55R-17 XL 98V B
225/45ZR-17 XL 94W
225/50R-17 94V B
225/55ZR-17 97W BLK
235/45ZR-17 XL 97W
235/50ZR-17 96W B
235/55R-17 99H B
245/45ZR-17 XL 99W B
275/40ZR-17 98W B
18″
215/35ZR-18 84Y XL B
225/40ZR-18 XL 92W B
225/60R-18 100H B
235/40ZR-18 XL 95W B
235/50R-18 97H B
235/55R-18 100V B
245/40ZR-18 93W B
245/45ZR-18XL 100W B
Price Range
Prices on the ZE-512 range from around $68 and up. You may also find occasional rebates, discounts, coupons and special offers on this tire.
Click Here To Find Current Prices On All Falken Ziex ZE-512 Tire Sizes
Warranty
The mileage warranty on the ZE-512 is determined by series sizes. 60 and 65 series models come with a 65,000 mile tread guarantee. 55 series tires and lower come with a 40,000 mile warranty.
Materials and workmanship are warranted for 5 years and include free replacement during the first 2/32 inch of wear. The amount is then prorated for the remaining time period down to the final 2/32 inch of tread depth.
Falken includes their 30-day drive guarantee on this model as well. Drive it for up to 30 days and if you are not satisfied you can refund or exchange the tires.
---