Falken Ziex S/TZ-04 Tire Review & Rating
Sporting impressive high performance handling and road manners, the Ziex S/TZ-04 from Falken is designed to provide owners of light trucks, SUV's and crossovers a tire that is also comfortable, quiet and very affordable.
Falken has engineered the STZ-04 with an all-season tread compound and an asymmetrical tread design that is M+S rated, as well as having a tread depth that is deeper than many other leading competitor tires.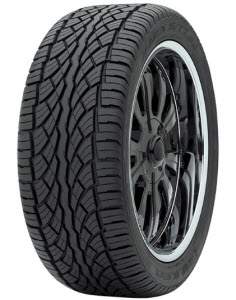 Something you will immediately notice when driving on this tire is how quiet it is. In fact, this is one of the more quieter tires in this class. Falken has incorporated a unique 2 into 3 treadblock pattern that optimizes the tread for a lower noise level, as well as creates a more even treadwear pattern.
Dry surface handling and grip are enhanced through a solid center rib that adds increased stability and control at higher speeds. Wet surface traction is improved through the high angle lateral grooves and the four wider circumferential grooves around the tread. They work together with the full-depth sipes to evacuate water from under the tire footprint and reduce the risk of hydroplaning.
As mentioned earlier, this tire is M+S rated, so it is designed to deliver traction in mud or snow as well, although this is not a strength on this particular model.
Inside the tread are two steel belts that are nylon reinforced for added strength and better durability. Falken includes a 50,000 mile tread warranty, and has sizes to fit all applications up to 24 inches.
Pros
Above average wet and dry surface performance

 

Road noise is nearly non-existent and tire rides comfortably

 

Excellent treadlife that includes a 50,000 warranty

 
Cons
Would like to see a little better winter traction

 
Overall Thoughts
Falken has created a very good tire in the S/TZ-04. The dry or wet traction and handling this tire provides is excellent. Despite the M+S rating, traction on deep snow, hard-pack or ice could stand to be improved.
We like the low road noise this tire has. Falken has done a superb job at eliminating noise and creating a more comfortable overall ride. Add in the 50,000 mile tread warranty and this tire is a solid choice for truck, SUV or crossover owner.
Click Here For Current Falken Coupons
What Vehicles Will The S/TZ-04 Fit?
(This is not a complete list of ALL vehicles this tire will fit)
Cadillac Escalade

 

Chevrolet Tahoe, Silverado, Suburban, Trailblazer

 

Dodge Ram, Durango, Dakota

 

Ford Escape, Expedition, F150

 

GMC Sierra, Yukon

 

Infiniti FX35

 

Kia Sorento

 

Land Rover Discovery

 

Lincoln Navigator, MKX

 

Mercedes Benz ML320

 

Nissan Titan, Frontier, Xterra

 

Toyota 4Runner, RAV4, Tundra, T-100

 
Tire Sizes
15″
LT235/75R15/C 104Q W
P255/70R-15 108S OWL
31X1050R15C 109S OWL
16″
P245/70R-16 106S OWL
P245/75R-16 109S OWL
P255/65R-16 106S B
P255/70R-16 109S OWL
P265/70R-16 111S OWL
LT285/75R16/D 122Q W
17″
P235/70R17 XL 108S B
245/65R-17 107T BLK
P245/70R-17 108S BLT
P255/65R-17 108S OWL
P265/65R-17 110T BLK
P265/70R-17 113T OWL
275/60R-17 110S OWL
18″
P255/55R-18XL 109H B
P255/70R-18 112S OWL
P265/70R-18 114S BLK
275/60R-18 113H BLT
275/65R-18 116T OWL
LT275/70R18E1 125S W
P285/60R-18 116H B
20″
P265/50R20 XL 111H B
P275/45R-20 106H B
P275/55R20 XL 117H B
P275/60R-20 114H BLK
285/50R-20 112H BLT
P295/45R-20 XL 114H
P295/50R-20 114H B
P305/50R-20XL 120H B
22″
265/35R-22 102H XL B
265/40R-22 106H XL B
285/40R-22 110H XL B
305/40R-22 114H XL B
P305/45R-22XL 118H B
23″
P305/40R-23XL 115H B
24″
295/35R-24 110H XL B
295/40R-24 114H XL B
305/35R-24 112H XL B
305/45R-24 XL 120H B
Price Range
Prices on the S/TZ-04 range from approximately $117 and up. You may also find occasional rebates, discounts, coupons and special offers on this tire.
Warranty
Falken has a 50,000 mile treadlife warranty on this model. There is also a first 2/32 inch of wear guarantee on tire uniformity.
Materials and workmanship are warranted for 5 years and include free replacement during the first 2/32 inch of wear. The amount is then prorated for the remaining time period down to the final 2/32 inch of tread depth.
---