Falken WildPeak M/T Tire Review & Rating
After years of anticipation, the 2016 Falken WildPeak M/T has finally been released. With its rugged tread design and softer compound, the Falken MT is built for serious off-road performance. This is the same tire that was a force to reckon with at the 2014 KOH race.
As mentioned, Falken uses a softer tread compound to go with taller and tapered lugs. The result is increased grip on most any road surface or terrain that you want to throw its way, while maintaining very good clean-out capabilities as well.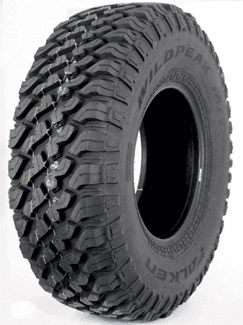 Whether driving on the trails or climbing rocks, the WildPeak M/T01 handles itself well. Dirt, grass, gravel, sand, mud and rock are easy to navigate on this tire. Aired down, the tires simply get you up and over the rocks without putting up a fight. With its 3-ply DuraSpec sidewall construction you have the added toughness that protects you against sidewall damage. For a value priced tire they deliver solid performance to say the least.
Falken has also strived to provide an MT tire that is also civilized enough to drive on the street. After all, the vast majority of drivers spend quite a bit of time driving on the street. Road noise is surprisingly low for such an aggressive tread design. The ride is comfortable as well, compared to MT standards.
Falken has initially released 25 LT and non-LT sizes ranging from 15-20 inches, with more coming in the future. All models feature either a load range rating of C or E.
Pros
Off-road performance on all terrains is excellent
Mild mannered on the street
Quiet for an MT tire
Value priced
Cons
Softer compound reduces treadlife
Overall Thoughts
It's been a long time coming, but finally we have the release of the Falken M/T, and it doesn't disappoint for the most part. The softer tread compound provides for outstanding performance in virtually off road terrain. The larger voids assist in clean outs and do their job well.
We found the tires are much easier to balance than some other models. In addition, the tread construction provides the strength needed to protect from punctures and tears on rocks, trees and other rough debris.
Falken has done a good job with this tire when it comes to driving on the street. It's one of the better models when it comes to reduced road noise, which was a pleasant surprise. No ear plugs needed when going down the highway at higher speeds.
The only area that may disappoint is treadlife. The softer compound comes at the expense of lower treadlife. Expect to find 20-25K miles from the tread with a mix of off and an on road driving.
Overall while arguably not at the top of the class in all-around performance when compared against tires like the BFG KM2, Cooper MTP and a few others, this tire definitely ranks in the upper half of the MT category. If you're looking for a tough and dependable MT tire that is also priced a bit less than many competitor models, this is a solid choice.
Click Here For Current Falken Coupons
Click Here To Find Current Prices
What Vehicles Will The Falken WildPeak M/T01 Fit?
(This is not a complete list of ALL vehicles this tire will fit)
Chevrolet Silverado
Ford F-150
Jeep Cheokee
Nissan Titan
Ram 1500
Toyota Tacoma, Tundra
Tire Sizes
15″
30×9.50R15LT 104Q BSW
31×10.50R15LT 109Q BSW
33×12.50R15LT 108Q BSW
35×12.50R15LT 113Q BSW
16″
LT235/85R16 120/116Q BSW
LT245/75R16 120/116Q BSW
LT265/75R16 123/120Q BSW
LT285/75R16 126/123Q BSW
LT315/75R16 127/124Q BSW
17″
33×12.50R17LT 114Q BSW
35×12.50R17LT 121Q BSW
37×12.50R17LT 124Q BSW
LT235/80R17 120/117Q BSW
LT255/75R17 111/108Q BSW
LT265/70R17 121/118Q BSW
LT285/70R17 121/118Q BSW
LT295/70R17 121/118Q BSW
LT315/70R17 121/118Q BSW
18″
35×12.50R18LT 123Q BSW
LT275/70R18 125/122Q BSW
LT285/65R18 125/122Q BSW
20″
33×12.50R20LT 114Q BSW
35×12.50R20LT 121Q BSW
37×13.50R20LT 127Q BSW
LT305/55R20 121/118Q BSW
Price Range
prices range from approximately $163 and up. You may also find occasional rebates, discount prices, coupons and special offers on this tire.
Click Here To Find Current Prices On All Falken WildPeak M/T Tire Sizes
Warranty
Falkne provides a limited tread warranty on the WildPeak M/T.
---