Falken Wild Peak A/T Tire Review & Rating
The Wild Peak A/T from Falken combines versatile off-road performance with a tread design that provides responsive on-road drivability and comfort. Developed for drivers of trucks and SUV's, the Wild Peak is built for driving in year round weather conditions, whether on or off road.
A tough tread compound is molded into a less aggressive symmetric tread pattern.While the relatively tame looking tread design may give you pause that this tire can handle off-road terrain, once you drive it you will be convinced otherwise. Falken has put plenty "under the hood" with this model.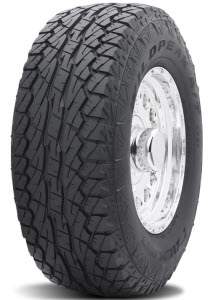 The tire's squared shoulders, 3-ply sidewall and harder bead apex add more strength and stability to the sidewall and provide enhanced traction on all surfaces. The tire is designed to self-clean itself of mud and other debris to maximize traction.
A 5-rib tread pattern and a more rigid block design provide increased steering response and overall handling when driving on-road. Added siping all around the tire gives it biting edges for increased winter weather traction and added grip on other wet road surfaces.
Inside the tread you will find a steel belted construction with a jointless nylon reinforcement that increases strength and durability. It also provides a longer treadlife and extra ride comfort, which is another area that may surprise you. Falken backs up the WildPeak A/T with a 50,000 mile tread guarantee, and offers sizes from 15-24 inches in D and E load ranges for heavy-duty use.
Exceptional on and off-road traction

 

Steering is crisp and responsive

Excellent value for the money

 
Cons
Treadlife could be better
Overall Thoughts
Falken has built a very good all-terrain tire in the Wild Peak A/T. This tire goes through anything you want to throw its way. From sand, rock, snow, gravel, dirt and mud, you can depend on this tire, which is more than you can say for some other tire brands. It's a tire that grows on you as time goes by.
The only one real complaint we have with this tire would be treadwear. We've heard several drivers mention this in their reviews on the tire as well. It seems to wear more rapidly after 25k miles. One other area we want to bring up would be a bit of improvement with traction in the mud. Don't get us wrong, grip in light to moderate amounts of mud is good, but if you let off the accelerator and lose forward momentum in the deep sticky muck, you'll find yourself getting stuck. That's pretty typical with most tires in this class though, and to be fair, this is not an M/T tire.
Dry and wet traction is a plus for this tire when driving in the city or out on the highway. Overall, this is a tire that costs less than many competitor models and we give it a ranking in the upper half of the all-terrain class.
Click Here For Current Falken Coupons
Click Here To Find Current Prices
What Vehicles Will The Wild Peak A/T Fit?
(This is not a complete list of ALL vehicles this tire will fit)
Cadillac Escalade

 

Chevrolet Silverado, Avalanche, Tahoe, Colorado, Suburban

 

Dodge Ram, Durango, Dakota

 

Ford F-150, F-250, F-350, Expedition, Explorer, Ranger

 

GMC Canyon, Yukon, Sierra, Jimmy

 

Honda Ridgeline, Pilot

 

Hummer H3

 

Jeep Grand Cherokee, Wrangler

 

Land Rover Range Rover

 

Mercury Mountaineer

 

Mitsubishi Montero

 

Nissan Frontier, Pathfinder, Titan

 

Suzuki Equator

 

Toyota Sequoia, 4Runner, FJ Cruiser, Tundra, Land Cruiser, Tacoma

 
Tire Sizes
15″
30X9.50R15/C1 104S W
31X10.50R15C1 109S W
32X11.50R15C1 113S W
33X12.50R15C2 108S B
35X12.50R15C2 113S B
16″
LT225/75R16D1 110Q B
LT245/70R16D1 113Q W
LT245/75R16E1 120Q W
255/65R-16 109S BLK
LT265/70R16D1 117Q W
LT265/75R16E1 123Q W
LT285/75R16D1 122Q W
LT305/70R16E2 124S B
LT315/75R16D2 121S B
LT325/80R16D2 124S B
17″
245/65R-17 107S OWL
LT245/70R17E1 119Q B
LT245/75R17E1 121Q B
255/65R-17 110S OWL
255/70R-17 112S OWL
265/65R-17 112S BLK
LT265/70R17E1 121S B
LT285/70R17D1 121S B
LT295/70R17E1 121S B
LT305/65R17E2 121S B
LT315/70R17D2 121Q B
LT325/70R17D2 121S B
33X12.50R17D2 114S B
35X1250R17D2 119S B
37X12.50R17D2 124S B
18″
265/70R-18 116S OWL
LT275/65R18E1 123Q W
LT275/70R18E1 125S B
LT285/65R18D1 121S W
LT305/65R18E2 124S B
LT325/60R18E2 124S B
LT325/65R18E2 127S B
35X1250R18D2 118Q B
37X13.50R18D2 124S B
20″
275/60R-20 115S BLK
285/50R-20 XL 116T B
LT305/55R20E2 121S B
LT325/60R20D2 121S B
LT355/60R20D2 125S B
22″
LT325/50R22E2 122S B
37X13.50R22E2 123S B
24″
37X13.50R24E2 120S B
Price Range
Prices on the Falken Wild Peak range from approximately $110 and up. You may also find occasional rebates, discounts, coupons and special offers on this tire.
Click Here To Find Current Prices On All Falken Wild Peak A/T Tire Sizes
Warranty
Falken has a 50,000 mile treadlife warranty on the Wild Peak. There is also a first 2/32 inch of wear guarantee on tire uniformity.
Materials and workmanship are warranted for 5 years and include free replacement during the first 2/32 inch of wear. The amount is then prorated for the remaining time period down to the final 2/32 inch of tread depth.
---