Falken Sincera SN250 A/S Tire Review & Rating
The new for 2016 Falken Sincera SN250 A/S, touring all-season tire is built to replace the older SN211 A/S. This new model features some of the same technology that can be found on the current best-selling Pro G4 A/S, including Dynamic Range Technology for increased grip and 3D Canyon Sipes for traction in wet and winter conditions.
Falken uses their unique all-season tread compound, which has been formulated with higher amounts of silica, to not only deliver increased dry and wet traction, but to also provide extended treadwear. The tire's asymmetric tread pattern sports Dynamic Range Technology to go with optimized tread block placement. The result is a smoother and more comfortable ride quality with enhanced cornering grip and stability.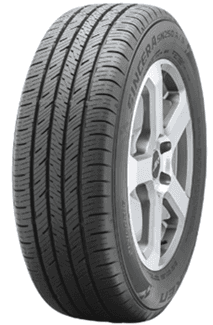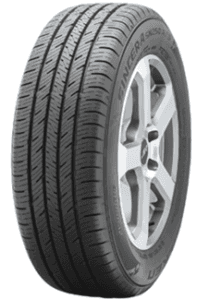 Four circumferential grooves combine with the silica tread compound and 3D Canyon sipes for increased traction on wet streets and highways. This new technology is created to reduce the risk of hydroplaning and provide added safety at all speeds. The sipes along the tread provide biting edges that also help with traction on snow and ice, an area where this tire holds its own pretty well.
Falken offers 54 sizes in the SN250 AS that range from 14-18 inches, and come with either a T, H or V-speed rating. An 80K mile tread warranty is also included. The SN250 A/S is made to compete with other tires such as the Michelin Defender, Yokohama Avid Ascend and Continental ProContact among others.
Pros
Dependable dry and wet traction
Smooth comfortable ride that is very quiet on the highway
Treadlife looks good at this stage
Value for the money
Cons
Would like to see an increase in dry handling
Overall Thoughts
Replacing the popular SN211 A/S was not going to be easy, but Falken managed to pull it off. This new model is going to be one of the better tires in their lineup. It delivers excellent traction on dry or wet road surfaces, while also providing confident handling. You get a good feel for the road on this tire.
Ride comfort is very good and nearly on the same level as what you would find on tires like the Continental PureContact or Michelin Premier A/S. Treadlife looks to be longer lasting at this stage, although it is still a bit early to make a final assessment.
Our only potential negative with the SN250 A/S is higher speed handling and cornering. The softer sidewalls come into play here if you're a more spirited driver, although for the majority it will not be an issue at all.
Overall, this new model provides solid performance for the lower value-price it carries. We rank it in the upper half of the all-season class.
Click Here For Current Falken Coupons
Click Here To Find Current Prices
What Vehicles Will The Falken Sincera SN250 A/S Fit?
(This is not a complete list of ALL vehicles this tire will fit)
Acura TL, CL, ILX
Audi A4
BMW 135i, 323i, 330i, 530i
Chevrolet Cobalt, Malibu, Cruze, Impala, Sonic LTZ, Cavalier, Monte Carlo
Dodge Neon, Grand Caravan, Avenger, Dart
Ford Focus, Mustang GT, Taurus, Fusion, Flex
Honda Civic, CR-V, Insight, Accord
Hyundai Genesis, Sonata, Elantra
Infiniti G35x
Kia Optima, Rondo, Forte, Soul
Lincoln MKZ
Mazda6, 929, Mazda3, Mazda5
Nissan Altima, Maxima, Versa, Leaf, Cube, Sentra
Pontiac Vibe, Grand Am, Grand Prix, G5
Scion xB
Subaru Legacy, Impreza Outback
Toyota Camry, Prius, RAV4, Avalon, Solara, Sienna, Corolla
Volkswagen Jetta, Passat, Touareg, Beetle, Golf
Volvo S60, V70
Tire Sizes
14″
175/65R14 82T BLK
185/60R14 82H BLK
185/65R14 86T BLK
185/70R14 88T BLK
195/70R14 91T BLK
15″
175/65R15 84T BLK
185/55R15 82V BLK
185/60R15 84T BLK
185/65R15 88T BLK
195/55R15 85V BLK
195/60R15 88T BLK
195/65R15 91T BLK
195/65R15 91H BLK
205/60R15 91T BLK
205/65R15 XL 99T BLK
205/70R15 96T BLK
215/60R15 94T BLK
215/65R15 96T BLK
215/70R15 98T BLK
225/70R15 100T BLK
235/75R15 105T BLK
16″
185/55R16 83T BLK
195/55R16 87T BLK
205/50R16 87T BLK
205/55R16 91H BLK
205/55R16 91T BLK
205/60R16 92H BLK
205/65R16 95H BLK
215/55R16 XL 97H BLK
215/60R16 95T BLK
215/60R16 95V BLK
215/65R16 98T BLK
215/70R16 100T BLK
225/55R16 95V BLK
225/60R16 98T BLK
225/65R16 100T BLK
225/70R16 103T BLK
235/60R16 100H BLK
235/65R16 103T BLK
235/70R16 106T BLK
17″
205/50R17 XL 93V BLK
215/45R17 87V BLK
215/50R17 XL 95V BLK
215/55R17 94V BLK
215/55R17 94T BLK
215/60R17 96T BLK
215/65R17 99T BLK
225/45R17 XL 94V BLK
225/50R17 XL 98V BLK
225/55R17 97V BLK
225/60R17 99T BLK
225/65R17 102T BLK
235/55R17 99T BLK
235/60R17 102T BLK
235/65R17 104T BLK
18″
215/55R18 95T BLK
225/45R18 XL 95V BLK
225/50R18 95T BLK
225/55R18 98T BLK
225/60R18 100H BLK
235/45R18 94V BLK
235/50R18 97V BLK
235/55R18 100V BLK
Price Range
Falken Sincera SN250 A/S prices range from approximately $64 and up. You may also find occasional rebates, discount prices, coupons and special offers on this tire.
Click Here To Find The Current Prices On All Falken Sincera SN250 A/S Sizes
Warranty
Falken includes an 80,000 mile tread warranty on T-speed rated sizes and 75,000 miles on H and V-speed rated sizes of the SN250 AS. Tire uniformity is guaranteed for the first 2/32 inch of wear.
Materials and workmanship are backed for the life of the tire down to the final 2/32 inch of tread depth. Free tire replacement is provided for unserviceable defects during the first 2/32 inch of wear. Falken prorates out the amount for the remaining tread depth, down to the last 2/32 inch.
---