Falken Pro G4 A/S Tire Review & Rating
The Falken Pro G4 A/S is the latest addition to their high performance all-season tire lineup. It has been designed to provide drivers of coupes and sedans increased traction and handling, as well as better treadwear.
Falken uses their exclusive Dynamic Range Technology in the tread makeup of the G4 AS that adds a high-silica content tread compound along with an asymmetric tread pattern for added traction on dry and wet road surfaces, which is a plus for this tire.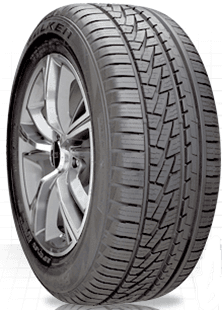 The compound is designed to stay pliable in colder conditions for better handling on snow and ice, yet remain strong when road surface temperatures heat up for enhanced dry handling and improved treadwear.
3-D siping around the shoulders helps create more biting edges for traction on snow and ice, while making the tire more responsive and stable in dry conditions. That said, this is by no means a snow tire.
Road noise is reduced due in part to the variable tread depth design that varies the size and placement of the tread blocks for a quieter ride comfort. For the most part it works well on this tire. It's only on the roughest surfaces that you really notice any noise.
Falken has a range of 15-18 inch sizes available in H, V and W-speed ratings in the Pro G4 A/S, and they come with either a 45K or 65K mile warranty depending on the speed rating of the tire.
Pros
Dependable all-season traction

Nimble handling and cornering stability

Ride quality

Treadlife
Cons
Winter traction

Lower the road noise a bit
Overall Thoughts
This new Falken G4 A/S performs surprisingly well for a relative unknown tire. It delivers very good dry and wet traction. Winter traction is really about what we expected. It goes through light snow without a lot of issues, but deeper amounts of snow and ice is a different story.
Handling and cornering grip is going to satisfy the needs of most drivers and is very responsive, which is an area that has received a lot of positive reviews from other drivers. If you're looking for much more spirited performance, you may want to move up to a tire like the BFGoodrich Comp-2 A/S or the Goodyear Eagle F1 Asymmetric All-Season, although you'll pay much more for it.
Ride comfort is very good overall, but there is just a bit more road noise on this tire than you'll find on some of the other best in class models. That leads us to the value you find for the money here, which is very good based on the performance. We've reviewed some Falken tires that haven't performed up to expectations, but Falken had done a very good job with their new G4 A/S.
Overall, we have no hesitation in recommending this tire for drivers looking for added performance in their daily commuting needs while also saving a good deal of money in the process.
Click Here For Current Falken Coupons
Click Here To Find Current Prices
Buy Used for 40 – 50% Less than Retail
What Vehicles Will The Falken G4 Fit?
(This is not a complete list of ALL vehicles this tire will fit)
Acura RSX, TSX, CSX

Audi A3

BMW 3, 5 Series

Chevrolet Camaro, Cobalt

Chrysler PT Cruiser

Dodge Avenger

Ford Mustang, Focus

Honda Civic, Accord

Lexus IS 250, 350

Nissan 370Z, Sentra

Scion tC

Subaru Impreza

Toyota Corolla, Camry

Volkswagen Beetle, Golf
Tire Sizes
15″
175/65R15 84H BSW
185/60R15 84H BSW
185/65R15 88H BSW
195/60R15 88H BSW
195/65R15 91H BSW
205/60R15 91H BSW
205/65R15 99H XL BSW
16″
185/55R16 83H BSW
195/55R16 87V BSW
205/50R16 87H BSW
205/55R16 91H BSW
205/60R16 92V BSW
205/65R16 95H BSW
215/55R16 97H XL BSW
215/60R16 99V XL BSW
215/65R16 98H BSW
225/50R16 96H XL BSW
225/55R16 95V BSW
225/60R16 98H BSW
225/65R16 100H BSW
235/60R16 100H BSW
17″
205/50R17 93H XL BSW
215/45R17 91W XL BSW
215/50R17 91V BSW
215/55R17 94V BSW
225/45R17 94W XL BSW
225/50R17 94V BSW
225/55R17 101H XL BSW
225/65R17 102H BSW
235/45R17 94W BSW
235/55R17 99W BSW
235/60R17 102H BSW
235/65R17 104H BSW
245/40R17 95W XL BSW
245/45R17 99W XL BSW
18″
225/40R18 92W XL BSW
225/45R18 95W XL BSW
225/55R18 98H BSW
225/60R18 100H BSW
235/40R18 95W XL BSW
235/45R18 94V BSW
235/50R18 101W XL BSW
235/55R18 100H BSW
235/60R18 107V XL BSW
235/65R18 106H BSW
245/40R18 97W XL BSW
245/45R18 100V XL BSW
245/60R18 105H BSW
255/65R18 111H BSW
19″
225/55R19 99H BSW
235/55R19 105W XL BSW
245/40R19 98V XL BSW
255/35R19 96W XL BSW
20″
235/55R20 102H BSW
245/45R20 103W XL BSW
245/50R20 102H BSW
275/40R20 106W XL BSW
Price Range
Falken Pro G4 A/S prices range from approximately $78 and up. You may also find occasional rebates, discount prices, coupons and special offers on this tire.
Click Here To Find The Current Prices On All Falken Pro G4 A/S Sizes
Warranty
Falken includes a 65,000 mile tread warranty on H and V-speed rated tires, and a 45,000 mile warranty on W rated models. Tire uniformity is guaranteed for the first 2/32 inch of wear.
Materials and workmanship are backed for the life of the tire down to the final 2/32 inch of tread depth. Free tire replacement is provided for unserviceable defects during the first 2/32 inch of wear. Falken prorates out the amount for the remaining tread depth, down to the last 2/32 inch.
---