Falken Azenis RT-615K Tire Review & Rating
With a tread design that feels at home on the street as it does on track, the Azenis RT-615K from Falken sports world class tire technology for drivers of luxury sport coupes, sedans and muscle cars. This model is extremely versatile throughout a wide range of temperature changes.
The motorsports grade tire compound used provides excellent grip as the tire's temperature increases. In addition, a unique 8/32 inch molded tread design virtually eliminates the new tire"squirm" you often get at the track, while also aiding fuel efficiency on the street.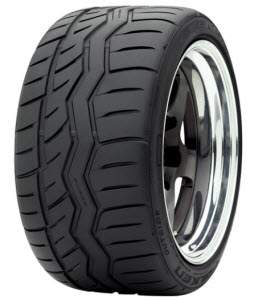 Cornering grip is enhanced through the tire's massive side shoulder blocks that also make this Falken tire more durable than others in its class. The solid center rib helps control wheel spin and provides added contact with the road surface when accelerating.
When the road surface turns wet, the RT-615K uses three high void low turbulence grooves and optimized aqua tusk positioning to increase traction and reduce the risk of hydroplaning.
Heat cycling is also available on this model. The benefits of heat cycling are improved traction and grip, as well as a better overall treadlife.
Click Here For Current Falken Coupons
Click Here To Find Current Prices
Pros
Dry traction and cornering grip are superb

 

Very good steering response and feel

 

Tread life is above average for its class

 
Cons
Not for use when temps get below 40

A little added road noise 
Overall Thoughts
This RT-615K provides awesome grip on dry road surfaces and in the corners, whether on the street or track. You'll find precise steering control and simply put, the tires take you where you want to go.
It pretty much goes without saying that this type of tire is designed for summer only. Don't even think about driving it when the weather gets cold. The only other thing you may notice is a bit more road noise, but that's not a big surprise with this type of tread design. Other than that, this Falken tire delivers on high performance.
Overall, the value and performance for the money makes this tire a nice option.
What Vehicles Will The Azenis RT-615K Fit?
(This is not a complete list of ALL vehicles this tire will fit)
Audi TT Quattro
BMW M3, 335i, Z4
Chevy Corvette, Camaro
Ford Mustang
Honda S2000, Civic
Hyundai Tiburon
Lexus GS450h
Mazda Miata
Mitsubishi Lancer Evo
Nissan 370Z
Pontiac Trans Am, GTO
Porsche 911
Scion FR-S
Subaru BRZ
Volkswagen GTI
Tire Sizes
14″
195/60R14 86H BLK
15″
205/50R15 XL 89W BLK
16″
205/40R16 XL 83W BLK
215/45R16 86W BLK
225/50R16 92W BLK
17″
205/40R17 XL 84W BLK
215/40R17 XL 87W BLK
215/45R17 87W BLK
225/45R17 XL 94W BLK
235/40R17 90W BLK
245/45R17 XL 99W BLK
255/40R17 94W BLK
275/40R17 98W BLK
18″
225/40R18 XL 92W BLK
235/40R18 XL 95W BLK
245/40R18 XL 97W BLK
255/40R18 95W BLK
265/35R18 XL 97W BLK
275/35R18 95W BLK
295/40R18 103W BLK
315/30R18 98W BLK
Price Range
Prices on the RT-615K range from around $107 and up. You may also find occasional rebates, discounts, coupons and special offers on this tire.
Click Here To Find Current Prices On All Falken Azenis RT-615K Tire Sizes
Warranty
There is no mileage tread warranty on this model. You will find a first 1/32 inch of wear guarantee on the tire's uniformity.
Materials and workmanship are warranted for the life of the tire or until there is 2/32 inch of tread depth left on the tire.
---