Dunlop SP31 A/S Tire Review & Rating
The SP31 A/S from Dunlop is used for the most part as original equipment on today's new fuel efficient vehicles like the Honda Insight, Fit, and Civic Hybrid among others. Created to provide all-season traction, a lower rolling resistance, and a comfortable ride, the SP31 uses the latest tire technology to enhance performance.
The all-season tread compound is M+S rated for use in all types of weather and road conditions, including snow. More on its winter traction below. An asymmetric tread pattern features a lower rolling resistance to increase traction, while also improving overall fuel efficiency.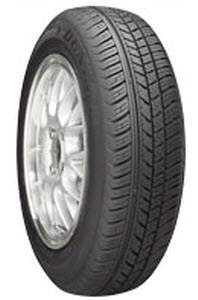 Circumferential grooves around the tread expel water and reduce the risk of hydroplaning in wet weather. Dunlop uses its multi-pitch technology to lower outside road noise and increase the ride quality. It works pretty well according to many drivers.
Inside the tire you will find a steel belted construction that adds strength and durability to the tire, as well as promoting more even tread wear. Dunlop provides a limited warranty on this model, and the SP31 AS is available in S and H-speed rated models.
Pros
Dry pavement traction and handling are very good

 

 

 

Comfortable ride

 

 

 

Lower road noise

 

 

 
Cons
Treadlife has been a major issue to many drivers

 

 

 

Snow and ice performance

 

 

 
Overall Thoughts
We'll just get to it real quick… the SP31 is simply not a tire we can recommend. While its performance on dry and wet pavement is adequate, and the ride is fairly comfortable, the negatives this tire displays far outweigh the positives.
Treadlife has been a major issue for drivers according to countless driver reviews on this tire, with many reporting they have gotten less than 25,000 miles out of the tread. Beyond that, winter performance on this model needs big improvements. Trying to gain traction on any amounts of ice is useless. Further, the lack of a tread mileage warranty is also an issue.
Overall, Dunlop builds some very good quality tires that we rank highly, but for whatever reason, this model is nowhere near up to their standards, or anyone elses for that matter.
What Vehicles Will The Dunlop SP31 Fit?
(This is not a complete list of ALL vehicles this tire will fit)
Chevrolet Cavalier

 

 

 

Honda Insight, Fit, Civic, Accord

 

 

 

Hyundai Elantra

 

 

 
Tire Sizes
14″
P175/65R14 81S HON B
P175/65R14 81S TOY B
15″
175/65R-15 84S HON B
P195/55R-15 84H HON
P195/65R15 89S HON B
Price Range
Prices on the SP31 All Season range from approximately $98 and up. You may also find occasional rebates, discounts, coupons and special offers on this tire.
Click Here To Find Current Prices On All Dunlop SP31 A/S Sizes
Warranty
Dunlop provides a limited warranty on the SP31. Tire uniformity is guaranteed for the first 6-months or first 2/32 inch of wear. Materials and workmanship are warranted for 6-years and include free replacement during the first year or first 2/32 inch of wear. A prorated amount is given for the remaining time period or down to the final 2/32 inch of tread depth.
---