Dunlop SP Sport Maxx Tire Review & Rating
Built to deliver high performance traction and cornering grip, the SP Sport Maxx from Dunlop enhances driving enjoyment on today's sports cars, coupes and sedans. Dunlop has used the latest in tire technology to provide car enthusiasts with a tire that offers exhilarating performance, while also maintaining a smooth and comfortable ride.
An Integral Rubber Matrix tread compound that is formulated with silica and carbon black is designed to increase traction as well as braking and acceleration capabilities. The Multi Radius Tread design sports a directional tread pattern and larger shoulder blocks for added cornering grip. A continuous center rib provides more responsive steering throughout the speed range, which is a real strength for this tire.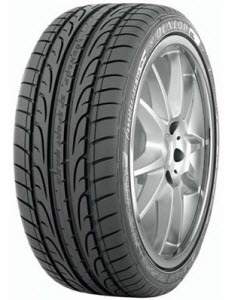 Dunlop's Twin Hydro-Paddle ribs channel away water for enhanced wet handling. They push water out both sides of the tire and lower the risk of hydroplaning on wet road surfaces. Road noise is reduced through Dunlop's 5-block tread design, which makes for a more enjoyable ride. Many drivers have mentioned how much quieter this tire in various reviews.
Inside the tread you will find two steel belts with JointLess Band reinforcement that adds more strength and durability to the tread. A rayon cord casing provides increased comfort and stability. You'll also find a built-in rim protector that helps prevent curb damage to your wheels. 17-20 sizes are available on the SP Sport Maxx, and a DSST run flat version is also available.
Pros
Outstanding dry traction and cornering grip

 

 

 

Wet handling is excellent

 

 

 

Steering is crisp and responsive

 

 

 

Ride comfort is surprisingly good

 

 

 
Cons
Treadlife may be shorter for more spirited drivers

 

 

 

Not for driving in cold or winter weather conditions

 

 

 
Overall Thoughts
The Sport Maxx is one of the better high performance summer tires on the market. While perhaps not quite up to the level of the Super Sport from Michelin, this tire does provide outstanding dry and wet traction, along with excellent cornering grip and a lower price than the Michelin.
Ride quality is very good for a low profile tire like this. Some drivers have mentioned a lower treadlife, but this may be the result of driving habits since others have said treadlife has been better than expected. Overall, we rank this model in the upper half of its class.
Click Here To Find Current Prices
What Vehicles Will The Sport Maxx Fit?
(This is not a complete list of ALL vehicles this tire will fit)
Audi A8, Q7, A3, A4, TT

 

 

 

BMW 760Li, 325i, X5, M3, 540i

 

 

 

Chevrolet Corvette, Camaro, Cobalt

 

 

 

Dodge Charger RT, Magnum

 

 

 

Ford Focus ZX4, Mustang GT

 

 

 

Honda Civic, S2000

 

 

 

Infiniti G35, G37

 

 

 

Jaguar XF, XJL, XKR

 

 

 

Lexus LS460, IS300

 

 

 

Mazda RX-8, Mazda3

 

 

 

Mercedes-Benz GL450, GL320, SLK32, S500, C230, S430

 

 

 

Mitsubishi Lancer

 

 

 

Nissan Maxima, 350Z, Altima

 

 

 

Pontiac GTO, Trans Am

 

 

 

Porsche 911

 

 

 

Saab 9-3, 9-5

 

 

 

Saturn Ion

 

 

 

Subaru Impreza WRX

 

 

 

Volkswagen GTi, Jetta, Passat, Golf

 

 

 
Tire Sizes
17″
225/45R17 90W BSW
245/45R17 95W BSW
225/50R17 94W BSW
18″
225/40R18 88Y BSW
255/40R18 95Y BSW
235/45R18 94Y BSW
P245/45R18 96V BSW
P225/50R18 94V BSW
P235/50R18 97V XL BSW
235/50R18 97W XL BSW
19″
265/35R19 94Y BSW
235/40R19 96Y XL BSW
P245/45R19 98V BSW
245/45R19 98Y BSW
20″
285/30ZR20 99Y XL BLT
255/35ZR20 97Y XL BLT
255/35R20 97Y XL BLT
Price Range
Dunlop SP Sport Maxx prices range from approximately $160 and up. You may also find occasional rebates, discount prices, coupons and special offers on this tire.
Click Here To Find Current Prices On All Dunlop SP Sport Maxx Sizes
Warranty
Dunlop provides a limited tread warranty on the Sport Maxx. Tire uniformity is guaranteed for the first year or first 2/32 inch of wear. Materials and workmanship are warranted for 6-years and include free replacement during the first year or first 2/32 inch of wear. A prorated amount is given for the remaining time period or down to the final 2/32 inch of tread depth.
---