Dunlop SP Sport Maxx GT Tire Review & Rating
The SP Sport Maxx GT is one of Dunlop's best-selling maximum performance summer tires that is also used as original equipment on vehicles from Infiniti, Audi and BMW. Developed for all types of sport coupes and sedans, the Sport Maxx GT is engineered to deliver high performance traction and cornering grip, with a ride comfort that is better than many in its class.
A high-performance tread compound utilizes carbon black technology, taken from Dunlop Motorsports, and combines it with a non-directional asymmetric tread pattern and Multi-Radius Tread technology for added dry and wet traction and increased handling. It also allows for staggered fitments and longer treadwear.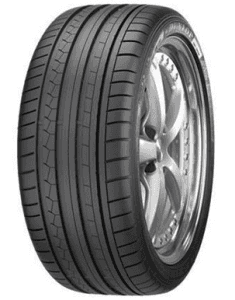 Michelin's Touch Technology and the tire's continuous center ribs make for more precise steering response and better overall feel throughout the speed zone. Larger and more firm tread blocks, as well as a reinforced sidewall, reduces flex and gives this tire increased cornering grip, something this model does very well.
Four circumferential grooves and numerous lateral grooves provide added wet traction by channeling away water from under the tire and reducing the risk of hydroplaning. Note that this is a summer driving tire and not meant for winter weather use.
Inside the tire you will find two steel belts that use Dunlop's Hybrid Jointless Band Technology of wrapped Aramid reinforcement for added strength and durability at higher speeds. Ride comfort is enhanced through a rayon cord body and unique bead fit system. A run-flat version is also available in select sizes. You'll find sizes available from 17-22 inches in addition to several different speed ratings.
Pros
Superior dry and wet traction

 

 

 

Cornering grip is exceptional

 

 

 

Comfortable riding tire without a lot of outside noise

 

 

 

Better than average tread life

 

 

 
Cons
Overall Thoughts
We find these Sport Maxx GT tires to be quite good among tires this class. Dunlop has done an outstanding job with this model. Dry and wet traction is excellent. You'll be hard-pressed to break them loose on dry pavement. Cornering grip is like glue once they're warmed up.
The ride is very comfortable for an ultra-high performance tire, and road noise is minimal. It does pick up as the tire wears down, but is nothing bothersome. The drawback is price, but quality costs with anything.
Overall, we highly recommend this tire, which is backed up by numerous driver reviews and ratings. This tire is also one of the top picks in its class for 2013 by Consumer Reports. It's easy to see why when you give it a spin.
Click Here To Find Current Prices
What Vehicles Will The Sport Maxx GT Fit?
(This is not a complete list of ALL vehicles this tire will fit)
Audi A4, S4, A5, S5, A6, Q5

 

 

 

BMW 650i, M5, 330i

 

 

 

Chrysler 300C SRT-8

 

 

 

Ford Mustang GT

 

 

 

Honda Civic

 

 

 

Infiniti M37, G35X

 

 

 

Mazda 3

 

 

 

Mercedes-Benz C-Class

 

 

 

Nissan 350Z

 

 

 

Subaru Impreza

 

 

 

Volkswagen Golf

 

 

 
Tire Sizes
17″
245/45R17 95Y BLT
18″
255/35R18 94Y XL BLT
285/35R18 97W BLT
235/40R18 91Y BLT
245/40ZR18 93Y BLT
255/40R18 95W BLT
255/40R18 95Y BLT
235/45ZR18 94Y BLT
245/45R18 96Y BLT
265/45ZR18 101Y BLT
19″
255/35ZR19 96Y XL BLT
265/35ZR19 98 (Y) XL BLT
285/35ZR19 Z XL BLT
245/40ZR19 98 (Y) XL BLT
255/40R19 96V BLT
20″
305/25ZR20 (Y) XL BLT
265/30ZR20 94 (Y) XL BLT
275/30R20 97Y XL BLT
295/30ZR20 101 (Y) XL BLT
325/30ZR20 102Y BLT
255/35ZR20(Y) XL BLT
265/35R20 99Y XL BLT
275/35ZR20 (Y) XL BLT
275/35ZR20 102 (Y) XL BLT
245/40ZR20 99 (Y) XL BLT
255/45R20 101W BLT
265/45ZR20 108 (Y) XL BLT
21″
275/35ZR21 103 (Y) XL BLT
265/40ZR21 (Y) XL BLT
265/40R21 105Y XL BLT
22″
265/30ZR22 (Y) XL BLT
Price Range
Dunlop SP Sport Maxx GT prices range from approximately $206 and up. You may also find occasional rebates, discount prices, coupons and special offers on this tire.
Click Here To Find Current Prices On All Dunlop SP Sport Maxx GT Sizes
Warranty
Dunlop provides a limited tread warranty on the Sport Maxx GT. Tire uniformity is guaranteed for the first year or first 2/32 inch of wear. Materials and workmanship are warranted for 6-years and includes free replacement during the first year or first 2/32 inch of wear. A prorated amount is given for the remaining time period or down to the final 2/32 inch of tread depth.
---