Dunlop SP Sport Maxx A1 AS Tire Review & Rating
Designed for ultra-high performance all-season driving, the Dunlop SP Sport Maxx A1 AS features responsive handling and stability, more than capable cornering grip and reliable dry and wet traction. Used mainly as original equipment on vehicles like the Infiniti G37, the SP Sport Maxx A1 AS is also available as a replacement model for P235/50R18 fitments.
Dunlop uses a special Integral Rubber Matrix tread compound that contains high amounts of silica and carbon black which are matched up with a directional tread pattern. The results are increased handling, braking and acceleration, which is a real plus for this tire.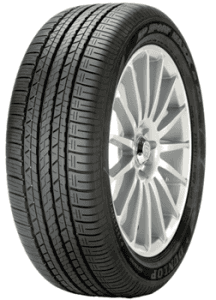 The tire's continuous center rib and Optimal Tread Pattern technology quicken steering response and feel. However, we've heard several driver reviews mention that this tire tends to tramline and follow road imperfections more so than on other similar tires. We've not seen this issue but feel it needs to be brought to light.
Dunlop has added multi-pitch tread design technology along with a 5-block tread design that work to reduce road noise and provide a smoother and quieter driving experience.
Inside the tire are twin steel belts with a spirally wrapped nylon cap ply that utilizes Dunlop's unique Jointless Band Technology. This technology is aimed at adding more strength and delivering high speed stability on the highway.
Pros
Very good dry traction
Handling and cornering performance
Responsive steering
Cons
Tramlining on some road surfaces
Major boost in snow and ice traction
Overall Thoughts
We have mixed feelings in regards to this Dunlop model. There's no doubt that the SP Sport Maxx A1 A/S delivers solid handling and cornering grip that is equal to what you find on some of the top models in this class. Steering is quick and responsive, and tire stability at higher speeds is very good.
Unfortunately, the biggest drawback with this tire is the tramlining issue. We've heard from quite a few drivers who have complained about this same thing. In addition, performance on snow and ice is dismal. If you plan to drive on this tire in harsh winter conditions, be prepared to use extra caution. While traction, braking and acceleration are common problems on all-season tires, it is much more so with this model.
Overall, while the Dunlop A1 AS may work in original equipment use, we can't recommend it as a replacement tire. We base that not only on performance, but the higher cost of this tire over other better performing options. We suggest going with the Michelin Pilot Sport A/S3 Plus, Pirelli P Zero All Season Plus, Continental ExtremeContact DWS06 or Yokohama YK580 among other better alternatives.
Click Here To Find Current Lowest Price
What Vehicles Will The Dunlop SP Sport Maxx A1 AS Fit?
Fits these vehicles and many others:
Audi A7, A8
BMW 7-Series
Chevrolet Malibu, Impala, Monte Carlo
Chrysler Sebring
Dodge Avenger, Caliber
Ford Mustang
Hyundai Genesis
Infiniti G37
Tire Sizes
18″
P235/50R18 97V BSW
Price Range
Dunlop SP Sport Maxx A1 AS prices range from approximately $359 and up. You may also find occasional rebates, discount prices, coupons and special offers on this tire.
Click Here To Find Current Lowest Prices On All Dunlop SP Sport Maxx A1 AS Tire Sizes
Warranty
Dunlop provides a limited tread warranty on the Sport Maxx A1 A/S. Tire uniformity is guaranteed for the first year or first 2/32 inch of wear. Materials and workmanship are warranted for 6-years and include free replacement during the first year or first 2/32 inch of wear. A prorated amount is given for the remaining time period or down to the final 2/32 inch of tread depth.
---