Dunlop SP Sport 5000 Tire Review & Rating
The SP Sport 5000, or 5000M as it is also known as, is Dunlop's ultra-high performance tire that is designed for sport coupes, sedans, SUV's, crossovers and sport trucks. This tire has also been widely used as original equipment on vehicles like the Hyundai Genesis, Mitsubishi Lancer and several others over the last few years.
An all-season tread compound combines with an asymmetric tread pattern that features larger shoulder blocks and independent inner tread blocks for increased traction and cornering grip on dry pavement. The tire's continuous center rib is engineered to provide enhanced steering response and tire stability.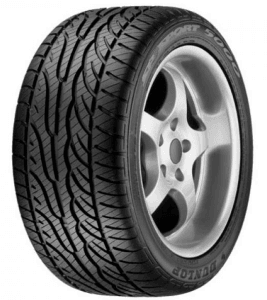 Four circumferential grooves around the tire channel away water on wet road surfaces, while full faced cross-cut sipes add biting edges for traction on wet, slush or snow covered pavement.
Inside the tire you will find two steel belts that use Dunlop's Jointless Band technology for added strength and durability at higher speeds. It also smoothens the ride and promotes more even treadwear. There is also a built-in rim protector that helps prevent accidentally damaging your wheels against curbs and other obstructions. Sizes are available from 15-20 inches and speed ratings up to a W.
Pros
Very good dry and wet traction

 

 

 

Responsive steering

 

 

 

Ride is comfortable

 

 

 
Cons
Poor winter handling

 

 

 

Tire gets noisy as it wears down

 

 

 

Tread life could be better

 

 

 
Overall Thoughts
We were really expecting to find much better performance out of the Dunlop 5000 than what it delivers. On the positive side, dry and wet traction is pretty good on most road surfaces. The steering is crisp and responsive, while providing good cornering grip. Ride comfort is pretty decent for the most part as well.
Unfortunately, there are a few negatives. Winter handling performance is poor at best. Although it is an all-season tire, it is not good on snow and ice, with some reviews from other drivers saying to just leave the car parked at home rather than risk getting out on the streets. Of course, if you live in an area that sees very little snow then this will not be an issue. Beyond that the tire gets a bit noisy as it wears down, and treadwear has shown to be poor as well.
Overall, while there are simply much better choices for a new set of tires than the Sport 5000. We feel that tires like the Michelin Pilot Sport A/S 3 Plus, BFGoodrich Comp-2 A/S, Continental ExtremeContact DWS06 and many others would make for a better option for your vehicle.
What Vehicles Will The Sport 5000 Fit?
(This is not a complete list of ALL vehicles this tire will fit)
Audi TT

 

 

 

Chevrolet Cobalt, Silverado

 

 

 

Dodge Ram

 

 

 

Ford Focus ZTS

 

 

 

Hyundai Genesis

 

 

 

Lexus LS 460, IS350, GS300

 

 

 

Mazda 6, Protege 5

 

 

 

Mercedes-Benz ML430

 

 

 

Mitsubishi Lancer

 

 

 

Nissan Maxima

 

 

 

Scion xB

 

 

 

Toyota Sequoia, Tundra, Tacoma

 

 

 

Volkswagen GTi, Toureg

 

 

 
Tire Sizes
15″
P195/65R15 89H BSL
16″
195/60R16 89H BSW
P215/60R16 94V BSW
17″
225/45R17 91V BSW
245/45R17 95V BSW
P245/50ZR17 98W BSW
P225/55R17 95H BSW
275/55R17 109V BSW
255/60R17 106H VSB
18″
P215/45R18 89V BSW
P245/45R18 96V BSW
P235/50R18 97V BSW
P255/55R18 104H VSB
19″
P225/45R19 92W BSW
20″
P275/55R20 111H VSB
Price Range
Dunlop SP Sport 5000 prices range from approximately $74 and up. You may also find occasional rebates, discount prices, coupons and special offers on this tire.
Warranty
Dunlop provides a limited tread warranty on the Sport 5000. Tire uniformity is guaranteed for one-year or the first 2/32 inch of wear. Materials and workmanship are warranted for 6-years and include free replacement during the first year or first 2/32 inch of wear. A prorated amount is given for the remaining time period or down to the final 2/32 inch of tread depth.
---